Affordable Art Fair comes to Battersea this October
Affordable Art Fair is delighted to announce an impressive autumn programme, showcasing the best in contemporary, affordable art from all over the world. It is coming to London's Battersea Park between 19 – 22 October (with the Private View on Wednesday 18 October).
With an exhibitor line-up of 112 galleries and 1,000s of artists, visitors can expect a stunning range of contemporary art from UK and international galleries. There will be first time exhibitors and artists making their fair debut, a special exhibition celebrating Black History Month and the return of the fair's annual Recent Graduates Exhibition, offering the chance for visitors to snap up a work by the next big thing, before they become household names.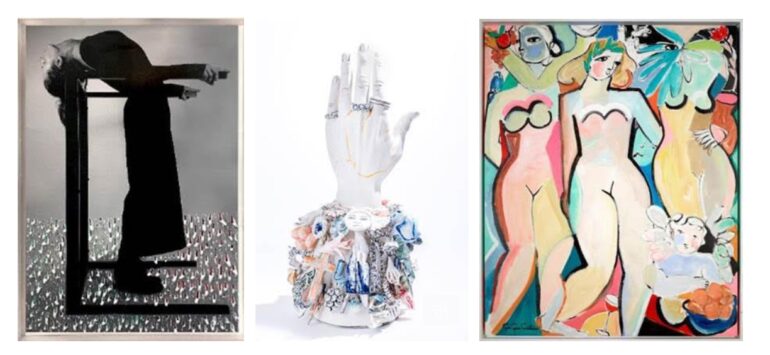 From Art After Dark Lates with DJ sets and welcome drinks, to a brand new talks programme where visitors can delve deeper into art during the fair's quieter hours, and a new bookshop from Thames and Hudson stocking a wide range of beautiful art books, Affordable Art Fair offers a truly unforgettable experience this autumn.

See here for a full list of exhibiting galleries.
---

THE DIRECTOR'S CUT

Fair Director Hugo Barclay's personal selection of artists to watch out for at Affordable Art Fair Battersea Autumn:
– Katherine Morling (Long & Ryle) is a ceramist who has worked with the likes of Liberty London, the Royal Opera House and the Saatchi Gallery. Hugo says: "Her ceramics transport you, they make you feel like you're inside of a novel, where there is a continued story to discover, unravelling around you."
– Agathe Bouton (Azart Gallery) creates boundary-pushing printmaking and paper works. Hugo discovered Agathe's work at Affordable Art Fair's sister fair in New York, where it was one of his standout picks. Hugo says: "I really like her modern approach to printmaking and her elegant forms."
– Hetty Haxworth (Cameron Contemporary) is known for her abstract prints inspired by patterns found in nature, particularly from the coastal landscape. Hugo says: "I have a soft spot for Scottish artists as I'm based in Edinburgh, and I'm attracted to Hetty's approach to light and how she captures the shifting seasons of the Scottish landscapes."
– Anuli Croon (Chiefs & Spirits) is a Rotterdam-based artist who uses structure, sharp intentional lines and pattern to create curious figurative compositions that feel truly unique and on-trend.
– Gaetan de Seguin (Galerie Barrou Planquart), whose signature works feature characters that form a crowd, gather together, and end up overflowing from the canvas. Hugo says: "I find Gaetan's crowd paintings strangely comforting – the plurality and possibility of a crowd perhaps."
– Kisook Lee (T&B Gallery) is a painter and sculptor who produces large canvases with a complex, texturized surface. Delicate, yet gestural abstracts, Kisook's artworks draw the viewer in to keep looking deeper, thanks to her impressively meticulous process of sculpting and shaping to minute detail.
– Henry Ward (Kittoe Contemporary) explores the boundary between abstraction and reality in his painting work. Hugo says: "His joy for painting clearly comes through in the work, which makes them a joy to look at!"
–          Catherine Pring (Panter and Hall) is attracted by the unpredictability of the process of printmaking, which pushes her to give up your sense of control. Hugo says: "Pring's work is so alive with expression."
---
Up Next: What's new in Davos Klosters for the 2023-24 winter season – The Sloaney