The Gallop to Goodwood
The Gallop to Goodwood is a new editorial series that is authored by The Sloaney's Founder and Editor, Dr Laura Toogood, who will be riding in the Markel Magnolia Cup 2023 to raise funds for Education Above All.
You can support the charity and her journey here: Laura Toogood is fundraising for Educate A Child – International (justgiving.com)
---
Chapter One ¦ Chapter Two ¦ Chapter Three ¦ Chapter Four ¦ Chapter Five ¦ Chapter Six
---
---
Chapter One ¦ Chapter Two ¦ Chapter Three ¦ Chapter Four ¦ Chapter Five¦ Chapter Six
---
Chapter One: How it all began
---
Where do I start? I remember at the very beginning of this journey that I kept telling myself to write everything down so that I could try and make the memories last for as long as possible. Here I am, nearly five months on from first learning that I would be riding in the Markel Magnolia Cup 2023, and my mind is bursting with flashbacks of the countless, once-in-a-lifetime moments that I have already enjoyed over the past few months.
I never want these memories to disappear from my mind, which is one of the reasons that I am writing this new editorial series for The Sloaney called The Gallop to Goodwood. It has been difficult to keep it all under wraps for so long, but this was a contractual obligation, and now we are finally allowed to talk freely about the journey following the announcement in The Times newspaper.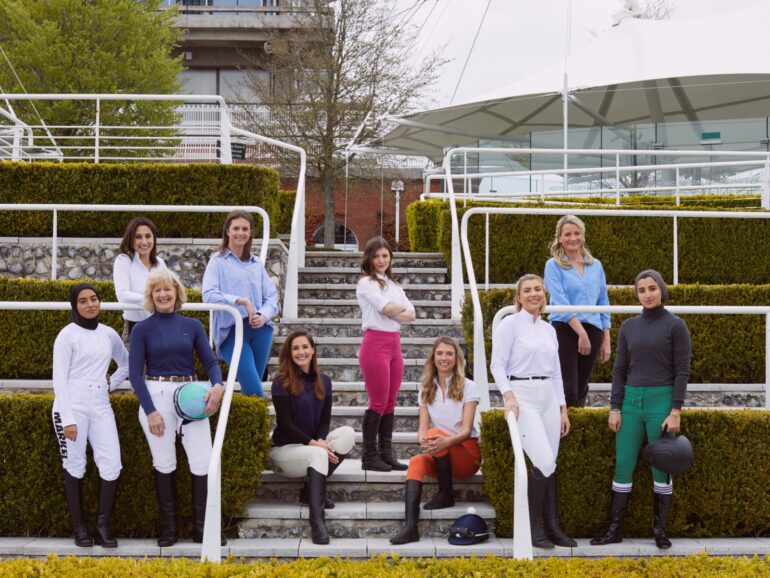 While this editorial series will offer a personal take on the challenge – and a chance for me to indulge my recollections – I also hope it will shine some light on the fantastic charity that is being supported this year, as well as inspire others to give the Magnolia Cup a go in the future.
I have always been a keen equestrian and riding is very much in my blood. My mother was riding right up until the day before I arrived and she was rushed to hospital after her waters broke when mucking out a stable. Technically, I suppose I was riding before I was breathing, and I was physically sat on a horse in my first year. This is not the case for all the jockeys riding in this race. In fact, some have no background in equestrianism at all and I have immense admiration for my fellow jockey Lyn Comerford (Director of Strategy and Operation at Markel), who had never sat in the saddle prior to training for this event.
Conversely, my childhood was dominated by adventures with ponies and horses. From hot summer days at Pony Club Camp to Christmas hacks looking out between a pair of antlers that I had attached to the top of the bridle.
I entered the world of competitive riding as a Junior and dedicated my time to realising a lifelong goal of representing Great Britain. It took many, many years of hard work, with plenty of ups and downs along the way. I eventually produced my horse, The Fieldmaster (Fred), from a just broken 4-year-old to achieving the honour of wearing the Union Flag at the Junior European Championships in Belgium in 2002. It was a dream come true and made even more special by the fact that Fred was a much-loved member of the family.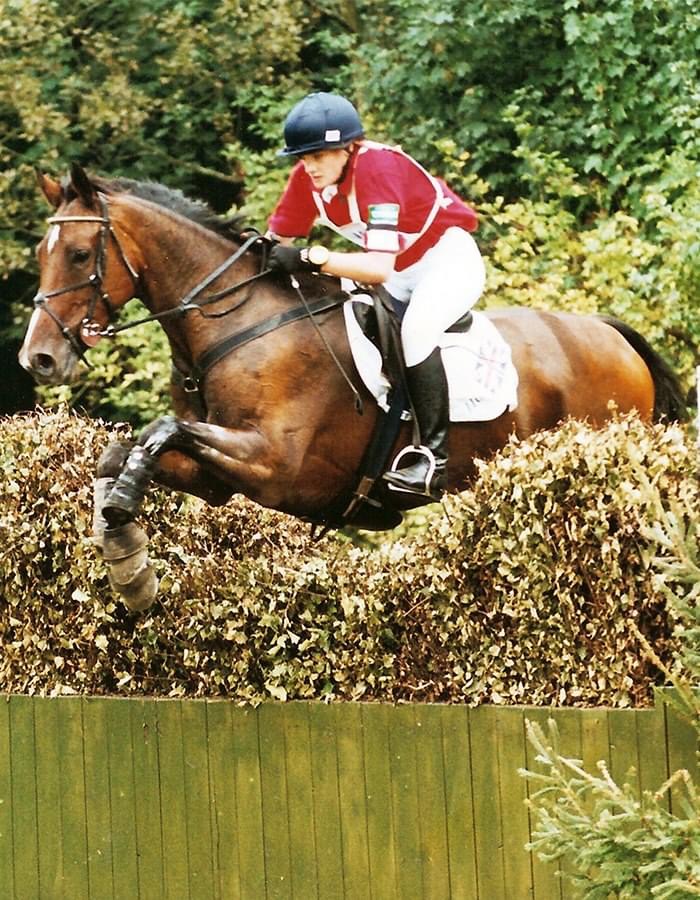 While I loved my Eventing days and met many fantastic friends during this time, riding was a hobby and I was much encouraged to continue with my studies. My own commitment to education is one of the reasons that I was delighted to learn that we would be supporting the Education Above All Foundation (EAA) when racing at this year's Markel Magnolia Cup.
This charity is helping to bring education to all children across the globe, especially those in challenging environments. EAA works tirelessly to bring new life chances, real hope and opportunities to improve the lives of poor and marginalised children, youth and women especially in the developing world. EAA is the brainchild of Her Highness Sheikha Moza bint Nasser who is a long-time advocate for education. The goal of the charity is to ensure equal access to education and to harness the power of quality education for positive, sustainable and inclusive change.
I am very grateful for my own education, which began at Heywood Prep and then the Royal High School, Bath, which is part of the Girls' Day School Trust. I juggled my riding with A-levels before being offered a place to study at University College Dublin, where I ended up completing my PhD as part of their Ad Astra Scholarship programme.
Before I left for university, I was encouraged by Yogi Breisner – the British Equestrian Federation world class performance manager at the time – to make the most of the opportunity to continue with my education and to embrace all the opportunities that it would potentially present. His farewell message: "the horses will always be here for you".
He was right. The horses have always been here for me and now I find myself facing one of the most intimidating challenges of my life. It is particularly daunting because I am no longer the fit and fearless young event rider that I once was in my teens.
I still ride – but only a little bit of pure dressage as a hobby – and I now have two young children. I also have a very busy work life, which involves running Fieldmaster Group, overseeing The Sloaney and my various other professional commitments as an author and expert commentator on digital matters. Spare time is limited and perhaps non-existent (I am writing this at 10.30pm having only just stopped working).
I have been to the races many times. As regular readers of The Sloaney will know, we have covered the British Social Season extensively over the last decade and it is one of this publication's showpieces. From Cheltenham Festival to the Grand National at Aintree, Royal Ascot to Glorious Goodwood, the best race meets in the country are pillars of the sporting and social calendar.
As a spectator, racing is exhilarating and the hairs on my neck still rise when I hear the sound of thundering hooves coming down the track and the excited roar from the crowd.
I have always admired the likes of Katie Walsh (an old friend and someone who we previously interviewed for The Sloaney). The talent, determination and bravery that she and her fellow female jockeys demonstrate in a male dominated sport, is just marvellous.
Plus, that adrenaline rush! It must be incredible as you seemingly fly through the air on one of the world's fastest animals. It is something I always said that I would love to experience; but something that I could only ever dream of experiencing.
That was until I met Rachel.
This is where the journey takes a little bit of a twist and it really does go to show how a network can suddenly take you in a whole new direction in life.
At Christmas, I was due to meet some dear friends in our local pub for some festive drinks. The friends had visitors arriving from London and they happened to be running ahead of schedule. One of the visitors was Rachel Stringer, who was enjoying some final downtime before heading off abroad to report on the FIFA World Cup in her capacity as a sports television presenter.
We were introduced as both knowing a little bit about horses, but Rachel was quick to correct this and share that she wasn't a longstanding member of the equestrian community; rather, she had ridden in the Magnolia Cup in 2022.
And so, this is how it all began. A conversation in the pub at Christmas quickly turned into something much more….
Within a matter of days, I received a call from Goodwood and they invited me to be part of the 2023 line up.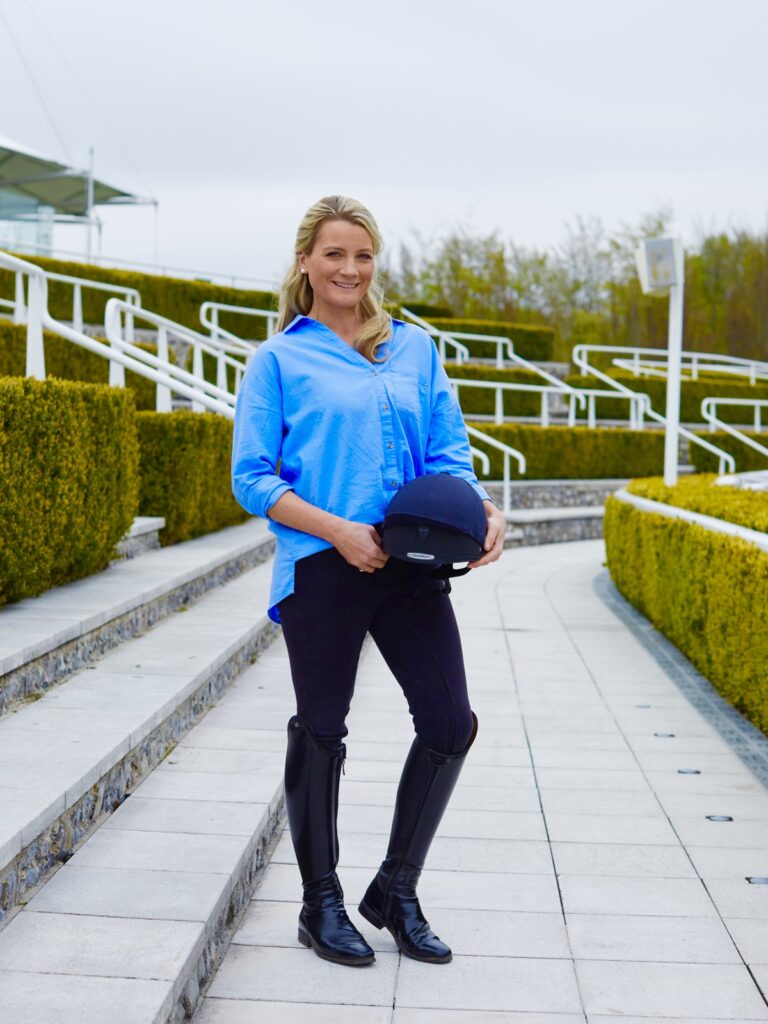 There was a moment of doubt as I questioned whether this was something I could do at this point in my life. I was not fit. I had only just managed to shift the final pounds of my baby weight, despite my second child being two years old and certainly no longer a baby! My business commitments had been taking priority in the preceding years, not my body, and my professional schedule is always extremely busy.
But, how, just how, could I say no to an opportunity like this?!
I knew it would be a once in a lifetime experience. Raising money for a charity that supports education, pushing boundaries, meeting a whole new network of people, riding at one of the best racecourses in the world and participating in an event that is billed as the most prestigious charity race in the country…. I simply had to make it work… somehow!
So, the only answer could be YES.
---
Chapter Two: The enormity of the task that lies ahead hits home
---
I spent Christmas feeling really excited about the prospect of riding in the Markel Magnolia Cup, but also very aware that I was taking on a big challenge. I had already been warned by Rachel that this was a significant commitment – both mentally and physically.
Riding in the Markel Magnolia Cup is not just a case of turning up on the day and having a good gallop down the racecourse. Rather, months and months of training and preparation are necessary in order to reach the minimum standard to be allowed to race. There are a number of compulsory requirements for the race, including the need for every jockey to pass a very challenging fitness test, as well as a riding assessment.
In January, I was invited to the National College of Horse Racing in Doncaster for a Preview Day. The agenda was designed to help demonstrate the requirements to all the jockeys who had been selected.
I left at 4am in order to get to Doncaster in time for the welcome breakfast. It was a great opportunity to meet everyone. The representatives from Goodwood and the National College of Horse Racing were very welcoming and we were invited to listen to a presentation about the journey ahead.
Kim Tinkler was responsible for leading the day's events. Kim was one of the first professional female jockeys and the leading Northern apprentice, who went on to become the leading lady jockey on two occasions. Part of her role now is a jockey coach. Clearly, we had one of the best in the business advising us.
The ladies in the initial group – some have since had to sadly defer for this year – were a mixed bunch. Some of us had riding experience and others had never sat on a horse before. Some were fit enough to be heading for the Marathon des Sables, while others were at the very start of a fitness drive.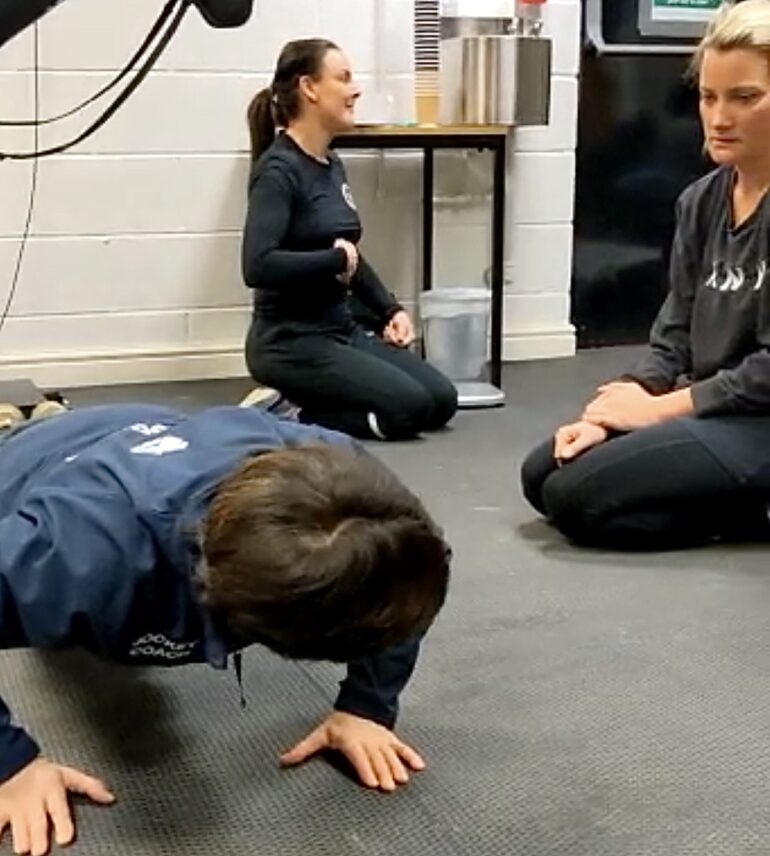 While I have riding experience, I could not remember the last time that I had set foot in a gym. Therefore, I was mostly worried about the fitness test. Just the sight of a cross trainer sends shudders down my spine and reminds me of a time when I had to temporarily become a gym bunny for a few months after over-indulging during my first year of university.
My cardio has never been great – I am asthmatic and find it hard work. I also don't consider myself particularly strong, so the fitness test was a huge concern and potentially a barrier to entry.
I was right to be concerned. After an initial discussion, we tentatively went down to the dungeon – sorry, I mean the gym – to watch some components of the fitness test.
I watched as the jockey coach demonstrated one of the eight exercises that we had to pass in order to be allowed to race. A lean, keen, muscle machine, Kim glided gracefully into the full press up position and held it. And held it. And held it. 90 seconds was the goal and she nailed it.
We were urged to give it a go. I tried to mimic the position, but my arms locked and my muscles were screaming STOP. There was no way they could take the weight of my body and lower down into that stance. It was hopeless.
I tried a different technique. Perhaps coming up into the position from ground level would be easier than going down. I lay flat on the gym floor. Surely it can't be that difficult just to get into the position. Face down I tried to lift my body weight. 3, 2, 1 … Nothing. Absolutely nothing. Not even one millimetre off the floor. I was like a beached whale.
With four months to go until the fitness test, I couldn't even get into the pose, let alone hold it for a minute and a half.
The enormity of the task that lay ahead suddenly hit home.
The press up position was followed by the need to plank for up to four minutes, hold a squat on wobble cushions for a similar period, maintain a wall squat, beast yourself on a Wattbike… etc etc… you get the picture! Even Lyn – who was training for the Marathon des Sables – said this was a tough ask.
I left the dungeon feeling slightly deflated and genuinely concerned about the high likelihood of failing the test and not being allowed to compete in the race.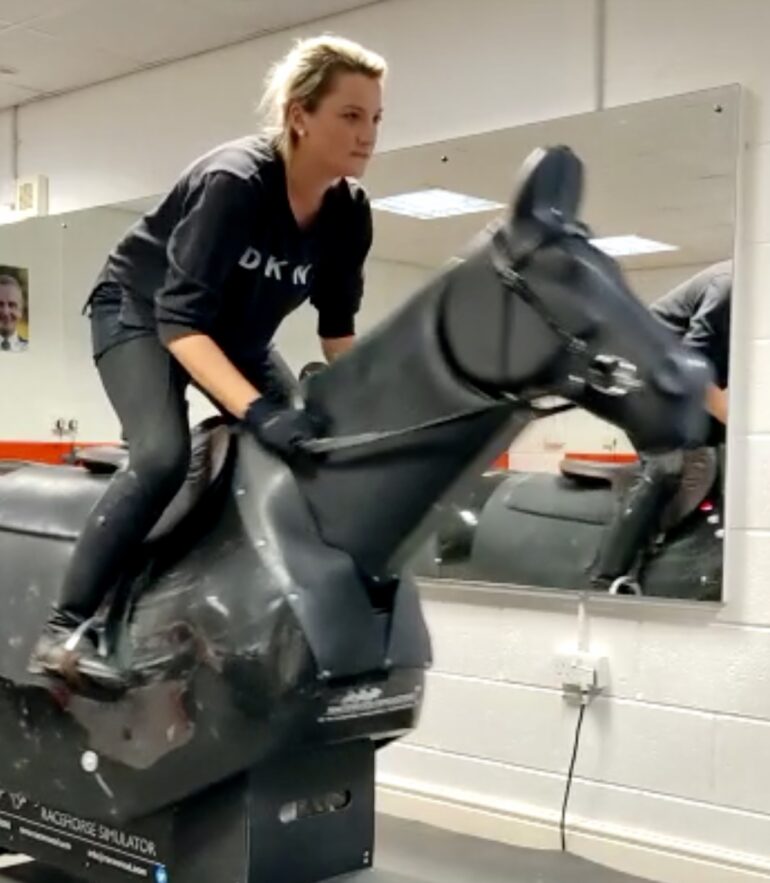 We then progressed to riding a racehorse for the first time. Initially, it was a go on the simulator, which looked more difficult than it felt and so I started to feel a little bit more optimistic about the riding element.
Despite having been riding for such a long time, sitting on a racehorse is very different to any other style. Even more so when you are used to riding dressage, which majors on a long leg position and carrying your hands.
Hopping onto a racing saddle, with what seems like extraordinarily short stirrups, and riding an animal that is trained to completely different aids – whatever you do, don't shorten the reins, unless you want to head off at lightening pace – is extremely difficult to grasp.
A group of us spent some time in the safety of the indoor arena, simply trotting and cantering around in a big circle. However, the horses were rather full of beans after their Christmas break, and everyone struggled. This was another wakeup call as to scale of the challenge ahead.
As the day drew to an end, we tried our best to bolster morale, but there was an overwhelming feeling of apprehension among us all. While the taster day had been a helpful insight into what was to come, it also served to highlight how far we all needed to get, in order to reach that start line in August.
Was this actually going to be possible, or was this just a dream that would never become a reality?
---
Chapter Three: Riding out racehorses
---
I think it is fair to say that the Preview Day served as a wake-up call to everyone. All of us started the journey at different stages and each jockey had a long way to go to make it past the Fitness Test and Riding Assessment, which was scheduled for May. In fact, some people chose to defer following the Preview Day and decided to take on the challenge next year.
For those of us who were still planning on heading to the famous Qatar Goodwood Festival in August, now was the time to knuckle down and get serious about the training side of things.
Throughout the whole experience, the support team from Goodwood has been excellent. There is a group of people on hand to provide assistance and encouragement, whenever it is needed. One of the first priorities was to find a yard where I could ride out. Although the Goodwood team can lend a helping hand, I decided to try and organise something myself, so that I could ride out at a yard not too far away.
Running businesses and having a young family, means that I am faced with constant time pressure. While I am frequently in London for work, the closest racing yard is located just outside Bath and run by Neil Mulholland. Shortly after returning from the Preview Day, I decided to give Neil a call to explain the situation.
Of course, it felt slightly awkward having to phone someone out-of-the-blue to ask if they could help a rookie train to ride at one of the world's most prestigious racecourses, but I had to bite the bullet and start somewhere.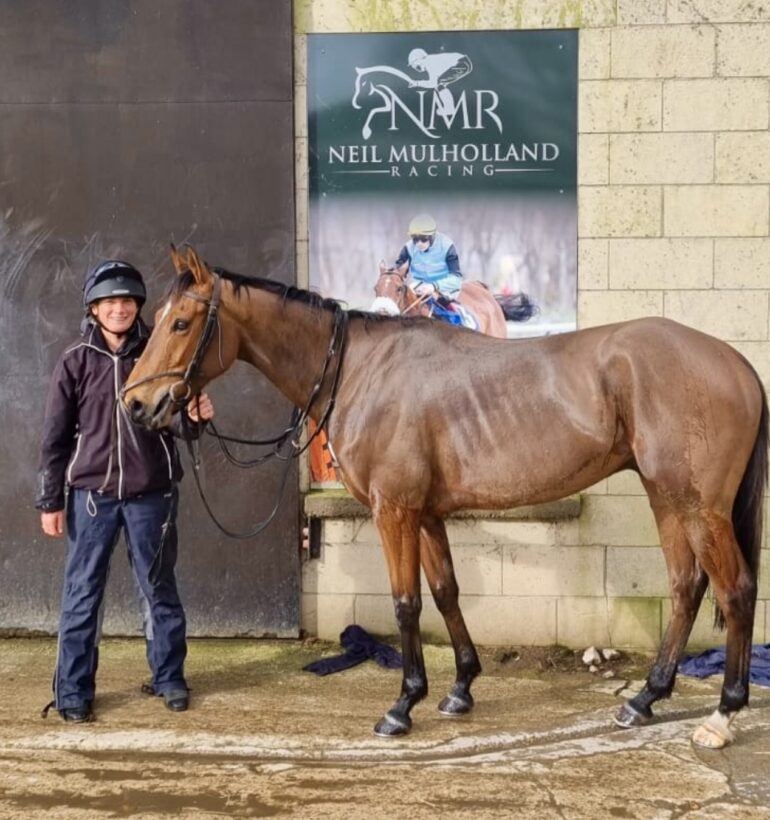 As soon as Neil answered the phone, I was put at ease by his soft Northern Irish accent and gentle manner. Neil was welcoming and very helpful, suggesting that I come down to the yard to understand what it's all about.
A couple of days later, on a freezing cold January morning, I found myself navigating the icy lanes on the outskirts of Bath as I made my way towards his racing stables. The yard is positioned on the side of a beautiful valley and the gallop was glistening in the early morning frost.
I may have been nervous when I had initially phoned Neil, but it was not a patch on how I felt when I ventured into the yard for the first time. Yet, my nerves were misplaced, and Neil's affable telephone manner was even more welcoming and reassuring in person. Tea and biscuits were the order of the morning and we spoke at length about the race and his own setup. An owner had come down to watch his horse in training, so we all made our way together towards the gallops.
Watching the horses power up the hill, with their warm breath leaving a trail of tiny clouds behind them in the chilly air, was certainly a sight to behold. Elegant, rhymical and masterfully ridden, they almost appeared to be flying and the hairs rose on the back of my neck.
After watching the exercise routine, I was given a tour of the yard. I have never seen so many horse's heads poking out of stable doors, all with their ears pricked and eager for a tickle on the nose. The yard has top-class training facilities. It is a hive of activity and, operationally, an extremely well-oiled machine. The concrete was being swept fastidiously and stables were being mucked out swiftly. Some horses were being tacked up, while others were being shod. Those coming in from the gallops were enjoying a washdown under several hosepipe booms, before being placed on a walker to help with their cooldown phase. Everyone appeared to be working in harmony and managing well over 100 horses with ease.
I didn't ride that day, but I came away from the yard feeling excited about returning a few days later for my first sit on a horse. It was a privilege to start my first foray into racing at this yard.
A few sleepless nights followed before I was up at the crack of dawn to make sure the children were organised for school and nursery, and also to finalise some work matters, before heading down to the yard for my first go on the gallops.
One of the great things about meeting Neil is that he also has young children while simultaneously running a very busy business, so he has the greatest respect for my other obligations and especially my family commitments. We agreed that I would try to time my riding out for just after the school run because this would best accommodate my work and family schedule. This kind of flexibility has been crucial in facilitating my involvement in the race because managing time is one of the biggest challenges.
Naturally, I was extremely apprehensive when I arrived for my first ride. As I was shown my horse, I gave her a soft pat and whispered a gentle plea in her ear: 'Please, try and keep me safe'.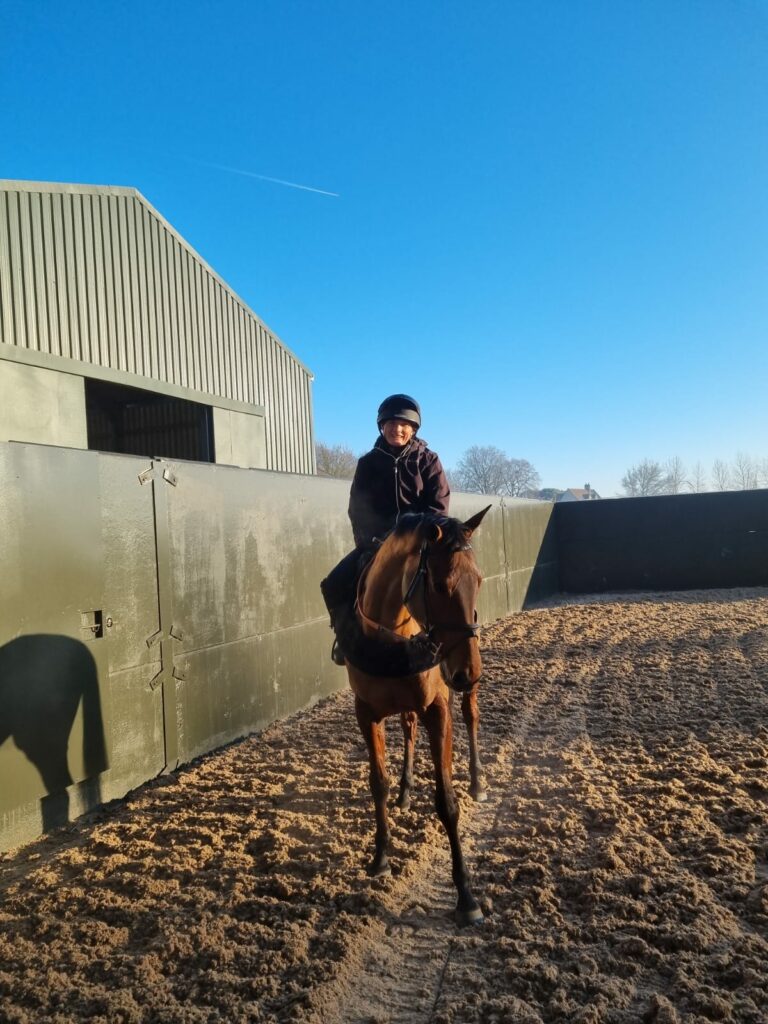 Neil is very hands-on and closely oversees the yard and all aspects of the training programme for each horse, alongside his loyal head girl of 14 years, Georgie. Once mounted, riders gather together for a briefing in the outdoor arena, where Neil also inspects each horse before pairing people off and then following the riders down to his lookout point, which gives him the best view of the gallops.
I marvel at how much information must be retained and processed in order to get the very best from these equine athletes. Neil knows every single horse inside out. What may look like a gathering of 12 undistinguishable bays to the untrained eye, is in fact a collection of finely tuned individual competitors to Neil, each with their own specific needs. He watches the horses train every day and, afterwards, is responsible for having to enter a vast array of races across the country. It is a mindboggling logistical process that requires extraordinary attention to detail and recall.
For my first ride, I was paired off with one of Neil's experienced work riders, Mick. Mick is another softly spoken Irishman with many years of experience riding racehorses and oodles of patience. The oodles of patience is handy for the more complicated horses and it proves even more useful when nannying a newbie jockey!
We walked down the beautiful woodland track to the bottom of the gallops before reaching the starting point. Despite the subzero temperatures, I could feel my palms becoming sweatier and sweatier with every stride. My anxiety about the first gallop was reaching boiling point, but there was only one way to go, and I was assured that the mare beneath me would know when to stop… even if I didn't!
I was put at ease by Mick who stayed by my side throughout and we galloped up the hill together.
As the wind blasted my face and we overtook cars on the road adjacent to the gallop, I felt a tingling sensation run through my body. The whole experience was exhilarating.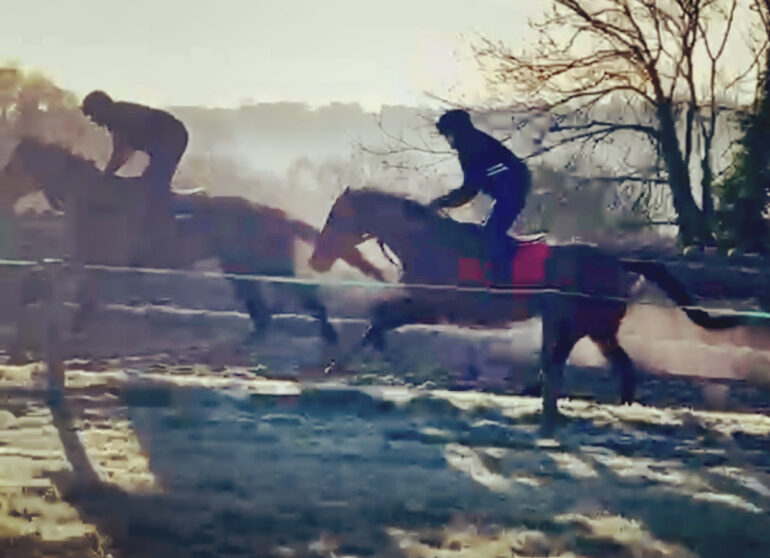 I have spent many months riding out at Neil's yard. Every single person has been so helpful and friendly. I often pair up with different people when in the saddle and it is absolutely fascinating to hear about their backgrounds. They are all extremely capable work riders and know their trade inside out. Some are aspiring professional jockeys, others are returning after having children, with some venturing from foreign countries to perfect their trade in the UK.
Taking on the role of a work rider is a demanding job. It is physically challenging and requires bravery, perseverance and commitment. They train in all weathers – even the snow – and dedicate long hours to riding, as well as driving the horses to racecourses around the country. Each person has a different story to tell, but they all share a passion for horses – and a love for racehorses.
Often some of the professional jockeys will visit the yard to ride some of the mounts that they will race. One such visit stands out in my mind.
It was a sunny spring morning. I made my way down through the pretty track to the beginning of the gallops, which was lined with beautiful bluebells by this point. I was in a pair with a visiting professional jockey. The start of the gallops was approaching. Fast. Too fast. Even though I was only in walk at this point.
There I was, trying my absolute hardest to relax and play it cool, while bursting with nerves on a rather excitable racehorse and riding out alongside one of the best British National Hunt Racing jockeys in the country.
'Ready?' he asked.
'Ready as I'll ever be!' I replied, checking for the tenth time that I had my fingers looped into the neck strap.
And off we went.
He immediately elevated himself into the perfect jockey position. They call it the 'martini glass'. The headstrong horse beneath was fighting like a boxer and jinxing across the gallops.
'This one's a bit of a handful', he said, not moving an inch. Graceful, strong and perfectly in control at all times. Poetry in motion.
And then he started asking me about holidays. I mean holidays? We are galloping like lightening bolts up a hill gallop. My brain is frantically trying to recall every single tip that I have ever been given since starting this crazy challenge so that, firstly, I could do my best to survive and, secondly, I didn't look like a complete fool while trying to do so! I can't possibly hold a conversation about holidays at the same time – is he mad?!
Clearly, I don't have a very good poker face. He flashed a smile after getting no response about which sunny destination was awaiting after Glorious Goodwood.
'Laura, if you ever ride a strong horse, this is what you do'; before sharing one of his 'trade-secrets', shall we call it, as we galloped side-by-side.
That 'trade-secret' – which is a very subtle but highly effective technique – transformed my experience of riding racehorses from that moment on.
Thank you, Sam Twiston-Davis.
I am incredibly grateful for all the opportunities that I have been given during my time at Neil Mulholland Racing. It has been a once-in-a-lifetime experience to become so involved in the mechanics of an industry that I had previously only seen from the 'glossy side', when attending the major race meets.
Not only have I learnt a lot, but I have met some truly inspiring people and spending time with them is one of the things that I will miss most when the race is over.
---
Chapter Four: Planking for four minutes. Is that physically possible?
---
I remember the day at Neil's racing yard that I met Ashleigh Wicheard. Ashleigh won the Markel Magnolia Cup in 2022 and does some excellent work to champion diversity within the racing world.
Ashleigh was so excited when she heard that I was visiting to train for the race. She said that the whole experience is unbelievable from start to finish and she wished that she could do it all over again. Ashleigh is inspiring and her enthusiasm is infectious.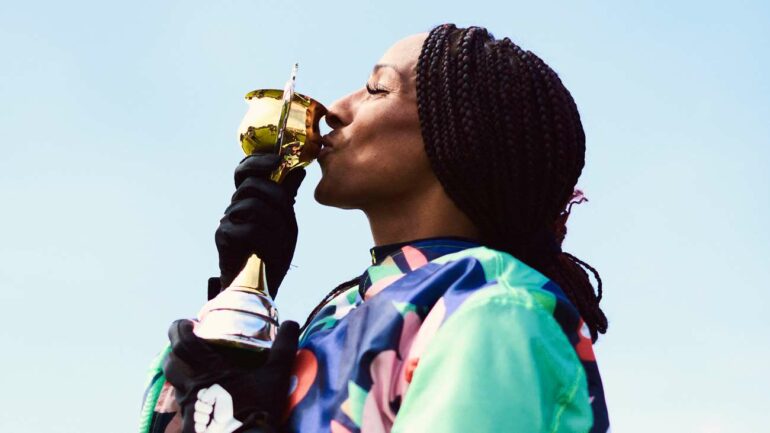 We spent a long time talking about the day itself, but also the preparation. One of her first questions was, 'Do you have a trainer and are you going to the gym'. At that point, the answer was 'No'.
Her face fell.
I didn't think too much about it at that exact moment in time. I was sure that if I practiced the exercises enough at home then I would eventually be able to pass the fitness test.
Several weeks in, on my umpteenth attempt at trying to get past 30 seconds on the plank on the kitchen floor (I needed to hit four minutes), I finally succumbed and realised why Ashleigh's face had fallen that day.
Without doubt, I needed some professional help, or else there was no way that I would be making my way down to the start line at Glorious Goodwood.
The fitness test for the Magnolia Cup is particularly challenging and, despite my best efforts, I was nowhere near the required threshold. It seemed that no matter how hard I tried, simply extending the time of holding a plank was not working. I had hit a wall and felt as though the task ahead was impossible.
This must be one of the low points of my journey. As a mum of young children and a business owner, my fitness had not been a priority during recent years. I felt as though many of my muscles had become dormant, particularly my abdominal muscles, which had endured two pregnancies.
I decided that I needed professional help, and this is when I sent out an SOS call to someone from my local village, desperately hoping that he may be able to help.
Matthew Legg is the Founder of Psych Strength, which is an exciting business that focuses on the harmony between mental and physical health. His ethos is centred on improving confidence, fitness and general wellbeing.
Matthew is young, fit, ambitious and very knowledgeable. I was hopeful that he would be my knight in shining armour.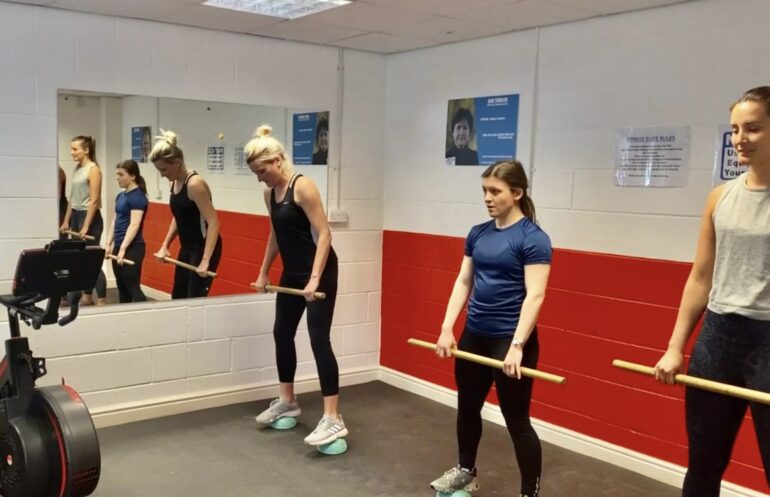 During our first meeting, we spoke at length about the challenge ahead. He knows absolutely nothing about horses, but promptly went away and spent some time reading about the race and watching some replays, while also considering the requirements of the test.
The fitness test has a number of specific exercises and they are all very demanding. You must achieve 60% overall in order to pass and there are seven components in total.
Matthew asked me to demonstrate some of the exercises during our first session. Despite his polite demeanour, I could read his bubble! He knew it was going to be a serious task to get me through the test. I couldn't even get into the press up position, my plank was hopeless and my wall squats were agony when only 20 seconds in! And I still had more than half of the exercises to demonstrate!
I suppose optimism is one of the qualities that is required if you work as a personal trainer and Matthew was not deterred by the rather hopeless sight that lay before him on the gym floor.
He devised a programme and we agreed to start with two to three weekly sessions. Beginning with a press up using a box, which helps a beginner to get into the position, we set off with some carefully timed repetitions. This was the same with the other exercises, like the plank. Rather than go hell for leather and try to hold it for as long as possible – which had been my approach – we worked on multiple short bursts and gradually reducing the time between each set. It was a case of baby steps at first and building a strong base for our fitness pyramid.
Week by week, things gradually started to improve. I became used to the 'burn' and I could push through it. My muscles were waking up from their very long slumber and starting to feel alive and kicking again. It was great.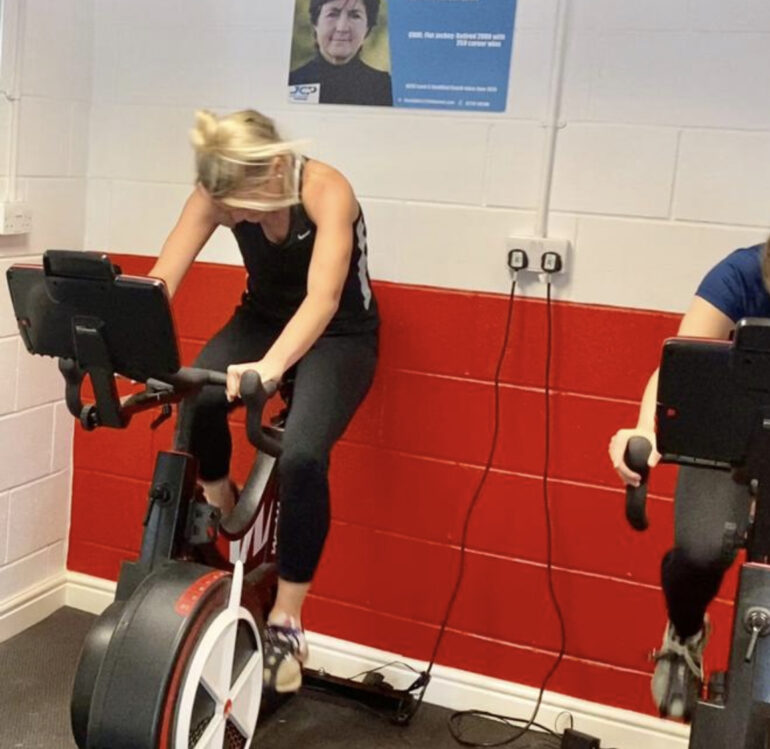 I wish I had taken a before and after video. The experience has been similar to demolishing a room in your home and then completely redesigning in. Session by session, Matthew has chipped away at my defeatist attitude and demolished the negativity, while simultaneously transforming my body so that it can perform things that I never thought possible.
I was extremely nervous before the fitness test but ended up achieving 100% on several of the exercises – to my astonishment – and passing with over 70%. The result is testament to Matthew's hard work and we are continuing the sessions in the build up to the big day. Planking for four minutes is – dare I say it – easy! I can now also complete sets of full press ups, having previously not been able to lift my body off the floor.
Thanks to the pandemic, Matthew is well accustomed to delivering sessions via FaceTime, as well as in person. This has been incredibly helpful for maintaining momentum with the fitness training because an hour in front of the iPhone is much easier to organise than a visit to the gym.
While the fitness journey has often been the source of my lowest points, it has also been the source of my highest points. I have the utmost respect for the Matthew's systematic and expert approach, which has delivered results beyond our biggest expectations and demonstrates how you really can achieve anything if you put your mind to it.
---
Chapter Five: Finding a horse for the big race
---
It has taken me a while to write this chapter because everything has been a little bit up in the air. Finding a horse has been a journey in itself.
I have been training with Neil Mulholland Racing since January, but I always knew that my horse for the race would not come from his yard. Neil has mainly jump horses or horses that typically run over much longer distances. The Markel Magnolia Cup is a sprint. Think Usain Bolt, rather than Mo Farah. 5 ½ furlongs, flat out down the straight at Glorious Goodwood in front of a roaring crowd of 30,000 people and a global television audience. This is where I usually insert any sort of emoji that I can find, which expresses how terrified, nervous and, quite frankly, sick I feel about the prospect!
From the very start, riding racehorses has been a huge challenge. During the riding assessment at the National College of Horseracing in Doncaster I sat on a horse that was so strong, I couldn't even hold it going around a trot ring. It was one of the biggest lows of the whole journey and I felt utterly defeated.
Needless to say, I pressed the eject button before we even hit the gallops and swapped to an easier horse. Although the alternative horse may have been softer in the mouth, it more than made up for it with a very active backend and proceeded to bronk its way down the gallop. Luckily, my dressage horse has a rather extravagant buck, so this is something that I am used to, and I prefer bucking to bolting!
Learning to ride racehorses has been far from straightforward. In fact, the preview day and the assessment day in Doncaster were both really, really difficult. I found the horses to be the most challenging horses that I have ever sat on in my entire riding life.
So, following this rather sharp introduction to riding thoroughbreds, I was understandably shaking like a leaf when I first turned up to ride at Neil's racing yard. However, I was in safe hands and every single horse I have ridden at his yard has behaved immaculately. They know their training regime and I have fallen head over heels in love with one or two in particular.
One of the biggest challenges I have found during this journey is riding a new racehorse. Throughout my riding career, I have enjoyed building a bond with a horse, getting to know its quirks, fostering a relationship and working as a partnership. Racing is different and the jockeys often have to pick up the reins on a horse that they have never ridden before.
I wasn't sure if I would definitely pass the jockey fitness test in May because it is so difficult. However, once I had completed this stage of the journey, I started to think seriously about how I was going to find a horse for the race.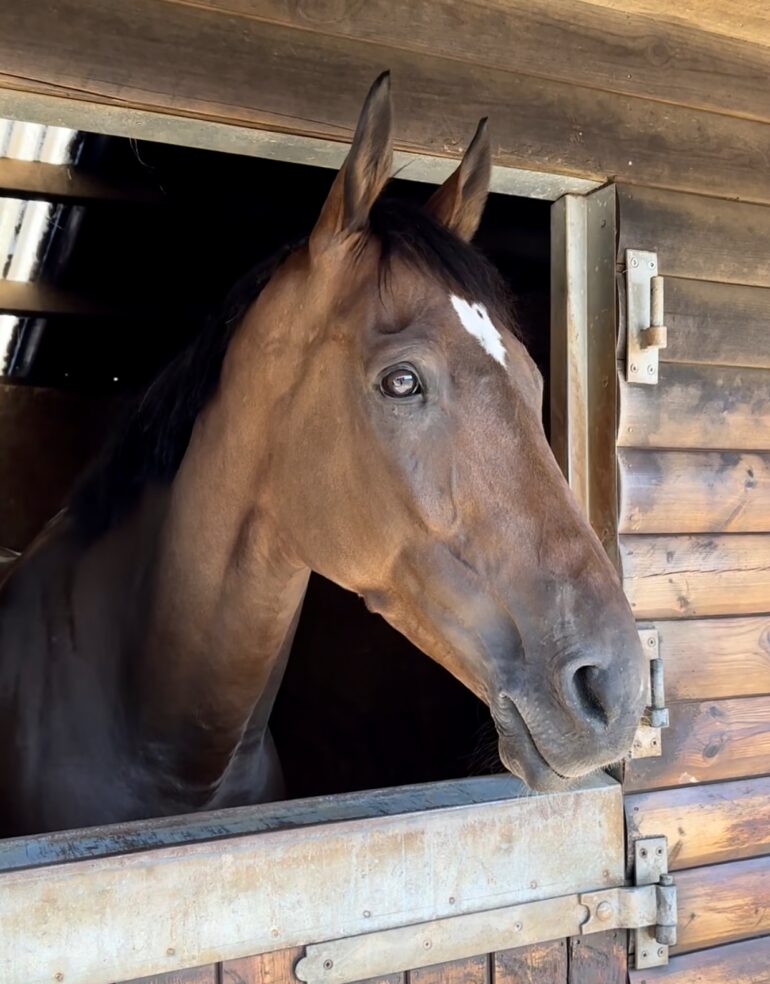 Ideally, I wanted to find a horse that was located not too far away. This would mean I could visit the yard and also ride the horse ahead of the race. After a little bit of research, I reached out to Grace Harris, who is based in Chepstow, Wales. Grace became the youngest dual purpose, Flat and National Hunt racehorse trainer in the UK after being granted her licence by the BHA in February 2014.
Considering the Markel Magnolia Cup is an event that champions women's participation in sport, I felt as though it would be wonderful to try and work with a female trainer for the big race.
One of the things I keep coming back to throughout this challenge, is the amazing kindness of those involved in the racing industry. Grace was quick to respond to my out-of-the-blue approach and delighted to help. Rather excitingly, she had a horse on the yard in mind, who would be perfect for the job.
Grace's yard is predominantly female led and it is a family business too. Grace's mum is on hand to help and her sister-in-law is the head girl. There are also a number of lovely ladies (and gentleman) who are part of the operation and it is a really exciting enterprise, which is located in a beautiful part of Wales.
It was a gorgeous day when I drove across the bridge for my first visit to Grace Harris Racing. I met my horse and returned to ride him a few days later. A big, strapping bay, with a gentle eye and a kind heart. He was experienced and would definitely look after me. My first gallop, and my subsequent gallops went like a dream. It was all going perfectly. Until the dream was abruptly shattered.
Very sadly, he picked up an injury, which put him out of contention.
It was back to the drawing board.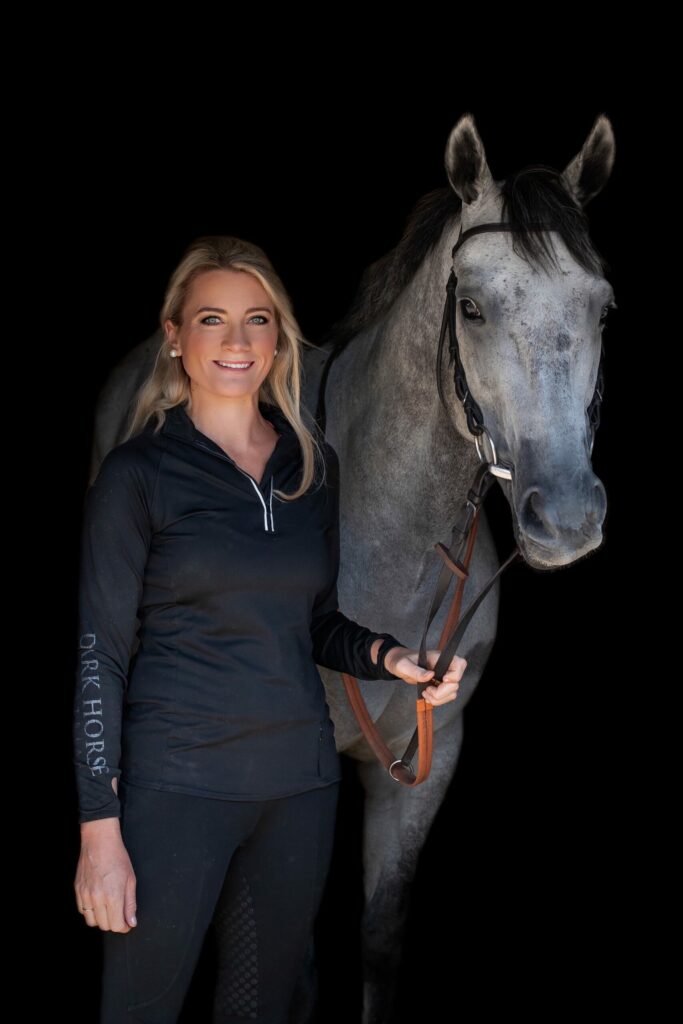 Thankfully, Grace's support for my challenge has been unwavering and I am extremely grateful for her kindness and loyalty. She was on the case to find me an alternative ride for the race.
Grace phoned one of her longstanding owners, Sue Maine, who after reading about the Markel Magnolia Cup and its meaning, very kindly agreed to let me have the ride on her beloved horse The Cola Kid. I am continually overwhelmed by the support and generosity of those within this industry.
All along, I have been terrified about having to sit on a random horse on the day. I have had to face up to my fears and believe that it is possible to go into the race without a longstanding partnership with a horse and learn to bond with a ride in a matter of minutes or over just a few days.
I am incredibly lucky to have the opportunity to ride Sue Maine's horse, The Cola Kid at Glorious Goodwood. I went to watch him race at Bath Racecourse and I have also been able to ride him at Grace Harris Racing.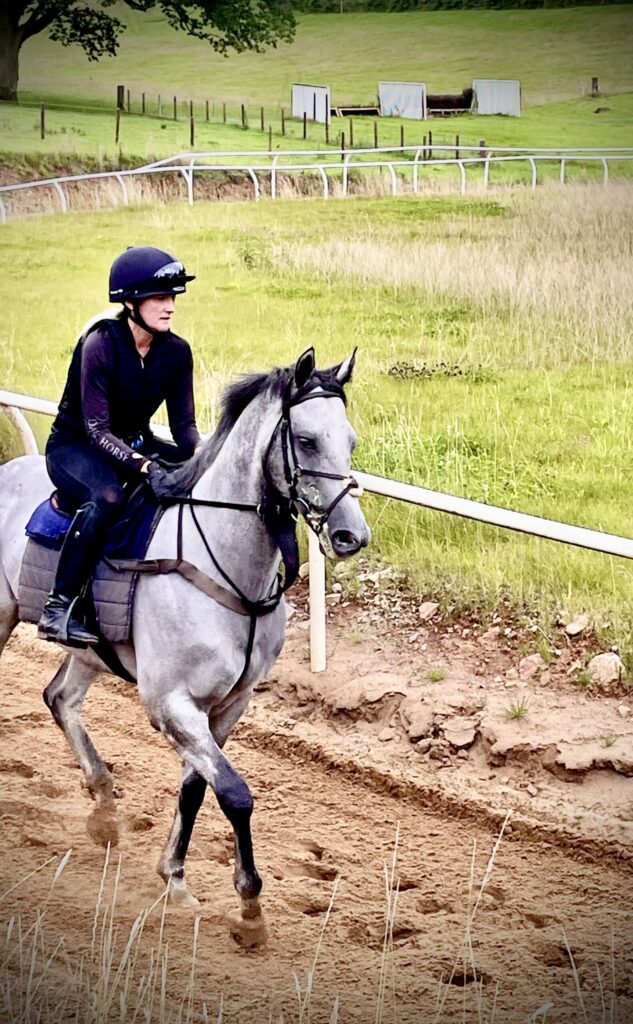 When I gallop The Cola Kid, I feel as though I am riding on the crest of a powerful wave; he holds himself proudly and has the presence of a magical unicorn. I feel incredibly fortunate to be heading down to the start line on this beautiful horse and, regardless of what happens on the day, it will be an utter privilege just to be sitting in his saddle. Thank you Sue, and thank you to everyone at Grace Harris Racing.
---
---
Chapter Six: The big race
---
I am writing this final chapter of the Gallop to Goodwood 10 days after I crossed the finish line with a beaming smile emblazoned across my face.
Make no mistake, this was not the smile of a winner. It was quite the opposite as I found myself bringing up the rear on the day. It was the smile of a survivor, and this is a story that is about much more than just one race.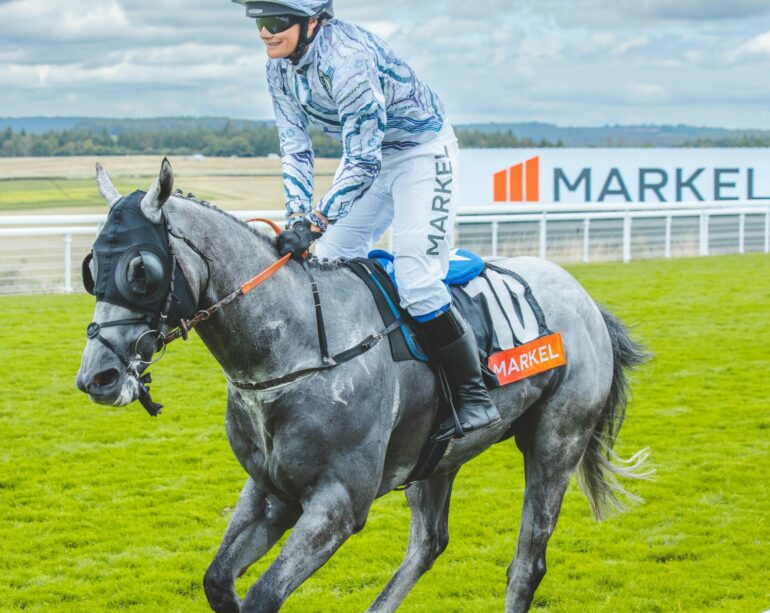 This time last year, there was no way on earth I would have believed it possible to have ridden in a flat race at one of the world's most prestigious sporting fixtures. As I have explained during previous chapters, this has been an extremely difficult challenge to complete.
At the start, I was terrified of riding racehorses. Furthermore, I couldn't even complete any of the fitness exercises that formed part of the statutory requirements. While I am used to multitasking, the last seven months have given a whole new meaning to the word, and I have been completely dedicated to balancing the intensive training with my professional commitments and family life. As a mother of two young children and seeing fellow jockeys fall by the wayside because of a broken back here and a broken wrist there, I have also questioned whether or not I should be taking these kinds of risks at all.
It has been physically demanding, mentally draining and a path on which I have encountered the deepest lows, along with the most ecstatic highs.
Pre-race nerves began to build for about a week before the big occasion. The adrenaline was like a dripping tap. Slowly and persistently it started to flood through my body. Sleepless nights were matched with days that were full of angst and excitement at the prospect of nearing the peak of the challenge.
On the Monday, tragedy suddenly struck when I lost my darling pug who had been my companion for many years. Although she was nearing the end of her days, we had hoped that she would survive a few more months… at least. Animals are a very important part of our family and the shock and pain were agonising. The timing? Terrible.
Yet, the show must go on. I had no choice but to cope with an unforeseen blow so close to the big day and I had to bottle up the emotion until after the race.
In terms of preparation, I left my home for West Sussex feeling as though I had done absolutely everything in my power from a fitness and riding perspective to get ready for the 5 ½ furlong sprint that lay ahead. Countless riding out sessions had been complemented by hours and hours of personal training. I had a fantastic support team who had helped get me there and an enthusiastic owner who had very kindly trusted me with her precious steed.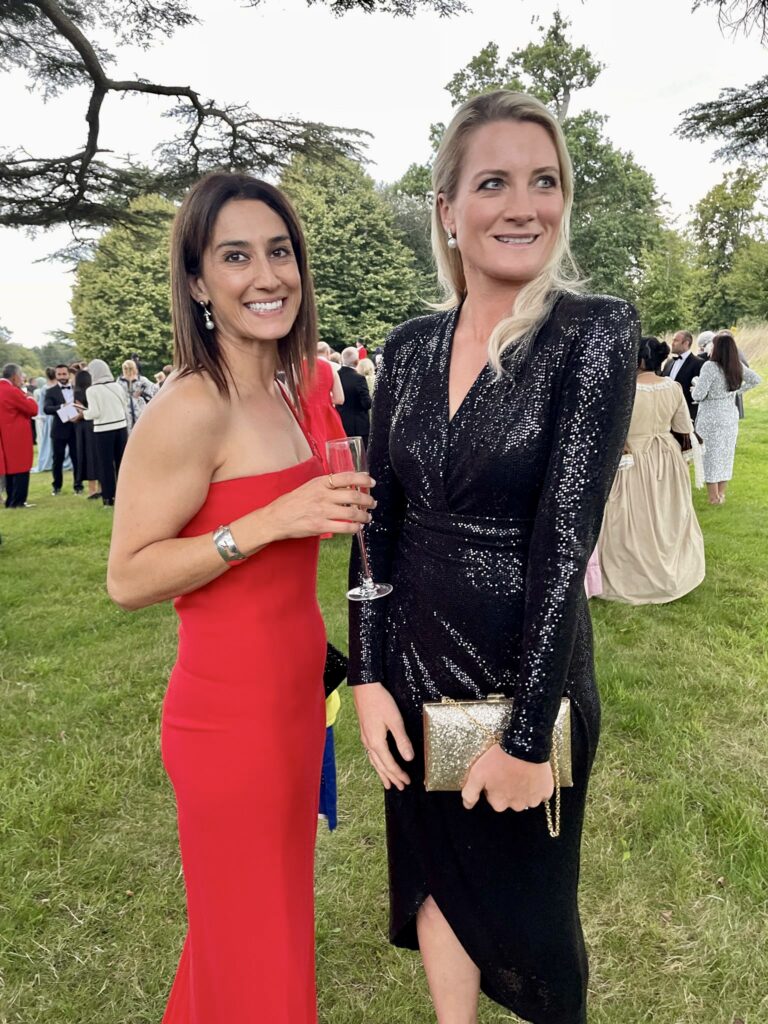 The night before the Markel Magnolia Cup, all the jockeys were invited by the Duke and Duchess of Richmond to attend The Regency Ball. The glamourous affair was hosted at the family seat and included a champagne reception, formal dinner, candlelight horse race and a performance by Sophie Ellis-Bextor. It was a wonderful opportunity to see everyone ahead of race day.
Most of the jockeys took to their carriages before midnight in an attempt to catch 40 winks. In hindsight, I could have danced into the early hours of the morning because any attempts to sleep were futile. I spent the night tossing and turning, occasionally dozing, but at 4am I gave up any hope of a deep slumber.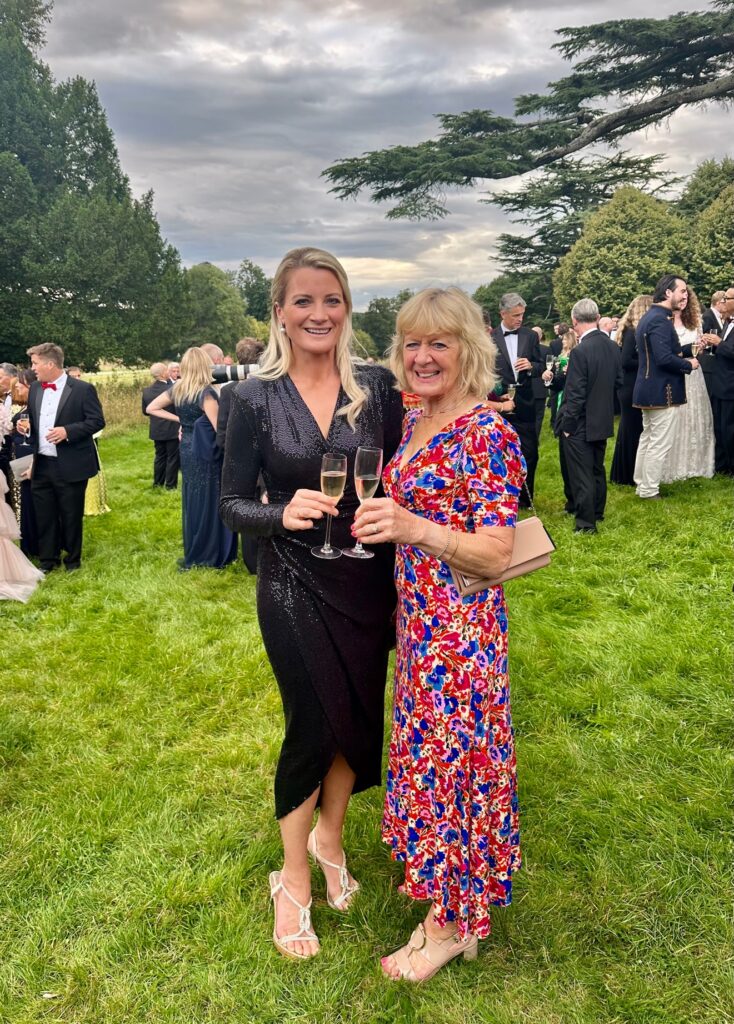 Time seemed to pass very slowly at the start of the day. At one point, I found myself curled up on the bed after breakfast listening to Disney songs in an attempt to keep a lid on the stress and worry that was starting to build at an alarming rate.
A fleet of personalised Range Rovers finally arrived to collect all the jockeys. Each car was decorated with a print of our silks that had been designed by Alice Temperley, alongside our name. The VIP jockey experience was about to begin and it continued throughout the day.
We were chauffeur-driven to the course walk and then onto The Kennels. Here, we changed into our equipment before leaving to go back to the course against a backdrop of flashing cameras and film crews.
Passing all the racegoers, who were dressed in glamorous hats, really brought the occasion to life. My driver, Dr Andy Clegg, opened the car door and wished me luck while also reminding me to try to enjoy the experience.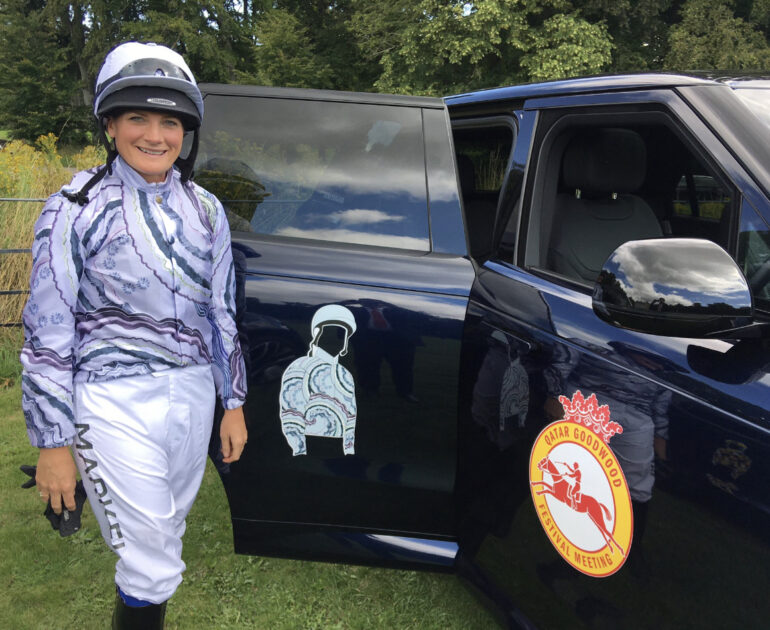 Stepping into the Parade Ring was a surreal moment and there were huge cheers from the crowd. I was very lucky that nearly 50 friends and family had made the effort to travel to Goodwood to support my fundraising for Education Above All and they let out the biggest cheer of all. Spotting friendly faces in the crowd was a welcome tonic and a highlight of the day.
The Cola Kid was being expertly led by his groom Lisa Mitchell, who had presented him immaculately. Meanwhile, I met with Grace Harris, Sue Maine and my family for a quick brief before the start. Neil Mulholland also kindly made the effort to travel to Goodwood and share some final tips before I was legged up onto my horse and we marched through the crowds towards the pristine green turf.
Cola was starting to get extremely excitable and the combination of a brass band still playing on the course and some of the other entrants needing to be led to the start made this part of the day slightly tricky to navigate. Cola was eager to head off into his rhythmical canter, but I had to contain him because we are not allowed to overtake anyone on the way down and everyone's safety is the first priority.
You can never plan the perfect race scenario and you must adapt to the situation that unfolds. We managed to ease into a gentle canter towards the end and this helped him relax a little before the starter ordered us to walk around in a group before heading off.
Unfortunately, we didn't get the start that we wanted or needed and it ended up being rather muddled and problematic. Cola is not used to a flag start and he was extremely confused. When we eventually managed to get going, he galloped like a champion and travelled extremely well; however, in a sprint you simply cannot afford to be delayed and lose any ground at the beginning.
I will never forget the feeling I had when I saw 11 horses' hooves galloping over the top of the hill and into the distance. Cola and I had only just managed to get going thanks to some encouragement from a man on the ground.
My heart felt like it had been hit with a sledgehammer. I knew at that exact moment in time that I had absolutely no hope of catching up the pack or being part of the race at all. It was the most terrible, depressing, frustrating, demoralising and desperate feeling.
In a split-second, all the many hours of work that had gone into this race seemed to be completely wasted. Those once impossible milestones that I had battled so hard to pass, became instantly pointless.
I felt as though I had let down all the people who had kindly worked so hard to get me there, as well as those who had travelled the length and breadth of the country to support and those who had generously sponsored the effort. All those people were waiting eagerly to greet me after the race, yet I was destined to arrive to the reception as a failure.
Furthermore, I couldn't do Cola justice and show him off at his best. This fantastic Pegasus beneath me, who deserved the very best of starts, was left lost and bewildered. Alone on the racecourse. An undeserving outcast.
My heart felt unbearably heavy – like it had turned to lead. An emotional fireball of hopelessness and immense disappointment was starting to explode uncontrollably from within.
There was only one thing I could do and that was to put my head down, grit my teeth and gallop like I have never galloped before.
In life, there are character building days and then there are days when you simply don't think the human character can stretch as far as it needs to.
Seven months of hard work, commitment and dedication were condensed into 90 seconds of racing.
For us, it was 90 seconds of loneliness.
There I was shouting words of encouragement to Cola at the top of my voice and frantically willing him on, while trying to ride a finish from the very start of the race. I had to go full pelt from the off. I had to ride as though I was about to win the Gold Cup in a nail-biting finale, while knowing full well that we could only ever come last and couldn't even experience one millisecond of the race as part of the pack.
But I kept going, and going, and going.
Gasping for breath, I crossed the finish line. I saw my little children out of the corner of my eye and remembered them excitedly rehearsing their cheer before I left for the race: 'Come on Mummy and Cola, you can do it!'.
And that is when that smile appeared. Not the smile of a winner, but the smile of a survivor.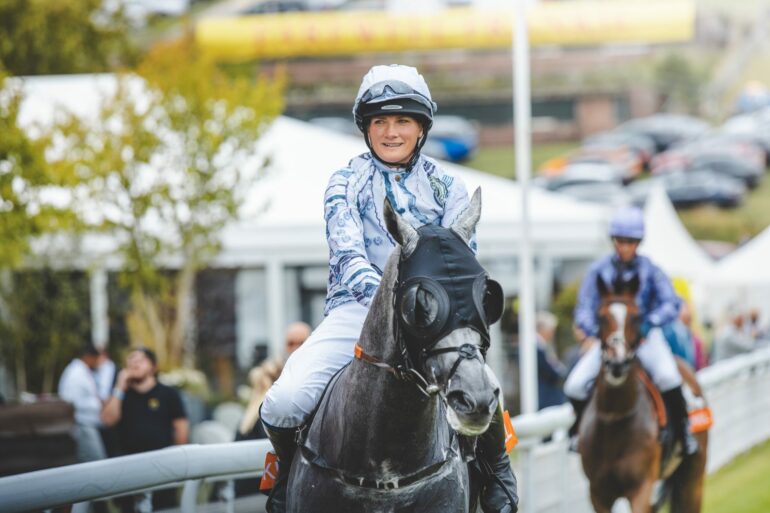 I had done it. I had a nightmare start. I had a nightmare race. It had all gone so horribly wrong. But Cola and I had both crossed the finish line in one piece and that is all that really mattered. We had kept pushing forward in adversity and finished to fight another day. We had completed this mammoth task, not with a glory story to tell, but with a tale of determination to share, which had ended up with a rather apt twist.
I gave the crowd a wave to signal the end of this epic challenge. We were bringing up the rear and closing the curtain on a remarkable journey.
The money raised for Education Above All is going to give vital opportunities to many children and it is a very worthwhile cause. During recent months, I have met so many incredible people who have been so kind and generous with their time. My friends and family have provided invaluable help and assistance. There have been a lot of highs and just as many lows. It has been an enriching experience, during which I have achieved things that I never thought were possible.
Life is full of ups and down and, particularly in sport, Rudyard Kipling's words are so important. There is a constant need to meet with Triumph and Disaster and treat those two imposters just the same.
Without the bad moments, the good moments would become meaningless. Times of despair and disappointment help us to appreciate the smaller things in life, which sometimes go unnoticed.
So, I leave the 2023 Markel Magnolia Cup behind remembering how important it is to embrace opportunities. Without embarking on new experiences in the first place, you would learn nothing at all.
Push boundaries, reach to the stars, enjoy new friendships and surround yourself with supportive people.
Most importantly: never give up, even when you know you have lost. Losing is just as significant as winning because you take away different things from the experience. The human character can stretch that far.
This has been a journey of a lifetime and this is a story that is about much more than just one race.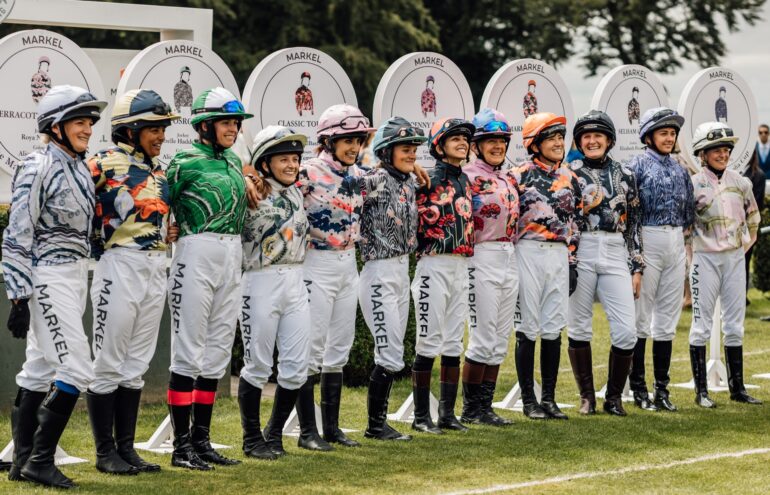 ---
Laura raced in the Markel Magnolia Cup 2023 to raise funds for Access All Education. Support the charity and her journey here: Laura Toogood is fundraising for Educate A Child – International (justgiving.com)
---
---