What's new in Davos Klosters for the 2023-24 winter season
In the beautiful Graubünden region of eastern Switzerland, the nation's snowsports capital Davos Klosters embarks on the 2023-24 winter season with an exciting new downhill piste, a rewilding initiative, the relaunch of a celebrated hotel and two centenaries.
Between Usser Isch and the Carjöl areas of the Jakobshorn, the new piste offers strong skiers an attractive 2.5 km run down to Davos Platz relieving the pressure on the Gämpen slope which is largely a forest road. Meanwhile, the now defunct FIS Ischalp slalom run has been reforested, giving more than 10,000 square metres of the mountainside back to nature.
Klosters' 4* superior boutique Hotel Alpina re-launches in December 2023 as the Seven Alpina. A full renovation and redesign took place during the summer when management duo Räto and Verena Conzett retired after 30 years. A collaborative partnership between Davos Klosters Mountains and the Seven Group has recreated the property in a mountain-chic style while preserving its cosy charm.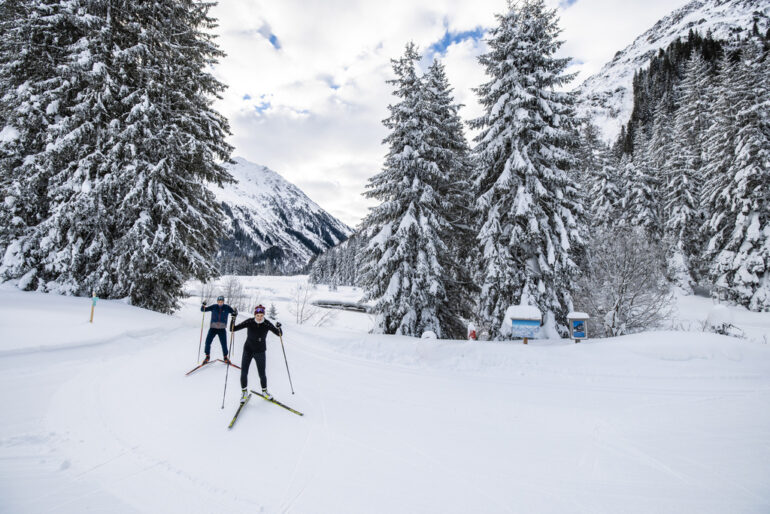 It is also 100 years of the Parsenn Derby, skiing's original downhill marathon, which was the brainchild of Ski Club of Great Britain member Fred Edlin. First contested from Parsennfurka to Küblis on 13 January 1924, with categories for juniors, seniors, veterans, guides & teachers, and women. The Davos Ski Club moved the start to the Weissfluh summit in 1933, stretching the race to 12km with a vertical drop of 2000m. Now a people's race, the Derby is still a highlight on the international racing scene with team and individual races over a shorter course. The event is on every amateur racer's tick-list and attracts around 500 competitors each year.
It is also the 100th Anniversary of the Spengler Cup Davos. This is the world's oldest international ice-hockey tournament, which takes place between 26 and 31 December 2023 at the impressive indoor Ice Stadium in Davos. Six teams from five countries will compete for the prestigious trophy.
The combined attractions of high altitude and abundant snowfall place Davos-Klosters firmly at the top of the A-list for a classic Swiss Alpine winter holiday. 57 lifts serve 300km of manicured piste across six distinct ski areas, with limitless off-piste, touring and cross-country ski opportunities. Non-skiers are equally spoiled with scenic winter walking trails, excellent shops, fine dining, wellness facilities, museums, cultural events and evening entertainment.
A favourite of the British Royal family and annual host of the World Economic Forum, Davos Klosters' British connection dates back to the 19th century. Robert Louis Stevenson came for his health and wrote Treasure Island there in 1881. Arthur Conan Doyle's account of an adventurous ski tour from Davos to Arosa in 1894 fuelled British interest in the then new sport. The annual Anglo-Swiss parliamentary ski race is a tradition that goes back to the 1950s. Thomas Mann's masterpiece The Magic Mountain, set in a Davos health resort, was published in November 1924.
Davos is a vibrant cosmopolitan ski town catering for all tastes and winter holiday activities. Klosters is a stylish village with a quieter vibe, attracting a loyal clientele of British regulars who hand their passion for skiing and Switzerland down the generations.
The destination is easily accessible by train in 2 hours from Zurich to Klosters and 2.5 hours to Davos.
Discover more: www.davos.ch | www.klosters.ch
---