Luxury Skiing Guide
Introducing The Sloaney Luxury Skiing Guide…
–
The ski season has arrived and for those of you who have yet to book your winter sports escape, we have compiled the ultimate Luxury Skiing Guide for the coming months.
In our guide, we have included a selection of top resorts, as well as some of the best new clothing and equipment releases. We also have a special fitness feature by our columnist, England Rugby Player James Haskell. James has selected some exercises that will help prepare you for hitting the slopes.
We will be updating our Luxury Skiing Guide throughout the season, so make sure you check back on a regular basis.
–
Luxury Skiing Guide
Partners:
Contents:
Where To Go…

1. Oberlech, Lech, Austria
Top of the list for places to visit is Hotel Goldener Berg in Oberlech and we give it full marks on everything. Nestled high in the mountains above the plush resort of Lech, this hotel offers an enviable ski-in ski-out location, as well as stunning walking and fun tobogganing. There is a luxurious spa for those wanting to relax after a hard day skiing around Arlberg's famous White Ring race course, as well as plenty of chic bars and restaurants nearby.
Read more: An unbeatable skiing holiday at Hotel Goldener Berg in Oberlech
2. Lake Tahoe, California
If you want picturesque skiing and fancy going further afield than Europe, Lake Tahoe offers spectacular views. On the boarder of California and Nevada lies the resort of Heavenly and it lives up to its name. The scene at the top of the mountain with desert one side and the breath-taking lake view the other is out of this world. The breweries, casinos and sausage eating competitions will satisfy the party animals. The Marriott Grand Residence is our recommended place to stay.
Read more: A trip to Lake Tahoe will prove heavenly for skiers
3. Vail, Colorado 
Vail is another American destination that is well worth visiting. This resort is modelled on a European ski resort but also embraces the American ski vibe too and a trip to Colorado is a memorable experience. Manor Vail Lodge is a good place to stay and your ski pass will give access to Beaver Creek, Breckenridge and Keystone.
Read more: Skiing in America
4. Verbier, Switzerland
Verbier has long been a hotspot for the rich and famous. There are beautiful scenic views and a lively party scene. The properties managed by CK Verbier are very impressive and ideal for those wanting to enjoy an indulgent weekend away.
Read more: A luxury chalet experience in Verbier
5. Val d'Isere, France
While this resort may get its fair share of lively students, there are also plenty of luxury escapes for those looking for a quite break in the Alps. Hotel Le Blizzard is the top 5* hotel in the resort and is very close to the slopes. The infrastructure is excellent and there is a vast area to ski.
Read more: Skiing in the French Resort of Val d'Isere
Once you have decided on where you will go, it is time to a book a shopping trip to update your skiing wardrobe essentials. We have a preview of some of the best new releases this season.
Fitness Tips…

Our columnist, England Rugby Player James Haskell, gives some tips about how to get fit for the ski season ahead…
In my latest column which is part of the Luxury Skiing Guide, I want to talk about getting your legs fit for hitting the slopes. I know skiing is a pastime a lot of the readers on The Sloaney really enjoy going back to every year. Not to mention the host of you planning to try it for the first time this winter.
Like most new, exciting things, there is a temptation to just go and do it without necessarily preparing your body for the rigors of this fun but hard sport. So if you don't want to ache-like-hell or not be able to keep up with the rest of your skiing party, I am going to suggest some exercises that you can do before you get onto the slopes.
The first piece of advice I would offer is for you to find your closest ski centre or dry ski slope. Nothing prepares you better than actually doing the sport for which you are training.
Although before you even do this, you need to think about loosening-up some of those undoubtedly stiff leg muscles. Your legs take a hammering when skiing, so the use of a foam roller leading up to the holiday would be a really good idea. Even when out there doing this pre- ski, is not a bad shout.
If none of you have ever used a foam roller before, you can find them in most gyms these days. Plus they are available online for not a great deal of money. It is essentially a piece of hard pipe wrapped in foam.
You then sit or rest different key body parts onto it with the intention of helping to release these points off. So very much like the Trigger point treatment you would get from a Physio.  By rolling out these tight areas/zones you aim to loosen the muscles. I would recommend only doing 6-8 rolls on these areas so don't go mad.
While there should be a little bit of discomfort it should not be absolute torture. The key areas to target are the following;
Quads
ITB bands (these run down the outside of your legs)
Hamstrings
Calves
Glutes
Back
In terms of some exercise sessions to prepare your legs, I would suggest the following. These are great for beginners but also for those returning to skiing after a while. They can be done at home or in a gym, but I have kept them simple for those on the go. An ongoing bonus of following these sessions is they will help you develop some leg muscles, which is never a bad thing.
You can do the following session a couple of times a week, as it has other benefits than just getting you "slope-ready".
Bodyweight Squats
 10 reps x 3 sets. You rest for one minute between sets.
Make sure you do these at a slow tempo, counting 3,2,1 on the way down
Chest-up with the weight going through your heels
Go as deep as possible, but only within your own limitations. Do not sacrifice technique for depth
Lunges
 10 reps (on each leg) x 3 sets. You rest for one minute between sets.
Imagine you are lunging out and down not lunging forward. You don't want your knee travelling over your outstretched foot
Keep your upper body straight
Standing Single Leg Calve Raise
 10 reps (on each leg) x 3 sets. You rest for one minute between sets
You can either do these on the stairs or you can do them on the floor. You may need to hold onto something for balance
Make sure you fully extend up and down
I have suggested doing single leg. However if you find this two hard you can go to using double legs
Isometric Wall Sits
30 second holds – x 3 sets you rest for one minute between sets.
The idea of this exercise is to sit half way down a wall, with your feet a shoulder-width apart out in front of you. Your back flat against the wall and your head -up
You sit down the wall until you are in a half squat position
You should feel the tension in your legs
You work for 30 seconds, stand up and rest. Then squat back down again
Pogo Front, Back, and Side-to-Side Jumps
Work for 20 seconds x 3 sets. Rest for one minute between sets.
These are small two footed pogo jumps. You keep your legs and feet together
You are working for thirty seconds continuously.
You are jumping forward and back, side to side on the same spot
Try to be dynamic
Hopefully this will all help you get started and prepared for your next ski trip. Let me know how you get on!
If you want some more fitness ideas then please watch our YouTube channel www.youtube.com/Thejameshaskell and you can read more at www.jameshaskell.com

What To Wear…

Clothing
A preview of Odlo's ski functional sportswear collection
Visit Odlo to view the full collection
For Her: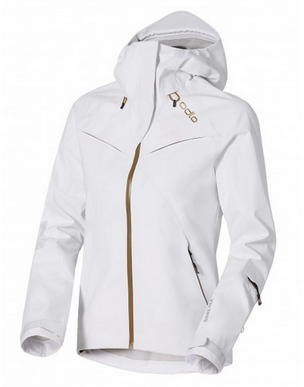 SKI JACKET GORE-TEX® SPIRIT £380
This is the most exclusive item in the HIGHLINE collection from Odlo. The high-quality GORE-TEX® fabric provides perfect protection from wind and snow, so you can hit the slopes even in the heaviest snowstorm. This ski jacket also boasts an adjustable powder skirt and a ski pass pocket in the left sleeve.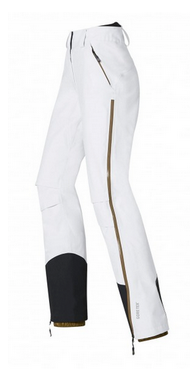 SKI PANTS GORE-TEX® SPIRIT £330 (Available in 2 Colours)
The waterproof GORE-TEX® pants will keep you dry and warm whatever happens – even if you find yourself sitting in the snow. Thanks to their adjustable boot gaiters, they will fit over any ski boot.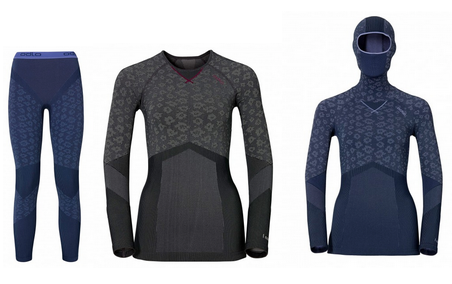 BLACK COMB Pants: £80 Tops facemask: £100 crewneck: £80
Blackcomb Evolution Warm women's Baselayer is stylish, tailored and multifunctional, keeping you warm, sweat free and ready for all types of action on the mountains.
For Him: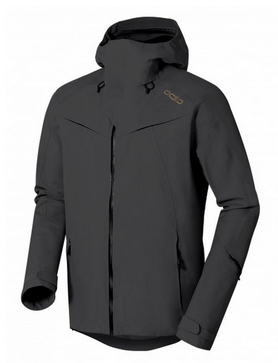 SKI JACKET GORE-TEX® SPIRIT £380
The most exclusive item in the HIGHLINE collection – this time for him. The thin, lightweight hardshell jacket is incredibly versatile: combine it with a warm down jacket when it's cold or wear it on top of a light long-sleeve shirt on sunny spring days.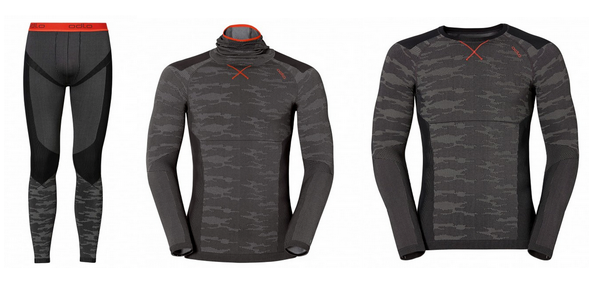 BLACK COMB Pants: £80 Tops facemask: £100 crewneck: £80
Perfect thermal insulation ensures you stay warm in cold conditions, and as an extra benefit, the product is partially made from recycled materials so you can give back to the environment as you enjoy your life and leisure outdoors.
Eyewear 
A preview of Silhouette's sunglasses that are perfect for Apres