When We Can Travel: Villas in Tuscany
We are still unable to travel at the moment and may be restricted for some time. That doesn't stop us thinking ahead to the occasions when we will be able to enjoy holidays again.
In the latest edition of the When We Can Travel series for The Sloaney, I am previewing some villas in Tuscany. Italy is a popular destination with readers of The Sloaney and the weather, culture, history and luxury hotels and villas are very alluring.
Tuscany Now & More has a newly launched portfolio of sustainable villas. The collection has been curated following an influx of enquiries for destinations with an ecological benefit.
Through these unique sustainable properties, guests can dip into an entirely solar-powered infinity pool, pick home-grown produce on site or cook up an Italian feast on a zero-gas electric stone-walled stove. Guests will be captivated as Italian hospitality meets once-in-a-lifetime environmentally friendly experiences, available only through Tuscany Now & More.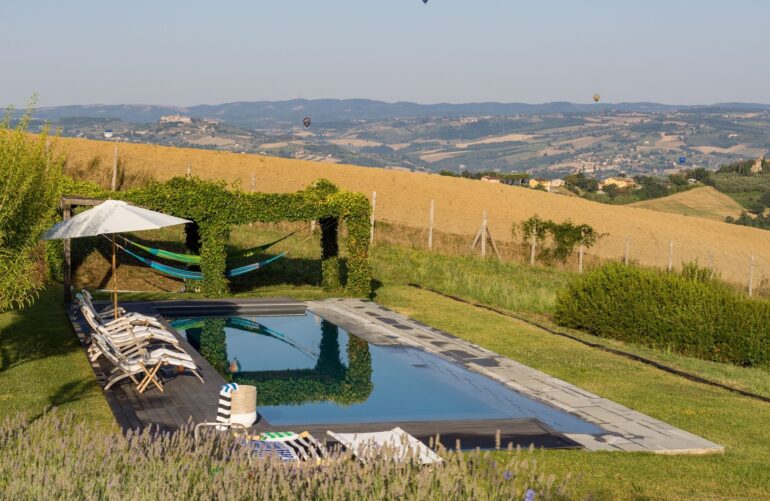 Sustainable villas to explore in the future include:
Granaio Lavandoloso (pictured) is a new contemporary villa located in the undulating hills of Umbria, Italy's 'Green Heart'. This 4-bedroom, 4-bathroom property runs entirely on solar energy, and is conditioned by a renewable air-cooling system and designed with materials to maintain the desired temperature whilst using less energy.
This stunning villa was designed and built to follow the movement of the sun. The sun rises behind the hill where Lavandoloso is positioned and as the day ends and the sun dips over the horizon every room is bathed in soft, rich colours. Well-kept lawns flow down the hillside to the private swimming pool, again positioned to bath in the Umbrian sun till the last possible moment.
This 4 bedroom property sleeps up to 8 people and Tuscany Now & More (www.tuscanynowandmore.com, 020 7684 8888) offers Granaio Lavandoloso from £2,789 per week.
---
Santa Dieci is a beautiful one-thousand year-old tower and guest house set on a hillside of olive trees and vineyards facing Siena. The old Tower has been converted into a very special private home, with a sophisticated and stylish modern finish which was fruit of a unique bio-architecture project, with the philosophy that sustainable buildings must define the way in which the people who inhabit them live.
The owners' cuisine, wine offering and lifestyle follow nature's flow, with a great respect for the diversity of the seasons and a focus on re-use and up-cycling. Respecting this bountiful territory means passing-it on intact to future generations, because the essence of the Chianti hills is not purely something historical. Santa Dieci offers sustainable services to allow guests to understand what it means to make "natural" wine, transcending the fad of "organic" labels so popular in today's world, and to make guests taste and cook dishes respecting the seasonality of the ingredients (all organic) and the "re-use" which is typical of Tuscan countryside culture.
This 5 bedroom property sleeps up to 10 people and Tuscany Now & More (www.tuscanynowandmore.com, 020 7684 8888) offers Santa Dieci from £3,028 per week.
---
Podere Brogi is a beautifully restored farmhouse and barn on the edge of the Chianti, converted into a luxury residence managed superbly by the Brogi family who live 10 minutes away. Originally used to produce oil, wine, cereals and fruit the property has now been entirely renovated to make it functional for sustainable tourism.
The villa and the guest house is made using entirely sustainable materials, paying particular attention to the flooring on the ground floor which is suspended in order to have air circulation in the area below. The external walls are 40cm thick and the roof in turn has an insulation of 20cm of mineral wool. The windows have shatterproof double glazing with high thermal and acoustic insulation. Old tiles are used for the external villa to ensure the external charm is intact.
The beautiful infinity pool which looks out over the countryside is entirely run by an internal solar thermal system and disinfected using top of the range salt technology. There is also a dedicated pool for children to learn to swim with a depth of 1.1m. In here there are also three hydromassage jets for the adults evening relaxation.
This 6 bedroom property sleeps up to 10 people and Tuscany Now & More (www.tuscanynowandmore.com, 020 7684 8888) offers Podere Borgi from £5,335 per week.
---
Il Soldano is an old stone farmhouse that has been converted into a luxury home for the eco-family with a strong contemporary design, a private swimming pool sustainably heated and an organic growing patch for fresh local produce prepared and cooked on site all within walking distance of the beautiful medieval town of Poppi, East of Florence. It is set independently on a hilltop, at the end of a short drive enjoying stunning views of the rolling hills and valleys and of the nearby town that is lit up every evening acting as a stunning backdrop for wonderful evening meals.
Il Soldano is the perfect setting to relax and enjoy the views furnished with sunbeds and plenty of shade. Along with the organic vegetable plot available to guests there are also organic fruit trees on the terraces just behind the farmhouse. The house and pool are not only sustained by solar energy leaving a very low carbon footprint but there are also charging stations for electric cars (type 2 connector) available in the garage for the guests of the house at an additional price of Euro 150 per week. This beautiful farmhouse really is a guilt-free home away from home.
This 5 bedroom property sleeps up to 10 people and Tuscany Now & More (www.tuscanynowandmore.com, 020 7684 8888) offers Il Soldano from £2,693 per week. Images available here.
---
Visit Tuscany Now & More's newly launched portfolio of sustainable villas here: www.tuscanynowandmore.com/villa-collections/sustainable-villas-italy.