Mum-to-be: The iCandy Peach Ride-on Board enhances this perfect pushchair
---
Katie Ann Wiseman gives the lowdown on the hero pushchair and the iCandy Peach Ride-on Board, which is a vital accessory if you have both a toddler and a baby…
---
The iCandy Peach is now in its sixth generation. It is the go-to pushchair for so many families and has been a hero product for many years. It is the world's definitive, luxury single to double pushchair, which is designed to fit perfectly around you and your baby.
The functionality and the style of this pushchair are both impressive. The colours are fashionable and the most recent updates to the palette include Twill and Check, as well as my personal favourite, the Phantom Navy Twill. The colour variation is important for allowing some individuality. In total there is a choice of six fabric and three chassis colours for the iCandy Peach. Some of the options include Phantom Dark Grey Twill, Chrome Black Twill, Satin Dark Grey Check, Phantom Terracotta and the exclusive Designer Collection Cerium.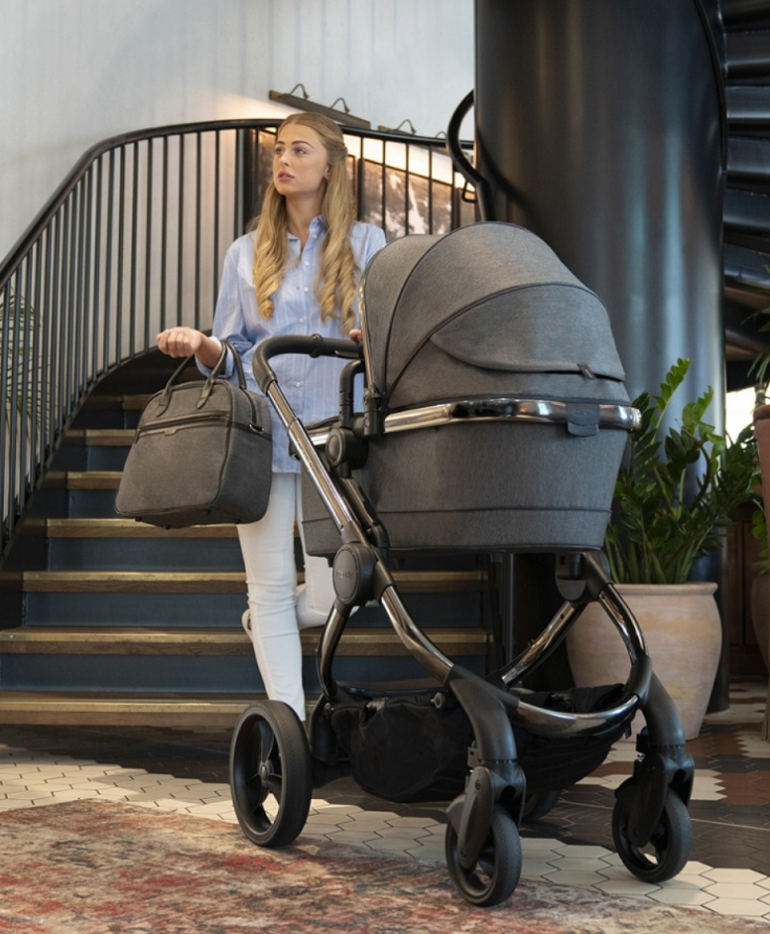 When you are considering what pushchair to buy, the extras are more important than you may think. Pushchair accessories will become an important part of your essential equipment. Coordinating effortlessly with this pushchair is the Peach parenting bag. It mirrors the sophistication of the pushchair fabric and every detail of the bag has been thought about. Leatherette trims and quality hardware mean this bag will last the test of time.
One of the most valuable assets of a baby bag is its number of compartments. There is always so much that you need to pack! This one has a spacious interior with various sections to divide contents, including a changing mat, insulated bottle warmer with drawstring closure and a mini clutch style bag with waterproof lining. The zipped front pockets are the perfect place for everyday essentials. It is stylish, practical and unisex, great as a changing bag and also a new-mum fashion accessory!
If you are welcoming a second addition to your family, the latest accessory to be developed is the iCandy Peach Ride-on Board. It is compatible with the iCandy Peach 2018, Land Rover, All Terrain and Designer Collection. This is a great option for a family with a new baby and a toddler who is walking, but still needs help when they're tired.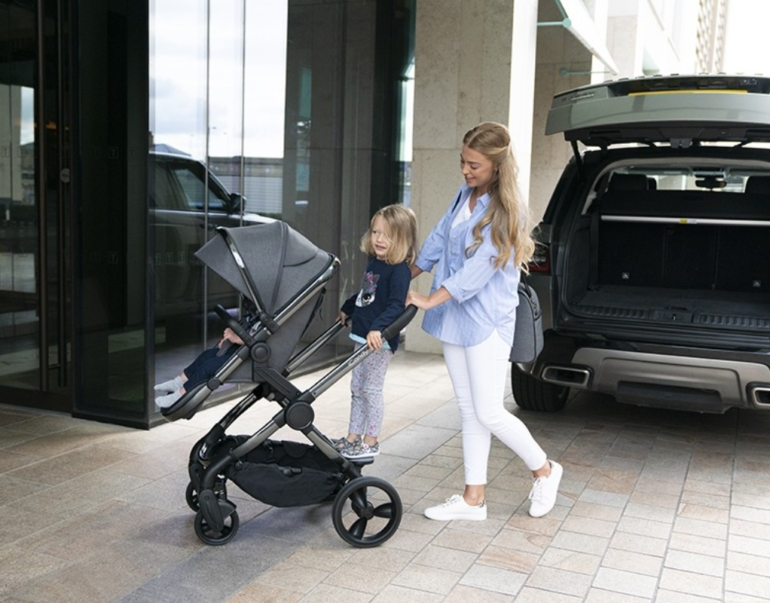 The iCandy Peach Ride-on Board can hold up to 20Kg and once fixed onto the back of the basket frame, provides an anti-slip platform upon which a young child can stand securely and safely within the handle bar space. The Ride-on Board must be used in conjunction with elevators (included when you purchase a compatible pushchair), so that your older child has space to stand comfortably alongside the carrycot or seat unit.
My second little one hasn't arrived yet but already my toddler would prefer to ride the buggy board than sit in her seat. It is safe to say that this is a huge hit!
In addition to functionality, fashion and matching accessories, you also need to think about convenience and ease of use. The Peach is renowned for its one-handed fold, incorporated carry strap and easy conversion into a double pushchair. It has been designed to assist with all the needs of a busy modern-day parent and is guaranteed to alleviate the daily stresses that are associated with getting out and about with a baby and toddler.
Discover more at https://www.icandyworld.com/uk/en/
---
Recommended Read: Beauty Buzz