Tommee Tippee invites parents to rediscover their love of sleep at Sleepfest 2020
In celebration of World Sleep Day 2020, the trusted baby experts at tommee tippee are playing host to SleepFest – a brand new experience dedicated to inspiring and supporting parents and little ones with all things sleep, taking place on Friday 13th March at The Yard, Shoreditch.
For one day only, parents are invited to join an open conversation about sleep and discover tips and tricks on how to create the ultimate haven of relaxation for both themselves and their babies. Figures show new parents lose 44 days of sleep in the first year, and sleep duration and satisfaction doesn't start increasing until six years after birth, so there's never been a better time to discuss those three little zzz's.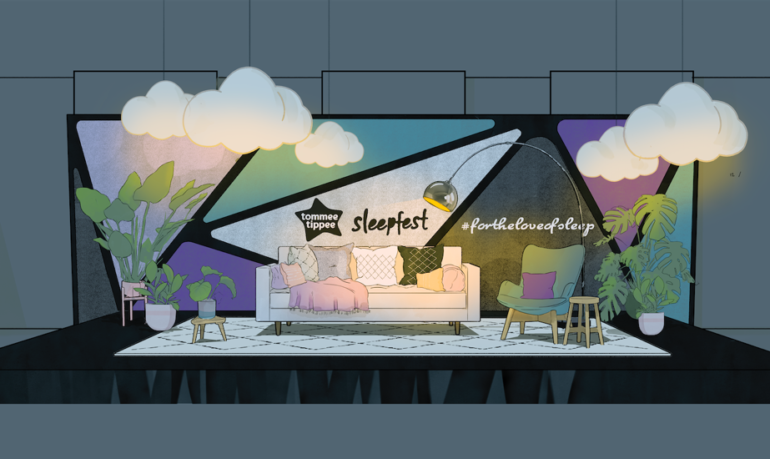 So, what can festival-goers expect? At SleepFest, guests can look forward to a series of engaging workshops, relaxing experiences and interactive group discussions – led by a panel of sleep experts and sleep-conscious parents, who know the shut-eye struggle only too well. Guests will include parenting gurus, Rosie Ramsey and Rachaele Hambleton (also known as @parttimeworkingmummy), as well as a child sleep expert qualified in the art of slumber for little ones. There will also be gentle, live music performances curated by MAMI, a collective of mamas in music, to help set the mood of SleepFest.
From creating calming scent sprays to comforting nursery posters, SleepFest will give you all the tools required to help create a soothing sleeping environment at home. And if this wasn't enough, guests can indulge in tommee tippee® retail therapy and parent pampering, to ensure they finish the day on cloud nine! Baby changing facilities and a designated buggy car park will also be available, alongside a complimentary goodie bag for guests to take home.
tommee tippee® SleepFest is open for two sessions, morning and afternoon, on Friday 13th March at The Yard in Shoreditch. Tickets cost £10, with 50% of all ticket sales donated to The Lullaby Trust, and are available to purchase via Eventbrite.