Thrilling new acts at The Cotswold Show and Food Festival for 2023
The Cotswold Show returns this year and is promising to be the biggest and best yet, with lots of thrilling new attractions. One of the UK's favourite family events, the Cotswold Show has something for everyone, from thrilling attractions and activities to live music and food stalls – an incredible fun-filled family day out.
New for this year is the daredevil 'REME Lightning Bolts Army Parachute Display Team', seeing Soldiers and Officers of the Corps of Royal Electrical and Mechanical Engineers jump from thousands of feet up in the sky, descending with trailing red smoke – performing in the main Bathurst Arena on both days, this is a spectacle not one to miss. The REME team will also be bringing their army climbing wall for anyone to have a go.
Also new this year in the main arena is the adrenaline filled 'Squib Freestyle Motocross' aerobatic display team, performing radical stunts with a floorshow, which have multi-rider line-ups and is choreographed to music with a commentary to add to the thrilling visual impact that Squibb Freestyle provides.  
Returning for the first time since Covid is the 'British Scurry and Trials Driving Team', which will see teams of ponies and carriages racing against the clock around a course of cones to fight to win the fastest time. Equestrian enthusiasts can also revel in the wonders of the famous Ben Atkinson Action Horses, celebrating true connection, the horse and all its power and grace.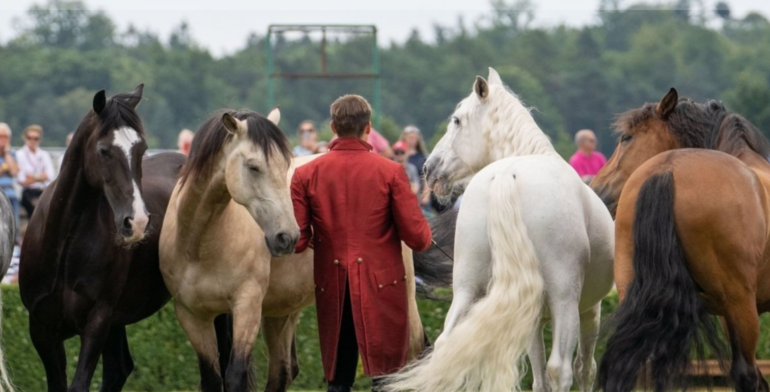 For the foodies, the show's Food Festival tent will be crammed with a huge range of delicious produce and beverages, selling a marvellous selection of food and drink including charcuterie, cheeses from around the world, artisan bakers, flavoured gins, ice creams, homemade pies, ciders, truffles, scotch eggs, champagne and sweet treats.
For all the budding chefs attending this year's Cotswold Show and Food Festival, the exciting live Cookery Theatre will be presenting cookery demonstrations all weekend.   There will be cookery demonstrations by talented chefs from the new restaurant in Cirencester Park, Roots & Seeds;  Cirencester based cookery school, The Old Bakehouse; award-winning sustainable wild venison supplier, Deerbox; multi-award-winning food artist, Edible by Aggy;  organic beef farm, Everess Farm; authentic Thai food restaurant, Apinya's Thai Kitchen; and award-winning chefs from the Lygon Arms, where James Martin has recently taken up residence.
Outside the main arenas at the Cotswold Show and Food Festival, there are hundreds of stalls, attractions and interactive activities, including tree climbing, wall climbing, archery, shooting, traditional countryside craftsmen such as beekeepers, blacksmiths, weavers and lacemakers, a petting farm, dog shows, falconry, Morris dancers, horse whispering, steam engines, vintage tractors, and endless shopping opportunities.
---
UP NEXT
Our Editor is racing in this year's Markel Magnolia Cup, read our editorial series, The Gallop to Goodwood