Things to do in November: Jazz, Rooftop Skating, Thanksgiving, Gin Socials and more!
The end of October and beginning of November always seem to flash by in the blink of an eye. Halloween celebrations are closely followed by Bonfire Night and then there is a bit of a lull before the festive fun begins.
If you are looking for some inspiration about what to do once the fireworks have finished, here are a few ideas for the rest of November…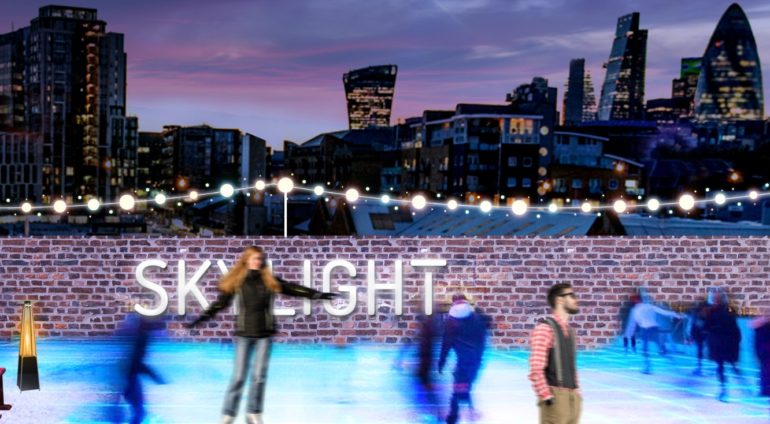 Rooftop skating
Skylight, London's most imaginative rooftop destination, has announced a very exciting winter season, launching at Tobacco Dock in Wapping on Thursday 2nd November. Themed around an urban après skate bar, the new winter season will feature a neon-lit winter playground with London's only rooftop skating rink. The East London venue will also play host to delicious seasonal drinks, fondue and street food, cutting edge DJs, ice hockey shooting, indoor and outdoor heated areas, and the some of the best views in the city.
---
Jazz Before Jazz Was Jazz
Jazz Before Jazz Was Jazz is an exciting event from The Arts Society and Kansas Smitty's, taking place on Sunday 12th November at Two Temple Place, London.  In recognition of 100 years of recorded jazz, arts education charity, The Arts Society and East London music dynamo, Kansas Smitty's are coming together to tell the story of the way jazz became Jazz for the first time. For this one-off event, the people and sounds that enabled the greatest leap forward in popular music recording for a century, will be brought to life through talks, interactive workshops and performances by some of the best young musicians in the country.
---
3D animated dining at Le Petit Chef
Le Petit Chef is a new and innovative 3D animated dining concept based around the culinary exploits of a diminutive animated chef. The high-tech pop-up dining experience is set along the famous Silk Road, the experience takes guests on a journey from Marseilles to Arabia, India, the Himalayas and China, using cutting edge 3D visual technology and effective storytelling through flavours, ingredients, sights, sounds and tastes. Le Petit Chef runs on Wednesdays and Fridays at TT Liquor in Shoreditch for a three month residency.
---
Morning Rituals
From Morning Gloryville, the team behind the sober morning rave, Morning Rituals is a six part series of holistic and spiritual workshops designed to help busy and stressed people unwind and reconnect with mind and spirit. On 21st November, Sara Zaltash will lead a session called Embodied Islam. British-Iranian Performance Artist and Schumacher Institute Fellow, Sara invites participants to approach embodied practices of Islamic faith. A safe space for performative curiosity and investigation. This unique morning workshop is suitable for any belief system, including secularism.
---
Thanksgiving at HIPCHIPS
To celebrate thanksgiving this year, HIPCHIPS will be serving up a range of seasonal sweet and savoury dips to get into the spirit of thanksgiving. The savoury thanksgiving themed dip menu features a range of delicious options from honey, cumin & parsnip to pumpkin creme brûlée. These moreish dips are all made from the finest seasonal ingredients, and designed bring together friends and family together to mix, match and share during the upcoming festive months.
---
Festive Feasting
The feasting season commences in earnest with Thanksgiving, and American expat and treasure hunt creator, Daisy de Plume, has created a 'Festive Feasting' themed hunt around London's V&A Museum which launches on Saturday 25th November. The challenge is simple: bacchanalian scavengers must find and photograph themselves with as many culinary delights on their clue list as possible, in a given time. The hunt will take in ancient Korean spoons, the ornate gilded Burghley Nef which dressed fine French dinner tables as a salt cellar, charming chalices, divine dining gowns and all the accoutrements of a good old-fashioned feast.
---
Christmess
Launching on 15th November for a six-week run, Christmess is a colourful foray into Nicky's Imaginarium, the naughty and anarchistic world inhabited by St Nicky and his revolutionary theatrical entourage. Prepare to enter a mesmeric world: visit Mama Claus' hidden parlour-come-blues room, Santa's Whiskey Grotto, the glittering Green Fairy's Absinthe bar, as well as indulge in a 12 course feasting menu, peruse the independent makers market and get up to all sorts of mischief.
---
Graphic Residency at Ask For Janice
Soho's legendary gin hoard at Graphic Bar is moving eastwards for a three-month residency and is occupying Ask For Janice's basement bar. This month Graphic will be hosting exciting after-work activities such as a gin social with ideal for juniper aficionados.
---
Sound Sebastien at Devonshire Club
Founded and curated by Jasmine Hemsley and Toni Dicks, Sound Sebastien is bringing the healing power of Sound Baths to the heart of the City. Sound Sebastien creates a sensory experience led by the therapeutic tones of their unique collection of Alchemy Crystal Singing Bowls to help the mind, open the heart and nourish the spirit – creating the ultimate antidote to hectic city living." The hour long experience includes a healthy Ayurvedic meal and a tea. Sound Sebastien is both accessible and luxe – guests can simply turn up and switch off – the perfect way to rest and renew during a busy day.