The Ivy Kensington Brasserie partners with Aspinal of London for BBC Proms
The BBC Proms is currently running until Saturday the 9th of September and the eight-week event is an annual highlight in the British summer calendar. The daily classical concerts are hosted at the famed Royal Albert Hall, Kensington.
The Ivy Kensington Brasserie is conveniently located on Kensington High Street – a short walk from the Royal Albert Hall – and provides the perfect setting for those looking for a spot of preproms dining.
In celebration of this year's Proms, The Ivy Kensington Brasserie has partnered with luxury leather goods brand, Aspinal of London, to create the ultimate 'Best-of-British' experience. From Monday, 17 July, for eight weeks only, guests will be invited to while away the time whilst enjoying an exclusive package, featuring a selection of dishes from the restaurant's set menu and a refreshing summer cocktail – poured directly at the table from a limited edition Union Jack patterned hipflask. Created by Aspinal of London, each hipflask features a bespoke Ivy leaf engraving and has been created especially for the restaurant.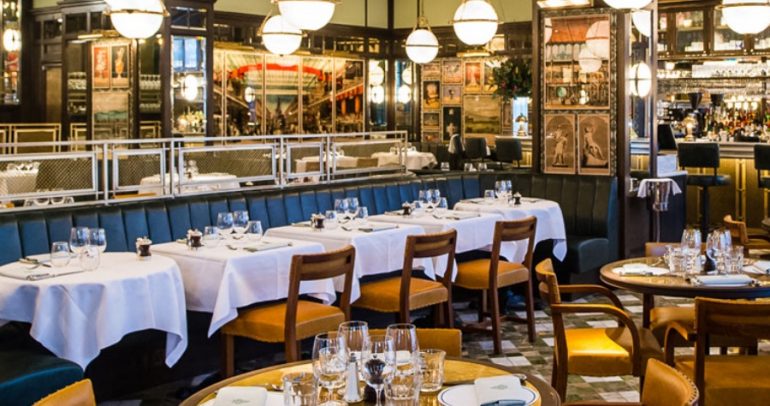 Dishes on the set menu include Chargrilled halloumi (served with red pepper sauce, toasted fregola, sundried cherry tomato and a mint chilli sauce), Lamb pappardelle (slow braised lamb ragu with sundried tomatoes, parsley and lemon gremolata) and Strawberry panna cotta (vanilla panna cotta with English strawberries and baby basil), whilst an exclusive Proms cocktail has been fashioned for both him (Sibelius' Sazerac, with Chivas Regal 12 year old Scotch whisky, Peychaud's bitters, an absinthe mist & lemon oils) and her (Scheherazade's G&T, with Plymouth gin, Fentimans pink grapefruit tonic & elderflower, garnished with rosemary & grapefruit oils).
For those wishing to take away a little piece of this quintessentially British experience, The Ivy Kensington Brasserie's limited edition Aspinal of London hipflasks will be available to purchase at the restaurant for a limited time only (priced at £40.00 per flask and available to those who book the restaurant's Proms package only).
PROMS SEASON PACKAGE: The Ivy Kensington Brasserie's exclusive Proms dining experience and package is available from Monday to Friday, 11.30am to 7.00pm (from Monday, 17 July to Friday, 8 September 2017) and includes: 2 course set menu with a limited edition cocktail (£24.00 pp) or 3 course set menu with a limited edition cocktail (£28.00 pp); Aspinal of London limited edition flask available to purchase at the restaurant as part of the Proms package (£40.00 per flask)