Courmayeur Mont Blanc Hosts Mountain Gourmet Ski Experience for 7th Consecutive Year
NEWS ¦ PRESS RELEASE
---
Courmayeur Mont Blanc, Italy is delighted to announce details of the 7th annual Mountain Gourmet Ski Experience taking place from 12th – 15th March 2020. Created by Momentum Ski's Amin Momen and Heston Blumenthal, the event has a renowned and well-deserved reputation for attracting outstanding chefs to the Italian gourmet resort of Courmayeur. 2020 will be no exception, playing host to three Michelin star chefs, Tom Kerridge, Claude Bosi and renowned local-chef Paolo Griffa.

Announcing a new dinner-only format for Mountain Gourmet Ski Experience 2020, this season's new flexible set-up will offer dinners only, with accommodation, flights and transfers as potential add-ons to suit different budgets, and a choice of 2 to 5 star hotel accommodation.

Tom Kerridge, who holds 2 Michelin stars for The Hand & Flowers as well as a Michelin star for The Coach, both in Marlow, will be joining the event for his second time on skis, along with friend Claude Bosi, who holds 2 Michelin stars at London's Bibendum, to dream up more Michelin starred mountain feasts. Curated by Heston Blumenthal, past chefs at the Mountain Gourmet Ski Experience have included Marcus Wareing, Clare Smyth, Jason Atherton and Sat Bains.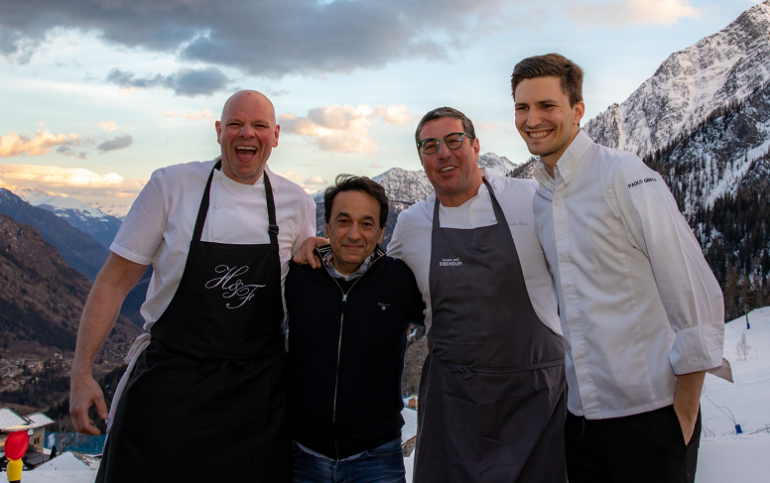 Mountain Gourmet Ski Experience 2020 – The Dinners:

Thursday 12th March

The first dinner of the event is an opportunity for a fabulous mountain celebration at Rifugio Maison Vieille, accessible by cable car and an exhilarating snowmobile ride, to meet the chefs in a relaxed and fun environment and enjoy their company. Priced at £150 per person.

Friday 13th March 

Friday evening will be the first of Tom and Claude's tasting dinners. Stellar cuisine on the mountain at La Chaumière, in collaboration with a talented Italian chef – Claudio Brigatti – producing the best of their UK creations in the rustic, yet elegant, surroundings of a mountain refuge. Five course tasting dinner with canapés and wines, including cable car transport. Priced at £190 per person.

Saturday 14th March

A tasting dinner at the Grand Hotel Royal & Golf, home to Italian Michelin starred chef Paolo Griffa, where Tom and Claude will exceed all expectations in the hotel's brand new kitchens in collaboration with Paolo. Six course tasting dinner with canapés and wine and closing event party. Priced at £190 per person.

A little earlier in the day, at 5.00pm there will be an interview and Q&A session with the chefs outside the Grand Hotel Royal & Golf which is free to attend. Additionally, Tom and Claude will be hosting public gourmet competition on Saturday at 6:30pm.

Village Food Festival

From the 13th to 15th March, the village of Courmayeur, its mountain bars and restaurants will be getting fully into the spirit of the event, serving up their signature gourmet dishes in honour of the Mountain Gourmet Ski Experience.

Courmayeur Mont Blanc

Courmayeur Mont Blanc is situated on the Italian side of Mont Blanc (the sunnier side!) and is a traditional yet sophisticated resort full of history and charm and surrounded by spectacular scenery. The centre of the village is car-free offering superb shopping, world-class restaurants and bars, a fantastic choice of accommodation for all budgets and a fabulous après-ski scene.

Discover Italy at its peak in Courmayeur Mont Blanc: a unique combination of fine food, culture, adventurous sporting activities, sophisticated relaxation and prime shopping in an incomparable Mont Blanc setting.

For more information on Courmayeur Mont Blanc visit: https://www.courmayeurmontblanc.it/en

For more information and bookings for the Mountain Gourmet Ski Experience please visit: https://momentumski.com/gourmet-ski/ or contact Momentum Ski via email: jessica@momentumski.com or phone:  020 7371 9111.