A spooktacular Halloween trail at Chiswick House & Gardens
Reporting and photography by Katie Ann Lamb
I am always looking for exciting things to do with the family when the schools break for holiday. As half term approaches, so does Halloween. Chiswick House and Gardens has a spectacular illuminated Halloween trail to be enjoyed with all of the family.
The brand new trail is already open and it can be explored from now. The event started on the 14th of October and it runs right up until the 31st of October. This is the perfect half term experience for you to enjoy with all ages and we were very impressed with the display when we visited for a preview of what is in store.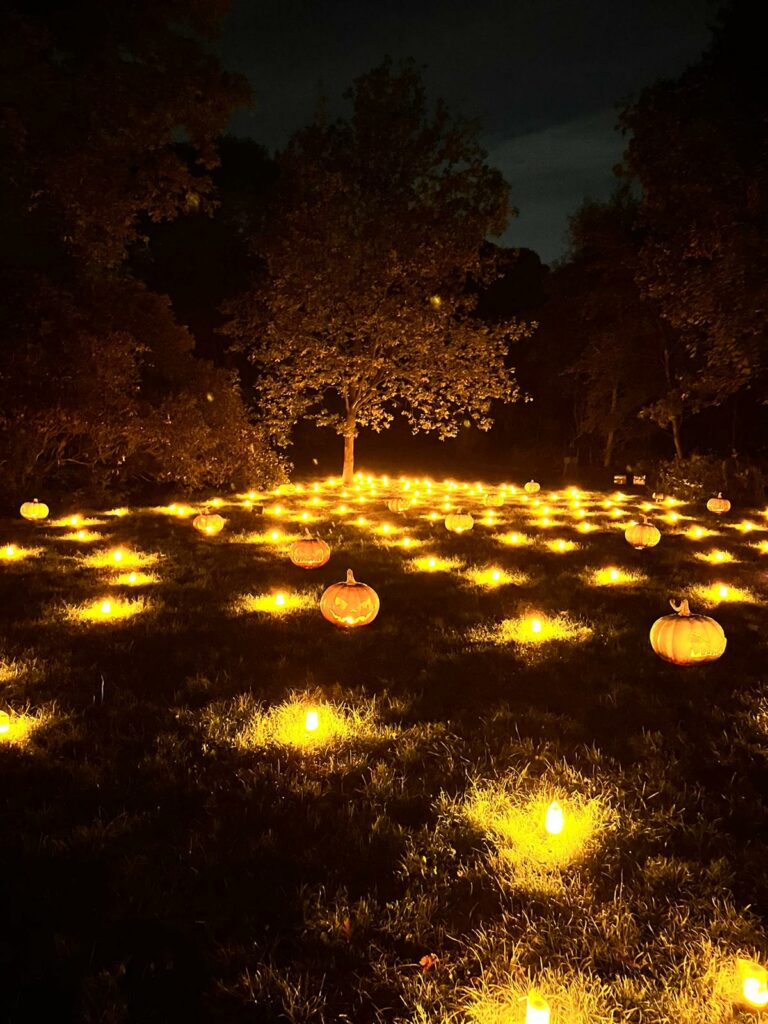 You will find yourself wandering through the venue in wonder. The experience takes you from one spooky space to another. With the leaves changing colour and autumn in full swing, we recommend that you wrap up warm for the occasion. It is also important to wear sensible footwear. I would also suggest that you take a pram for younger ones because there is quite a bit of walking for little legs. But it is well worth it.
The immersive trail follows a route through the beautiful gardens of the 18th century English Heritage property, which is located in South West London. The gardens are showcased in an innovative way and this seasonal experience is great fun for children. All of the historical features of the gardens are explored and they are highlighted with a spooky Halloween twist.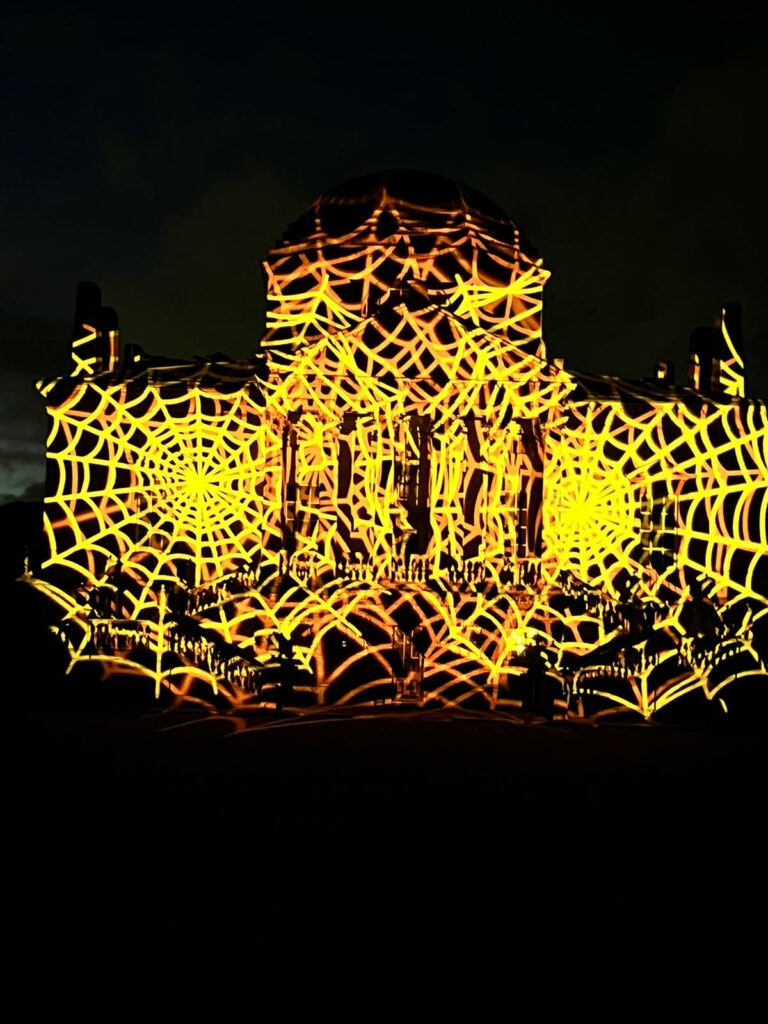 In association with Sony Music, atmospheric installations include an illuminated statue avenue, demon trees and a haunted graveyard. There are also live actors and fire performers, which makes it a very special evening out and excellent entertainment. I won't ruin the surprises too much for you, but you must keep your eyes peeled at the start because something quite extraordinary happens!
Throughout the Halloween celebration, the sights and sounds come alive to surprise and scare. You will have to duck for cover from the swarm of neon spiders as you make your way through a garden that is filled with creepy neon cobwebs, ghastly ghouls and other ominous characters. Guests can watch the flickering flames, stomp through the crisp autumn leaves and find daring fire artists and grinning pumpkins aglow.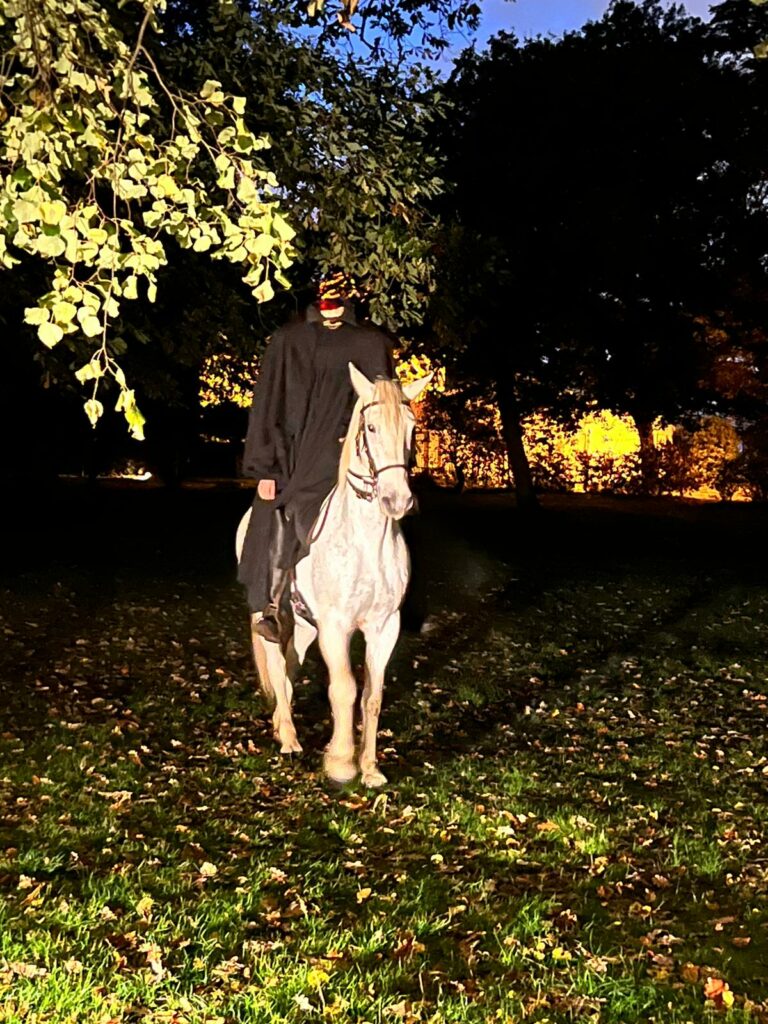 It opens at 6.30pm but there are refreshments available before your start for those wanting an early evening snack. We were very tempted by the wickedly good hot toddy and the devilishly decadent hot chocolate! For those looking to enjoy some food during the evening, half way around there are yummy steak sandwiches and French fries. Or you can choose to have hotdogs and this is closely followed by a marshmallow station.
Halloween at Chiswick House and Gardens is an unmissable outdoor experience, designed for visitors of all generations to appreciate. Make sure to book early to guarantee your choice of date and time.
The event runs from 14 – 31 October 2022. Limited capacity with timed entry, early booking advised. Visit website for entry times. Adult: £15, Child (age 3-16) £10, Family £46 Parking: £10 www.halloweenatchiswickhouseandgardens.co.uk Located at Burlington Ln, Chiswick, London W4 2RP