Kurumba Maldives: A magical experience for all the family
Are you thinking about planning a family trip to the Maldives? Our Editor, Dr. Laura Toogood, visited Kurumba Maldives to explore this beautiful island resort and consider its suitability for all ages…
---
The Maldives is a renowned honeymoon destination. With constant warm air and sea temperatures, glorious sunsets and idyllic scenery, it is one of the most romantic locations on the planet. However, while it may be a favourite destination for newlyweds, I wanted to explore this part of the world from a different perspective and a visit to Kurumba Maldives helped to reveal why it is also an appealing place for a family holiday.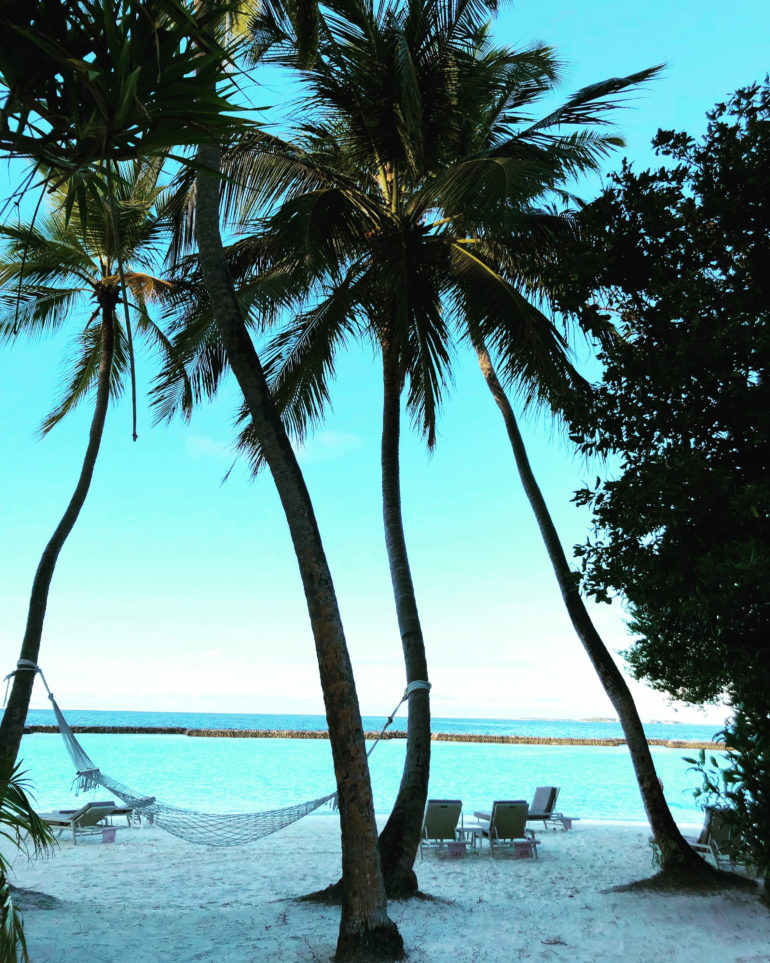 As soon as you touch down in Male you can feel the warmth. The temperature is usually in the low 30s. It stays consistent throughout the day and night and is matched with high humidity. After a long overnight flight, Kurumba Maldives is thankfully positioned within close proximity to Male and its international airport.
Part of Asia, the Maldives is one of the most geographically dispersed sovereign states in the world. There are many resorts, with most occupying their own private island. Therefore, an additional transfer on landing by boat or seaplane is common. I was travelling with my daughter, who at 20 months old was keen to reach the resort as quickly as possible – and so was I! The transfer to Kurumba Maldives is ideal for anyone travelling with a young family as it only takes about five minutes.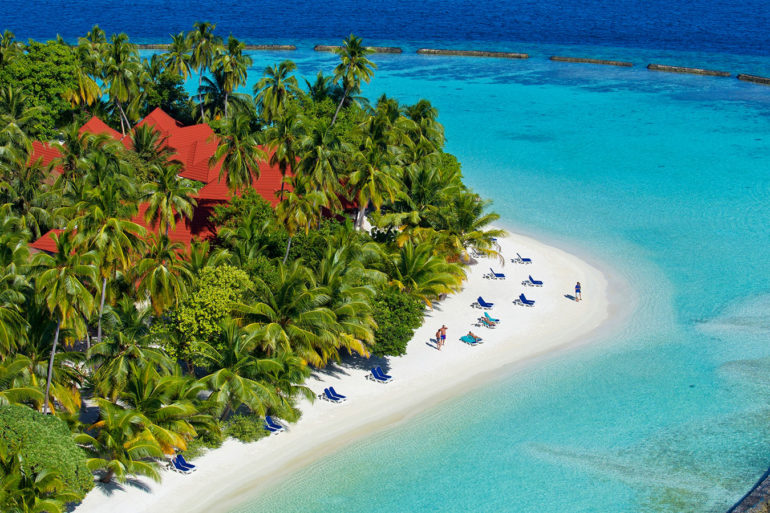 On arrival, guests are greeted by a beautiful island that is lined with exotic foliage and endless pristine beaches. Kurumba means coconut and before this island became a resort, it was a place that only fisherman frequented and the delicious fruit was farmed. In a nod to its history, coconut continues to play a role throughout the island. It features as the key scent in the bathroom amenities. It is also a prominent flavour that is evident in parts of the cuisine.
Kurumba Maldives was the first resort in the Maldives and over the years it has developed to offer visitors fantastic facilities and infrastructure. The resort has a central pathway that navigates the circumference of the island. The path is pushchair friendly and there are ramps to help parents with any steps. It is also very good for wheelchair access (there is even a beach wheelchair that can be used for entering the sea).
---
A Spacious Stay
---
In addition to its impressive accessibility, there is a feeling of space on the island. Even when the resort is at full capacity, it doesn't feel remotely crowded. The spacious accommodation, which typically comes with your own allocated lounger and beach area, ensures that overcrowding simply never occurs.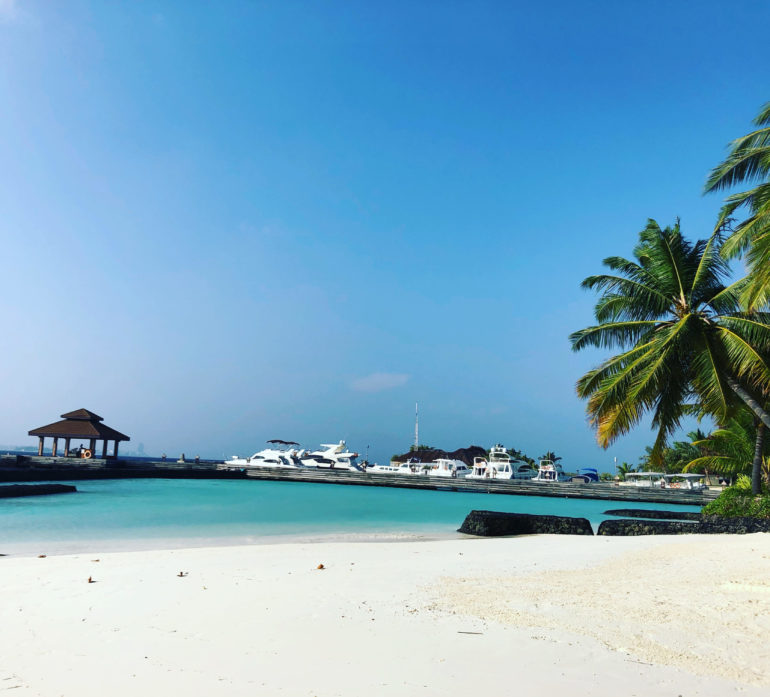 The entry level rooms provide good value and these come in a house of four, with the possibility to book adjacent rooms. Meanwhile, the beach bungalows are well-appointed and you can select one with a sea view or one that is set further back in the resort. While having a beach on your doorstep is fantastic, even if you chose the latter option, the sand will probably only be a few metres away. The bungalows have plenty of room and the bathrooms include outdoor bathing facilities. This means you can shower underneath the moon, which is pretty special.
There are no water villas at this resort; however, when you are travelling with babies or toddlers you wouldn't want this type of accommodation anyway. Furthermore, many of the hotels that offer water villas impose an age limit for this style of room.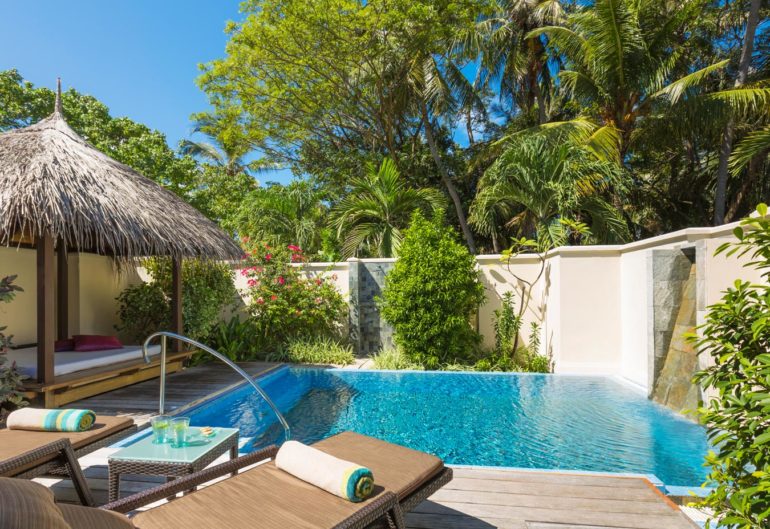 If you are travelling with the whole family to Kurumba Maldives then a pool villa is a good option. This has the added bonus of your own pool in your back garden. While it would seem a shame not to swim in the sea – it is incredibly warm – some children don't like sand and so having your own pool may be useful in this situation.
That said, there is also a large swimming pool that is positioned near the restaurant area. If you base yourself here for the day then you can enjoy the best of both worlds as the beach is also very close to the pool. Furthermore you are right next to several of the restaurants and it is easy to order food.
---
Diverse Dining
---
There are eight restaurants in total at Kurumba Maldives and you can make the most of a diverse selection of cuisine. Hamakaze has an enviable position and this Hibatchi restaurant is raised on stilts in the sea. You can only dine here with children over the age of eight but it offers a magical experience and presents the best seafood on the island.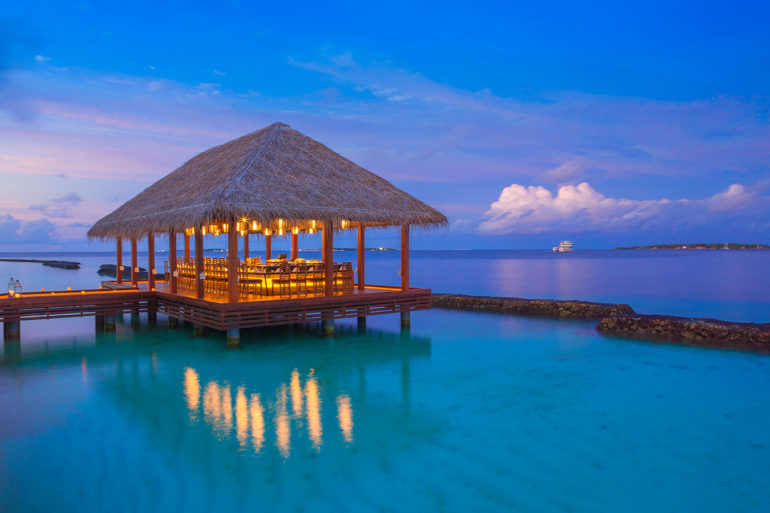 Meanwhile, Mahal has a selection of dishes from the North and South of India and for those who want to enjoy food from nearer to home, an Italian menu is available at Isola. At the other restaurants you can enjoy Maldivian food as well as some other international flavours. The fresh produce is cooked to perfection at all of the restaurants.
The buffet is also impressive, and this is the ideal place to eat if you have very small children. The bustling atmosphere will drown out any squeals from toddlers or cries from babies. You can relax in the knowledge that you are not upsetting any other guests.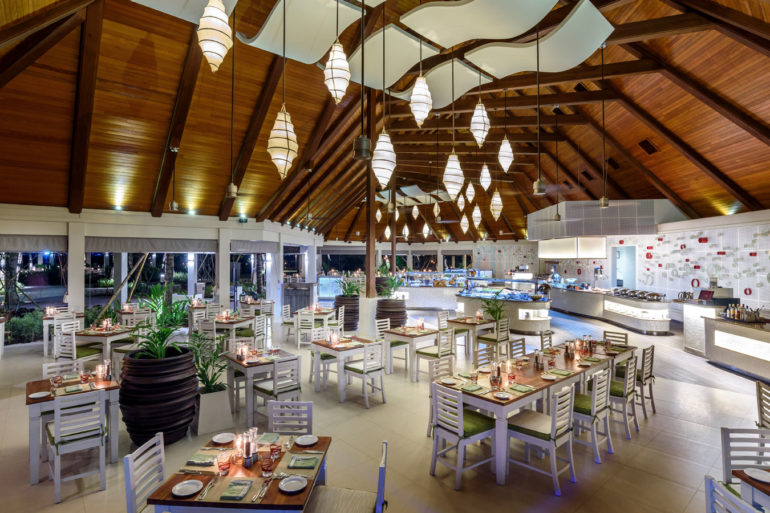 There is a great choice of food to suit all ages and, seeing as you are right in the middle of the Indian Ocean, the curries are obviously fantastic. The buffet has a different theme each night. The Street Food evening features an outstanding dish from Sri Lanka.
After dinner, there is live music every night on the island. Highlights include the local Maldivian entertainment as well as some impressive bands that sing chart-topping favourites by the likes of Fleetwood Mac and U2. Due to the closeness of Male you can see the skyline from some parts of the island and, at night, the lights twinkle in the distance.
---
Family Fun
---
While Kurumba Maldives encourages down time, there is also plenty to do for both adults and children. The spa provides a haven for those seeking some time away from the family. The signature massage is excellent. This is the perfect treatment to have after a long flight and the masseuse really knows what she is doing.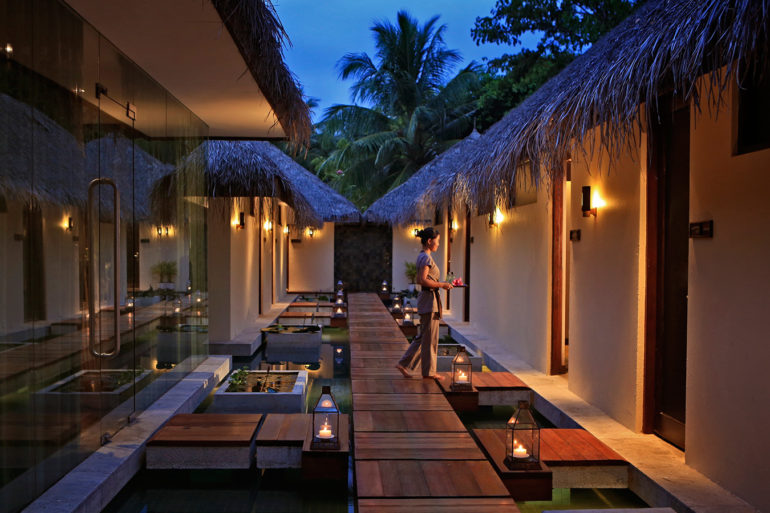 For the more active guest, there are good sporting facilities and activities run on a weekly timetable. You can enjoy tennis, basketball and the air conditioned gym. Meanwhile, children can play in the Kids Club either with minders or their parents. There are fun outdoor water toys, a giant chess board, air hockey and table tennis available too.
However, in this part of the world, you really need little more than the sea to keep you occupied. The snorkelling and diving in the Maldives is absolutely incredible. Some have even commented that it surpasses the Great Barrier Reef. Kurumba Island is protected by a barrier that creates a warm, gentle lagoon around its parameter. Thanks to some coral that is nestled within the boundary, you only need to venture a few metres to enjoy the underwater delights. This makes it suitable for nervous swimmers and children. Under the water you will spot placid Reef Sharks and hundreds of iridescent fish. It is a truly enchanting experience and you can spend hours admiring the delights of the Indian Ocean.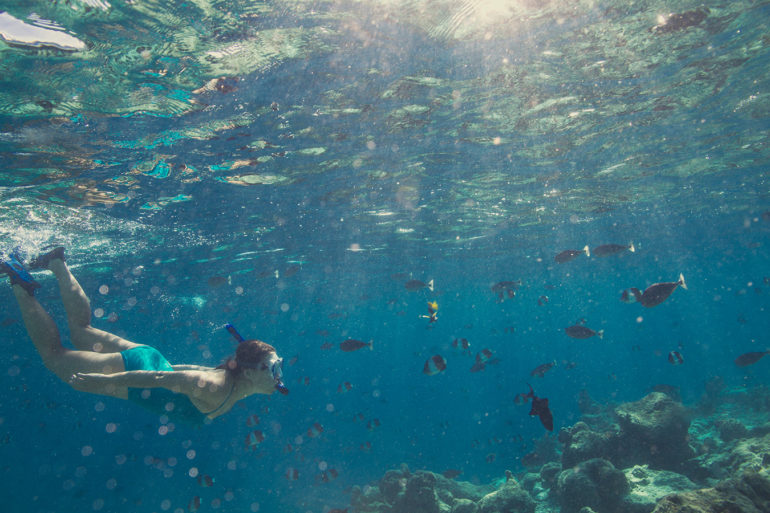 It is also possible to swim outside the barriers and this provides a jaw-dropping moment. Once you are out in the open ocean the view of sea life is nothing short of spectacular. There are so many different types of fish. You can spend hours admiring each one. The Rainbow Fish are especially striking.
The first time I went through the gap in the boundary, I was lucky enough to be greeted by one of the three local turtles. It was a breath-taking experience to swim alongside this beautiful creature in its natural habitat. Even if you are not lucky enough to come across a turtle, the reef sharks and fish are completely mesmerising.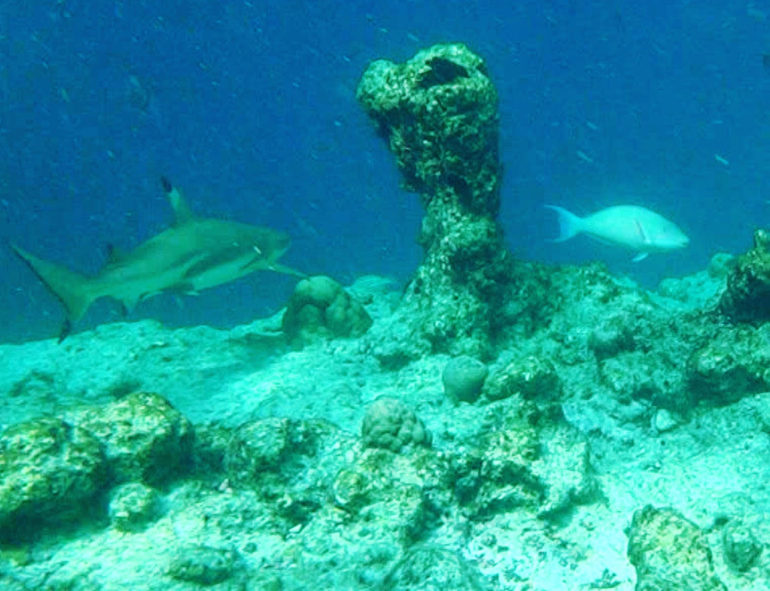 To be honest, the snorkelling alone is enough to coax me on to the long-haul flight with a little one in tow. While there will always be the occasional tricky moment when you travel with a toddler, Kurumba Island is a picture-perfect destination and the resort and staff go out of their way to ensure that a family visit to this dreamlike location is as easy and inspiring as it can possibly be.
On my final night at Kurumba Maldives, I ventured in to the sea at sunset. I watched the sky turn pink with a cocktail close by and a live saxophonist serenading my swim. I had discovered paradise.
Watch our film on Sloaney TV
---
A preview of the KN Lifestyle Collection photoshoot at Kurumba Maldives
more coming soon
---
Travel Information
Visit www.kurumba.com for further information and booking options or telephone +960 664-2324. Many major airlines fly from a number of UK airports with one stop over on route. Direct flights are possible on some routes. A shared boat transfer is available to all guests and you can also book a private transfer. We recommend packing factor 50 sun cream for both adults and children as the sun is extremely powerful.