Enjoy an endless summer at Forte Village in sunny Sardinia
Laura Toogood catches the last of the summer rays at the luxurious Forte Village… and it's not too late for you to do the same!
—
Regular readers of The Sloaney travel pages will know that I adore Italy and I have been lucky enough to visit many times. From pretty, picturesque Portofino to scorching, southern Sicily, my travels have taken me the length and breadth of the country and I have discovered a number of enchanting Italian destinations.
Sardinia has been on my bucket list for some time. Boasting long hot summers, beautiful sandy beaches and a mountainous inner landscape, this Mediterranean Island is highly appealing. For the luxury traveller Forte Village provides an outstanding base from where you can enjoy some of the best natural facets of the island. The award-winning resort is a breathtaking collection of properties and it showcases the very best of Sardinia.
Forte Village is framed by dramatic hills, which provide it with a unique environment that combines a tropical and Mediterranean climate. This encourages the growth of exotic plants and means that Forte Village has a wide ranging collection of fabulous flowers. In fact, the gardens are so inviting that they are home to two stunning parrots that were gifted to the resort. The striking birds glide between the palm trees and provide flashes of bright colour that encapsulate the magic of this destination.
The idyllic 47 hectares of gardens are framed on one side by a truly stunning coastline. The golden sandy beach seems endless in length and crystal clear water laps gently at the feet of sunbathers. A diverse variety of fish dart through the rocks and the snorkelling opportunities are fantastic. Loungers are spaced generously apart and this is the ultimate place to relax for those enjoying a sun seeking getaway.

While Forte Village boasts some of the best natural scenery that Sardinia has to offer, it also provides a wide selection of impressive man-made facilities – mainly for sport. This resort is the perfect luxury destination for the sports enthusiast and it welcomes guests with an interest in soccer, tennis and swimming, among other activities.
Each of these three sports has its own academy and the soccer is supported by a relationship with Chelsea Football Club. In fact, every summer two of the club's best coaches visit to provide training for children between the ages of 4 and 14. Tennis is also very popular and private tuition is available to those wishing to hone their technique.

The resort is made up of eight luxury hotels and there are also a number of premium villas that can be booked, with 700 rooms available in total. A 30million euro investment plan has recently been completed that focused on renovating some parts of Forte Village. As such, many of the rooms and suites have received extensions through the form of private gardens to enable maximum privacy, if desired.
While Forte Village is a heavenly destination for sports fanatics, it is also excellent for families with young children. Mario's Village is named after one of the parrots and it has a collection of giant dolls' houses that will keep little ones entertained for hours. The area also features a shallow pool that is suitable for all ages as well as a Barbie centre for aspiring pink princesses.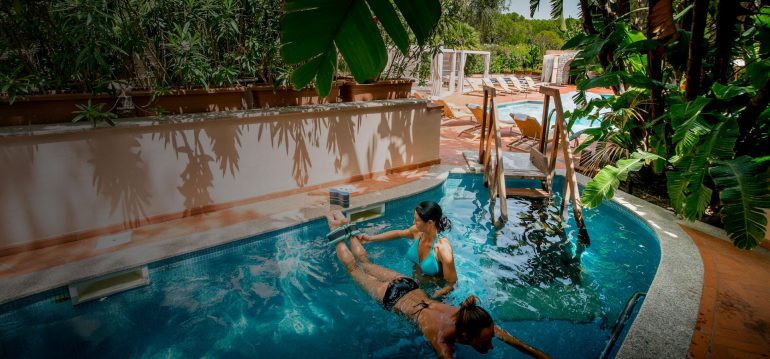 The spa at Forte Village is out of this world and definitely one of the best spas that I have ever visited. Perhaps the most impressive aspect of the spa is the Thalasso circuit. This comprises six pools: each has a different saline density and temperature. The first pool is four times more salty than the Dead Sea and the high concentration of magnesium means that the water is brown in colour and feels very oily.
As you work your way through the six pools the dynamics change and therapeutic water jets are also in place in some. The Thalasso circuit is an excellent way to finish the day and it will relax any tired muscles. You will feel the benefit immediately and if you make repeat visits throughout your stay the results will prove even more lasting.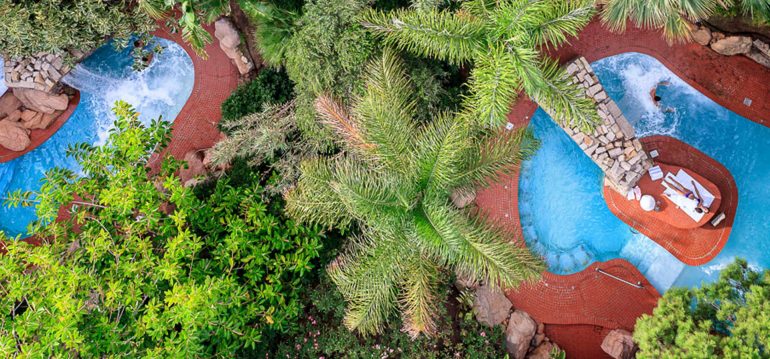 However, for those who want to reach a whole new level of relaxation, I recommend a full body massage. The expert therapists at Forte Village are highly skilled at delivering sports massages and other less intensive versions. Following a circuit and a massage at the spa I had the best night of sleep that I have ever experienced.
The layout of Forte Village can be quite confusing when you first arrive and the sheer scale of the resort is rather overwhelming. However, this means that there is plenty to explore and also plenty of choice when it comes to selecting the most suitable accommodation for your stay.
I was based at Il Castello during my visit and this is a private and exclusive hotel that is situated towards the coastline. Many of the suites have their own balconies and impressive views of the sparkling sea. The hotel also provides guests with an exclusive infinity pool that overlooks the beach and breakfast is served in an open air terraced area at the front of the property.

Il Castello is well equipped for VIP guests and some of the more premium suites also provide personal service and have a dedicated reception. The private villas are a popular option for families looking to enjoy a plush but discreet experience. The interior design in the villas is exquisite and some of the best boast large outside dining areas, a fabulous pool, cinema screen and all of the finishings that you would expect from a property that should meet the demands of global jetsetters.
When it comes to dining at Forte Village, there are over 20 restaurants providing plenty of different menus. Gordon Ramsay is involved with creating fine dining options and the Belvedere restaurant serves top quality food with a focus on local produce and Italian cuisine. Le Dune is one of the best spots for dinner and this beach-front restaurant serves a seafood inspired a la carte menu that is accompanied by an extensive wine list.

From here you can enjoy the sky as it turns different shades of pink during sunset and as darkness arrives the sand is lit up so those dining can watch the waves roll into shore. After dinner you can continue to enjoy some of the best Italian wine or visit the dedicated champagne bar, which overlooks the main stage. Bands visit to provide live music and entertainment runs late into the night.
All in all, Forte Village is a luxurious paradise that provides you with everything you could desire when embarking on a wonderful holiday. In fact, it is so perfect that it even manages to extend the summer by a few months! If you can't wait to nip away to this sun spot in early spring, there is still time to head off now and bathe in the splendid autumn sunshine. It is the perfect excuse to make 2016 an endless summer.
Watch our visit to Forte Village on Sloaney TV…
*LOOKING BACK*
Don't forget to take a look at our social snapshots from
Forte Village on Twitter and Instagram
Forte Village is open until the first weekend of November in 2016 and it will re-open for bookings in spring 2017. Find out more at www.fortevillageresort.com. You can book by calling +390709218818 or emailing holiday@fortevillage.com.