Mum-to-be Diary: The latest SnüzPod model is the ideal bedside crib for your new baby
By Katie Wiseman
The first six months of your baby's life can be the most challenging as a parent. The Lullaby Trust advises the safest place for them to sleep during this time is on their back, in their own space, in your room. Co-sleeping cribs therefore are hugely popular for parents wanting to keep their babies close but equally minimise the risks of SIDs which can be associated with bedsharing.
Snüz was created in 2014 along with the iconic and award-winning SnüzPod, the UK's very first mass-market bedside crib. Since which they have created stylish nursery products including furniture, décor, mattresses, sleep aids and play.
The award winning SnüzPod is now in its 4th generation and as of November 2020 complies with the new crib safety standard BS EN 1130:2019. As part of the new standard, when set up next to a bed, all bedside cribs must now have a 12cm barrier or wall to prevent baby from being able to roll out of the crib, while making for easy access during the night. As tempting as it maybe to purchase second hand or older generation products, your baby's safety should be your number one priority. That's why it is worth investing in the latest products and making the most of the current designs and safety standards .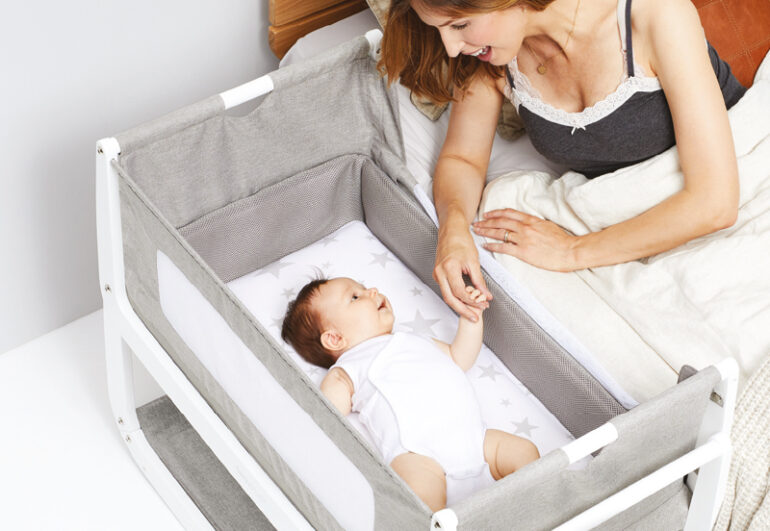 Some other new features that are worth highlighting in terms of the SnüzPod include the new ComfortAir breathable system that promotes air flow and helps regulate baby's temperature. This is partly achieved thanks to its unique mesh vents and breathable liner.
There are a number of reasons I chose SnüzPod over other brands that are on the market at the moment. I will be having a C-section with number two and any mums who have had one before will know how tricky it can be in the first few weeks whilst your scar is healing. I therefore wanted a safe bedside crib that makes it as easy as possible to feed and soothe my baby during the night, without causing too much strain on my stomach.
The newest version of the SnüzPod is suitable from birth to approximately 6 months, which means that it will enable the baby to stay in our room for the recommended period of time. It is also slightly larger the other cribs on the market measuring L100 x 49 xH95, so if you have a tall baby this won't be an issue.
This newborn essential is designed to work with any style of décor. It is made using quality sustainably sourced Beech solid wood and plywood. The product is available in a choice of seven colours, so there is something to suit everybody's taste. The new mattress is 3D breathable and has a machine washable mesh liner. The last two stand out features for me are the gentle reflux incline option and the lightweight lift-off bassinet for use around the home. These are great assets and important extra features.
Reflux is very common. It has an impact on nearly half of babies under a year. Whilst it isn't always severe, it can make the sleepless nights worse if left untreated. Therefore, having the ability to incline your babies bassinet can make a huge amount of difference and this is definitely something that I think will help during the early weeks. It is also great if your baby gets a cold because the gentle incline helps to keep the airways clear.
As mentioned previously, if space is an issue, then I think having a lightweight bassinet is a brilliant advantage. It means that you can move around the house, which is ideal for the first few weeks when you want baby close to you but don't necessarily want to hold them all the time.
The SnüzPod4 is available for £199.95 at www.snuz.co.uk