Mum-to-be Diary: Elderflower & Delilah make breastfeeding stylish
Week 28 and counting
It's official. I've reached the third trimester. The final stretch awaits and I am now on the home straight. This week I've had mixed emotions about pregnancy. I am starting to feel tired again and the weight gain is happening in full force. This is probably not helped by the fact that I literally cannot stop eating sweet things. Oh, and Easter is coming, so there is certainly no shortage of sugary treats and chocolate. Everywhere I go there seems to be a crème egg tempting me and I can't help but indulge Bump. Giving up so many nice things like wine, cheese and sushi seems to justify chocolate treats even more.
I am also having vivid dreams about the birth. Sometimes they are good: this morning I woke up with a big smile on my face as it was all done and had happened with ridiculous ease, which is far from the truth I'm sure. Other times I find myself waking up in a cold sweat at the very thought of the first contractions.
But the third trimester is here and I must crack on and prepare for everything that is about to happen. This includes getting my head around everything that I need for the nursery and in the immediate few weeks following the big arrival.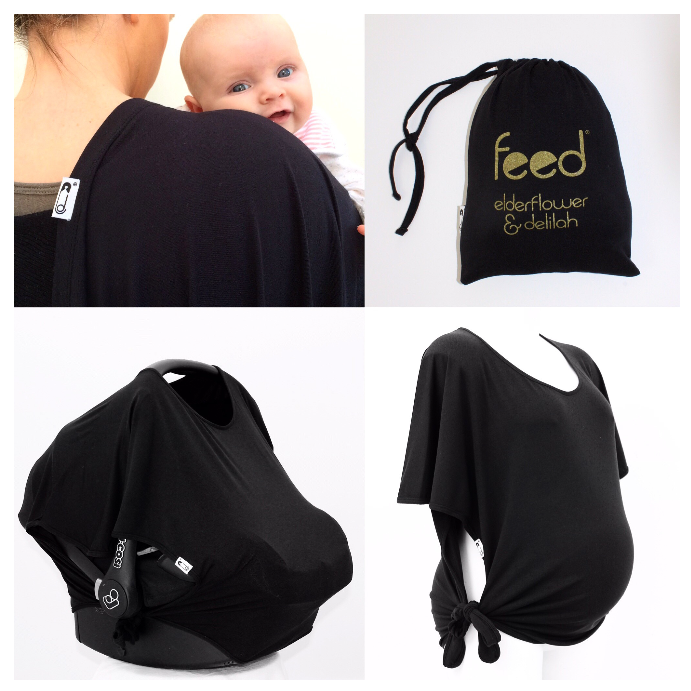 Last night's dream also featured breastfeeding and perhaps this was triggered by my discovery of Elderflower & Delilah's FEED product. I have yet to benefit from my breastfeeding advice class but it is something I am trying to get my head around. I suppose there are so many things to think about and how you breastfeed conveniently is an important point to consider.  FEED by Elderflower & Delilah is a stylish breastfeeding garment that is designed to wear over a scooped neck top to breastfeed your baby wherever and whenever. It won a Mumsnet Best award in 2016 and has proven highly popular with new mums.
Elderflower & Delilah was set up by twin sisters who are both mums and found they couldn't get hold of a suitable breastfeeding top. FEED is a 3-in-1 garment. It can be worn as a stylish maternity top that has dual access for breastfeeding and also works as a baby carseat carrier and buggy cover (SPF50 UV protection). It has been created so that one size fits all and the material used is a soft micro modal fabric, which is breathable and anti-crease.
As someone who is relatively apprehensive about breastfeeding and whether it will go to plan, I think this is a great addition to the pre-birth collection. It means that you will be prepared as best as possible and can also benefit from a product that has been created by people with first-hand experience of some of the challenges.
The next few weeks will be busy with more preparation time and I have friends kindly sending checklists of essential items for the new arrival. There are so many products on the market that it can be difficult to know which items are best. However, I will be exploring some of the options in my Mum-to-be Diary as the due date inches closer and closer.
Until next time,
Your Resident Mum-to-be x
Find out more about FEED at elderfloweranddelilah.com/collections/Feed