Leave the hospital in safe hands with the Britax BABY-SAFE i-SIZE
By KATIE ANN LAMB
Preparing for a baby is mind-boggling. There is so much to do and think about… nine months just doesn't seem long enough! Probably one of the most important things is the car seat. In the UK if you have your baby in a hospital or birthing centre, you are required to have a car seat before leaving. It is not exactly the first thing that may spring to mind when you are packing 'The Bag', but this is one of the most important accessories to remember when you head off to hospital.
There are many car seats on the market to choose from, but like the Cambridge Family who welcomed their third child yesterday, I have also chosen Britax. With over 50 years of experience, passion and understanding, they offer one of the world's most advanced and flexible ranges of car seats, pushchairs and baby travel systems.
The i-size is a new safety standard for baby and child car seats that has recently been launched in Europe. Thanks to Britax, your new journey can begin safely with the help of the Britax BABY-SAFE i-SIZE infant carrier. Designed with Britax Römer's renowned crash testing capabilities and research, it conforms to the new car seat regulation ECE R129 (i-Size) and is suitable for newborns up to 15 months, with 83cm of space. The BABY-SAFE i-SIZE can be used with one of two new bases, including a one-of-a-kind FLEX BASE that allows parents to adjust the angle, providing an ergonomic, flatter position for their baby.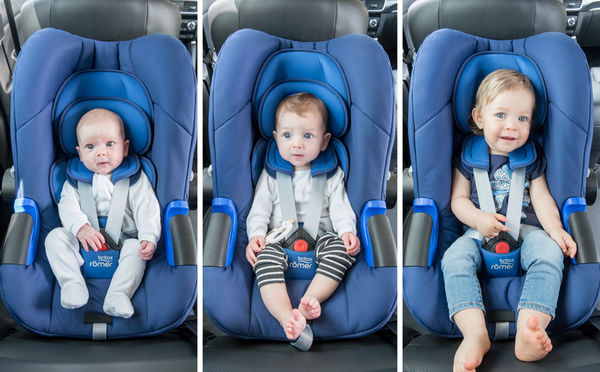 All of my friend's babies have grown incredibly quickly in the first few months and their size seems to change greatly during the first year. The i-size has a newborn insert for extra support that offers energy absorption in case of an impact. This is perfect for leaving the hospital and travelling in the early months. New mums can be nervous when driving with a baby in the car for the first time but this will help ease the apprehension. It can then be removed and the height of the headrest adjusted, allowing for more space as your child grows. At 15 months most children have a height of 83cm or less which means the i-size should comfortably last you until then.
I am sure that most people will have heard of the '2 hour rule', which is the established safety recommendation endorsed by safety experts and manufacturers. It suggests that children shouldn't sit in a car seat for more than 2 hours at a time. This is because babies and young children can experience breathing problems from being squished up for too long and it is something that you should remember if you have a long journey to do when visiting family.
As their muscles are developing, lying flat is always recommended. However this isn't necessarily the safest position in a car. I love the Britax BABY-SAFE i-SIZE new patented lie-flat technology. According to the height of your child you can change the position by adjusting the headrest, increasing the space to suit their development. The shoulder straps also adjust automatically when adjusting the headrest. Due to different car models and seat angles the Britax BABY-SAFE i-SIZE FLEX BASE can be adjusted, providing an ergonomic, flatter position for the baby, keeping them comfortable and safe. The base can easily be adjusted to four different positions and also includes a handy indicator to show when the angle is too flat.
Finally the improved Side Impact Cushion Technology (SICT) offers superior protection in case of a side collision in two steps. It pushes the child away from the impact in a controlled movement and then reforms to absorb energy exerted onto the infant. The five-point-harness keeps children safe and tight in the protective shell of the seat. In case of a collision, the harness distributes the forces of the impact across five points, to help protect infants from all directions of impact.
So, if you are expecting your own Royal baby soon, I recommend taking a look at the Britax range as part of your final preparations.
The infant carrier can be purchased alone for £165 but must be used with a compatible base in order to meet i-SIZE requirements. The standard base or FLEX BASE can also be purchased alone for £130 and £150 respectively. Find out more at the Britax website. 
---
Recommended Read
Family fun in luxurious surroundings at The K Club in Ireland