Family fun in luxurious surroundings at The K Club in Ireland
Since having a baby, I have been on a mission to discover luxury holiday destinations that are family-friendly. It can be difficult for new parents to have the confidence to go away with a little one and also enjoy an indulgent getaway at the same time.
The K Club in Ireland proved to be an ideal destination when I visited recently as a new-ish parent and it is perfect for those with young families. Whether you are embarking on your first journey abroad with a newborn, or have a gaggle of children in tow, this splendid resort is safe, luxurious and offers plenty of entertainment.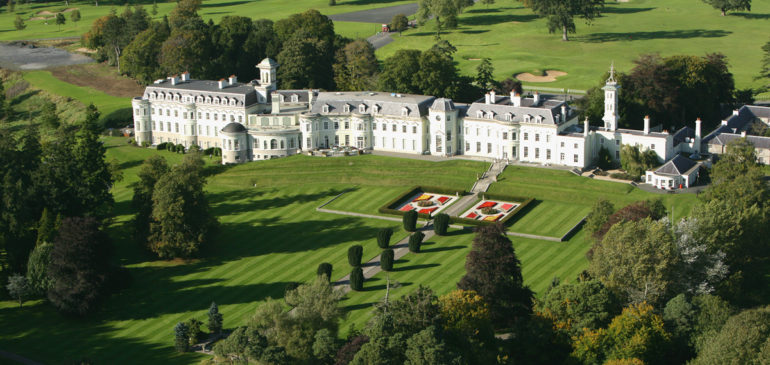 The beautiful main house is situated within private grounds and it has been extended to provide plenty of rooms that offer discretion and privacy during your stay. The K Club features two excellent golf courses and the gardens are stunning. With vast acreage, there is plenty of space to enjoy outdoor activities. The property is likely to be on every golfer's hitlist because it has hosted a Ryder Cup and 13 European Opens. However, it is not only golf that takes centre stage at The K Club.
Among the activities on offer include falconry, horse riding, cycling, clay-pigeon shooting and fishing and there are lots of things you can do together as a family. It is a great place to enjoy some bonding time while trying something new. The Falconry is particularly impressive, with breath-taking birds gliding through the sky, and this takes place on the lawn in front of the majestic main house. In the summer months, this is also a peaceful area where you can sit down and enjoy a picnic in the warm sunshine.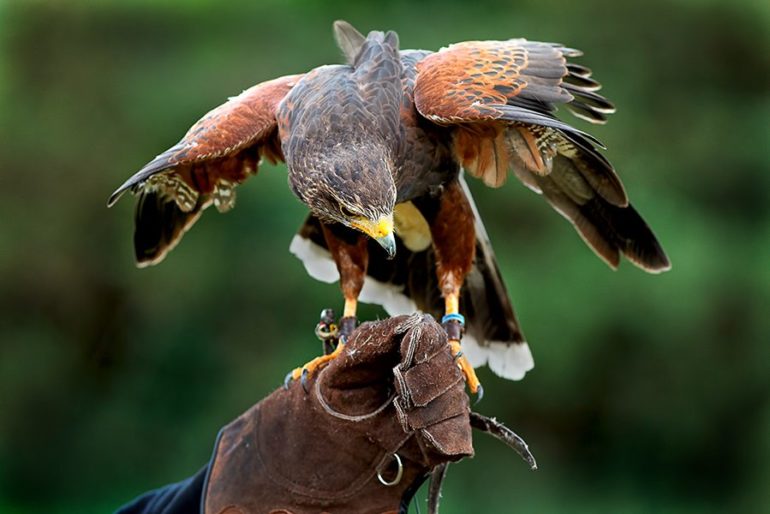 If you want some time to yourself, The K Club also offers a Kids' Club to help entertain little ones and there are babysitting services available on request. The latter is particularly helpful if you want to enjoy a romantic dinner with your partner in the evening or escape for one of the indulgent spa treatments.
The spacious spa is separate from the main building and the large pool is open to children at certain periods through the day. I swam with my baby several times during my visit and it was the perfect treat for her to enjoy towards the end of the day. For those seeking some pamper time, there are lots of treatments offered and they range from bespoke facials to relaxing body massages.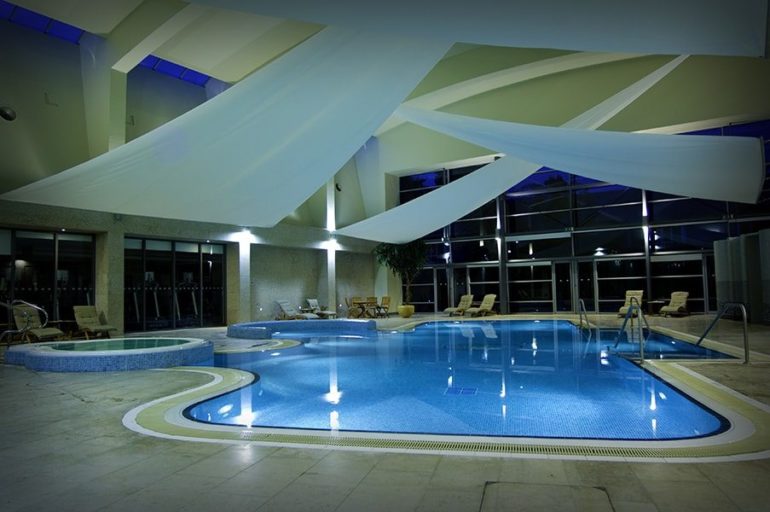 The Refresher Facial is a brilliant express treatment that lasts only 25 minutes. This is a good choice for those who have little time to spare but there are several other more intense options also available on the spa menu. Seaweed Baths and Hydrotherapy are also among the most popular treatments and these target stressed muscles to ensure you are as relaxed as possible during your stay.
The accommodation at The K Club is excellent for families and the suites are very spacious. While they are individually designed, most maintain a traditional feel, with regal décor and stunning views of the estate. Enormous beds, original paintings and hand-painted murals in the bathrooms add an extra special touch to the interior design of the rooms. The Kildare Suites are suitable for a family of four; meanwhile, the Imperial Suite will take a family of six, including two teenage children.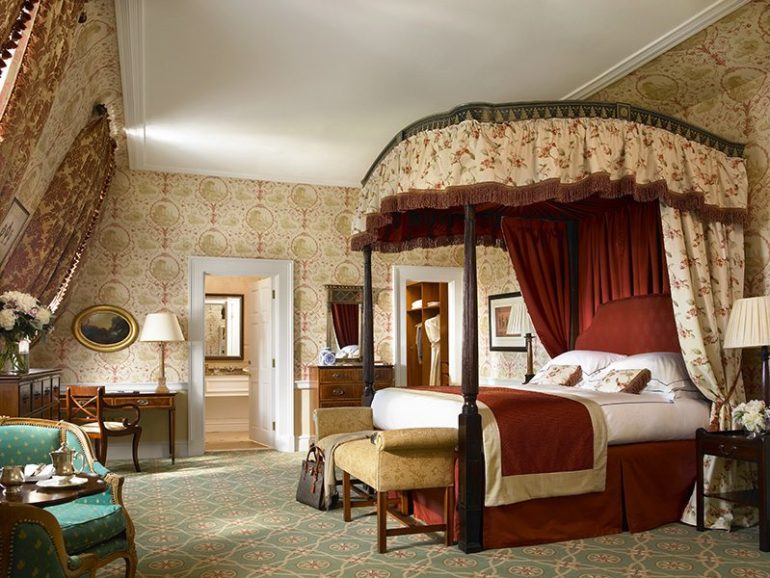 When 'grown up time' arrives and the babysitter checks in, it is time to make the most of the enticing dining options at The K Club. First, a chilled glass of Laurent-Perrier champagne will be in order and you can enjoy this in the Vintage Crop Cocktail Bar. The bar was named after a famous racehorse. Owned by the owners of The K Club, Vintage Crop became the first overseas runner to win Australia's leading race, The Melbourne Cup.
The walls of the Vintage Crop Cocktail Bar are covered in equestrian memorabilia and the theme continues in The Byerley Turk restaurant. Named after another famous racehorse, this restaurant is renowned in Ireland and welcomes guests from afar. It serves an excellent selection of International and traditional dishes, while making the most of locally sourced produce. Seafood starters include Atlantic Prawn Tails and Atlantic Mackerel among other dishes, with the Fillet Steak and Hake just two of the highlights on the list of main courses.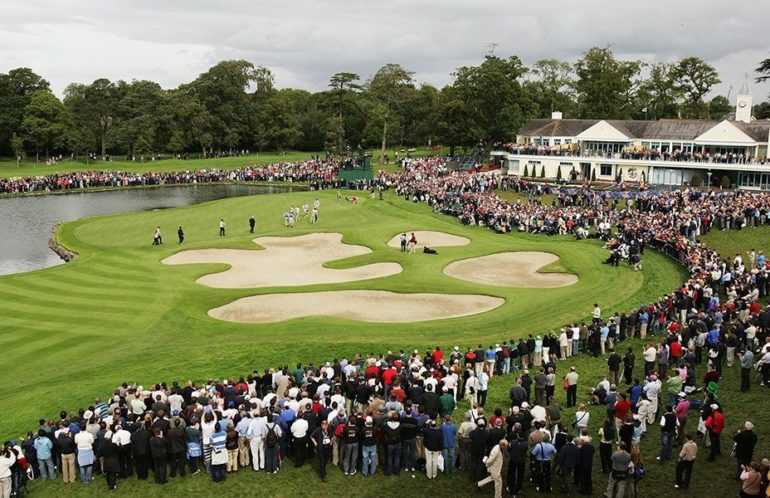 If you want to venture outside of the luxurious surroundings of The K Club, there are plenty of interesting attractions to visit. In Kildare, you are situated in the heart of equestrian country and The National Stud is nearby. Equally, the city of Dublin is not too far away and you can drive to the capital in just over half an hour. A trip here will mean you can enjoy tourist attractions such as a tour of the Guinness Factory, or make the most of the fantastic shopping. Dublin is excellent when it comes to individual boutiques and department store Brown Thomas will meet all your designer needs.
With numerous flights a day from UK airports to Dublin and only a short transfer time of 30 minutes on arrival, The K Club is ideal for a weekend away or your first family holiday. The staff are very welcoming and you can enjoy a cross-generational experience, without compromising on luxury.
BY LAURA TOOGOOD 
Book a stay at The K Club by calling +35316017200 or visiting www.kclub.ie. The K Club is part of Preferred Hotels, which represents the world's finest hotels. View more properties at https://preferredhotels.com. You can fly to Dublin, which is 30 minutes from The K Club on British Airways, Aer Lingus and Ryanair. 
---
Recommended Read