Mum-to-be Diary: The Moba Moses Basket
By KATIE ANN LAMB
When it comes to finding the best sleeping device for your baby, I personally don't think you can get stronger then something that has the Lullaby Trust's backing. This instantly provides the reassurance that a new mum or mum-to-be needs. Moba is the only moses basket to have an association with the Lullaby Trust due to its carefully crafted design and consideration for your baby's safety.
Founded in 2013, Moba (a name that is cleverly derived from 'Moses' and 'Basket') is a family-run, British brand. It has set about creating a distinct British legacy in the baby market. With three generations of family involvement and over 65 years of trade knowledge, mother and daughter team, Lesley and Olivia, along with new arrival Baby Annabelle, have created this multi award winning contemporary moses basket. It is fast becoming a staple in homes internationally.
Traditionally moses baskets are made of wicker and tend to also encompass a lot of fabric, which doesn't breathe. Moba takes a different approach. This brand combines modern design and manufacturing to create a basket from bespoke plastic that is anti-microbial and hypo-allergenic. Not only does it provide excellent ventilation but it can be easily wiped down if there are any little accidents.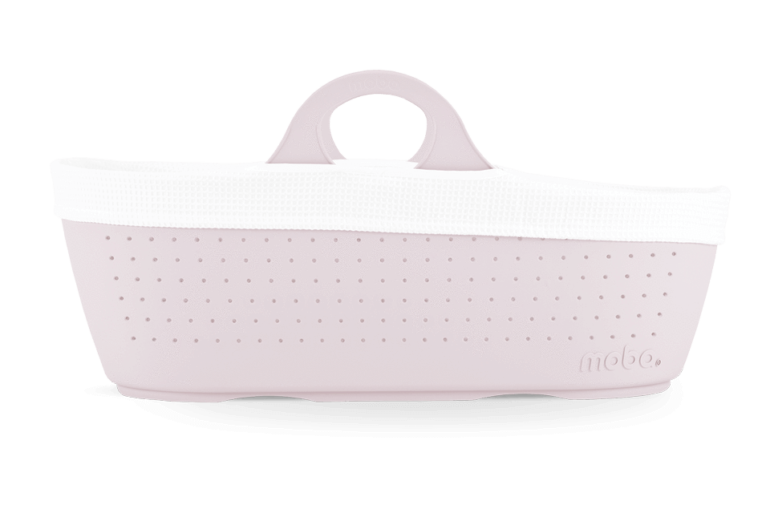 With over 300 air holes around the sides and base of the Moba Moses Basket, airflow is maximised. Safe sleep is promoted and there is no danger of any additional frills becoming a nuisance because the functional design means that no padding or quilting gets in the way. The luxury mattress has a water repellent core and a 100% pure cotton waffle liner which is hygienic and perfect for baby's sensitive skin.
The basket only weighs 2kg and has integrated handles. There is no hood, which I find a bonus because hoods can prohibit your view of your baby. The moses basket is extremely strong and portable and this makes it ideal for local travel. Whether you are off out to a friend's house for the evening or planning a weekend away, your baby will be in a safe environment and also a familiar one.
Not only is Moba a British brand where the products are made and manufactured in the UK, they also use local suppliers and responsibly sourced, recyclable materials to ensure they have a low carbon footprint.
The moses baskets start at £99 which includes the liner and mattress, additionally for £45 you can purchase a sustainably sourced white wooden rocking stand. This complements every Moba basket design and also enables you to gently rock your baby to sleep either by your bedside or in their nursery. The colour range is vast with neutrals such as Dove Grey, Mint and Snow to Blush pink and Cornflower Blue, with this season's must-shade pinpointed as Raspberry.
When your baby no longer fits the Moba Moses Basket, it makes an excellent storage addition for cuddly toys or alike. That is, until you decide to reuse it for the next addition!
The Moba Moses Basket is available from Moba online and priced at £99 https://mobauk.com/