Mum-to-be Diary: The Dreamgenii Pregnancy Pillow
By KATIE ANN LAMB
As I approach the 20 week milestone and the depths of the second trimester, advice suggests I should be sleeping on my left side. This can reduce the risk of stillbirth and helps your kidneys to get rid of waste products and fluids from your body.
Although I am not obviously demonstrating a growing stomach, I am waking up on my back and comfier on my right side. Thankfully, with the help of DreamGenii, this is all about to change.
Dreamgenii was founded in 2006 and has a range of UK Midwife approved award winning pregnancy and feeding pillows designed to support you through pregnancy and beyond. By using a pregnancy pillow, you'll add support under your baby bump and reduce stress on your back and abdomen muscles. Pregnancy pillows also generally wrap around your back to help prevent you rolling on to it while you sleep. They provide a cushion between your legs and provide head support too. It would take two to three ordinary pillows to accomplish the same level of comfort and they'd likely slip loose during the night- not to mention take up the whole bed!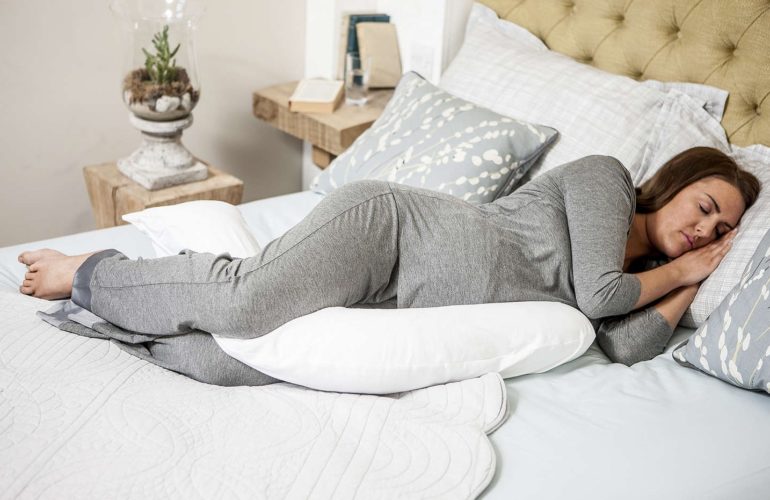 Another great feature of the Dreamgenii Pregnancy Pillow is the dual functionality. The unique patented design means you will only need to purchase one pillow to help you through a comfortable, safe pregnancy and can also be used as a feeding pillow once your baby arrives.
The Dreamgenii Pregnancy Pillow offers the following unique features and benefits:
Aids a restful sleep
Supports your bump, back and knees
Helps you to lie on your left side, the best position for you and your baby
Prevents you rolling onto your back during sleep
Encourages maximum blood flow between mother and baby whilst you sleep
Helps you to achieve optimal foetal positioning
Doubles as a feeding support pillow
Recommended by midwives
Unfortunately as many as 1 in 4 pregnant women suffer from something called SPD (Symphysis Pubis Dysfunction) which can cause pain and discomfort in the pubic bone area. To alleviate this, sleeping on you left side with a pillow between your legs can help align the pubic bone and alleviate pressure. The Dreamgenii pillow perfectly sits between your legs aligning your hips, providing relief but not taking over your bed!
The Dreamgenii Pregnancy pillow cases are made from soft, durable polyester cotton and are filled with polyester hollow fibre. They come with a removable, washable white pillow case already on the pillow, but additional spare covers are available in a range of neutral colours and patterns, allowing you to personalise your pillow!
The pillow retails for approx. £45 and is available from: https://www.dreamgenii.com/pregnancy-pillow/