Mum Diary: Keep an extra eye on your baby with the Tommee Tippee Digital Video, Movement and Sound Monitor
Having a newborn baby to look after is a big responsibility. It can be a very anxious time in your life. Many parents want to keep an eye on every breath their little one takes. Even if your little one sleeps next to you at night, during the day your baby may enjoy some quiet time in their own room and you need to be able to check what is going on.
There are so many baby monitors on the market nowadays that it can be difficult to find the best offering. Ultimately, you want a reliable and functional baby monitor that gives you peace of mind and doesn't let you down. The Tommee Tippee Digital Video, Movement and Sound Monitor is ideal for the role. Not only does it meet the basic needs of a baby monitor, but it also has some excellent add-on features and it is very easy to set up, even for a technophobe!
The Tommee Tippee Closer to Nature Digital Video, Movement and Sound Monitor has a camera that can be positioned near to your baby's cot and a sperate parental unit, which has an excellent reach. This means that you can still view your baby from up to 300 metres away using the parental unit. If you were to step further away than its capabilities, you will be alerted accordingly.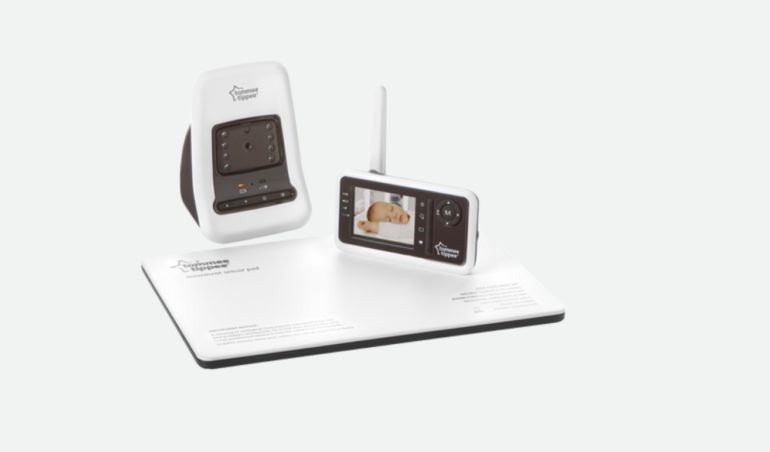 The quality of the screen output is excellent and there is enough clarity to see detailed movements. It works just as well during the day as at night and there is an infrared night vision camera to support it during the hours of darkness. There is also a nightlight, which is very gentle. This means that you don't necessarily have to worry about getting a dedicated nightlight for your nursey as the monitor will do this for you.
Among one of the most reassuring features provided by the Tommee Tippee Closer to Nature Digital Video, Movement and Sound Monitor is the movement sensor pad. This is particularly useful for newborn babies during the early months. It helps to pre-empt a crisis scenario and if there is no movement from your baby for some reason, an alert will be activated. You need to be careful when you are setting this feature up and mindful of wiring, but it is quite straightforward overall and can be placed under the cot mattress. An alert will be triggered if there is no movement after 20 seconds and there are adjustable settings for the movement pad.
One of the aspects of baby monitors that new parents find particularly useful is the temperature display. This is something that does not come with normal security cameras, which people sometimes use for baby monitoring purposes. The temperature feature is particularly important with newborns and it means that you can keep an eye on the warmth of the room and make sure that your little one is sleeping in optimal conditions. This can help during the early months, especially when you are trying to get them to sleep through the night.
The two-way talkback feature of the monitor will be useful for some. This depends on how your baby reacts to hearing a voice without you being present. For some, this is very reassuring and even if you are just talking to them while you are on the way to check them in person, it can be helpful for soothing any distress.
While some monitors have a Wifi capability, these can prove much more trouble than they are worth. In fact, a functional monitor is most important and one that is reliable without any potential interference should be a priority. The Tommee Tippee Closer to Nature Digital Video, Movement and Sound Monitor certainly delivers on this count and the added extras that come with it make it an exceptional choice for new parents, or those who are expecting a further addition to their family.
Read more about the Tommee Tippee Closer to Nature Digital Video, Movement and Sound Monitor here: https://www.tommeetippee.com/en-gb/product/digital-video-and-movement-monitor It has an RRP of £109.99 and can be purchased nationwide from major retailers and online.