Mum Diary: Feeding with the Tommee Tippee Closer To Nature Complete Feeding Set
Whether you are a mum-to-be for the first time or an experienced parent awaiting delivery of another new addition to your family, getting a head start with the feeding equipment that is required for the newborn days can be a real help to the journey.
While many people chose to breastfeed exclusively, there are also new mums who can't feed this way for some reason or those who like to express milk and use a bottle from the start. If you fall into either of these categories, then we recommend getting ahead of the game with the Tommee Tippee Closer To Nature Complete Feeding Set.
This set is a brilliant starter kit. It comes with everything that you need to bottle feed with either formula, or breast milk that you may wish to express. Most importantly the teats on the bottles that are provided have been designed to mimic nature and make feeding this way as easy as possible for your little one. This is crucial for anyone planning to mix their feeding regime and to switch between breast and bottle with ease. Tommee Tippee is a brand that is known to excel in this area and it really helps to relax the worries of a new mum, as the bottle feeding process is made smoother and easier to manage.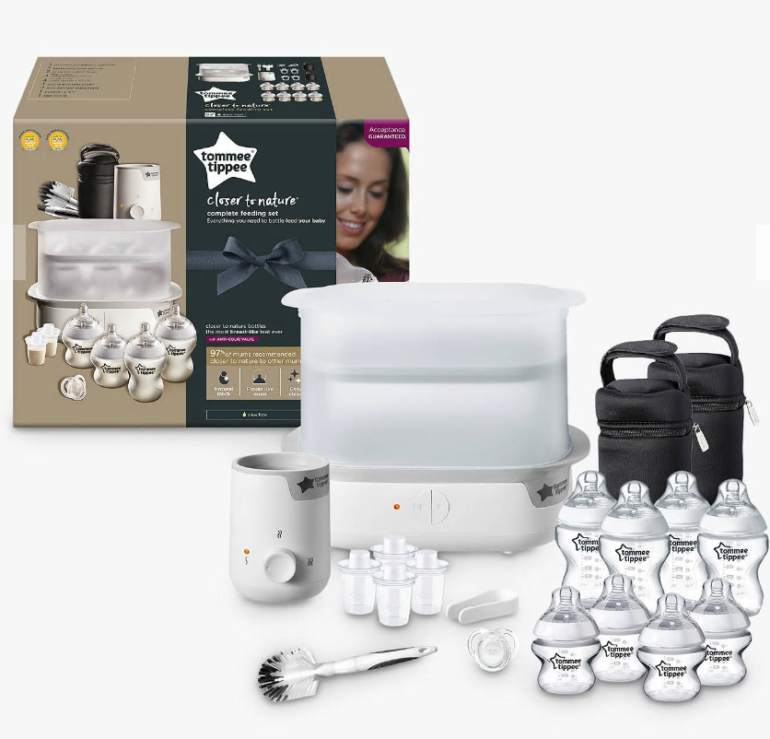 While using bottles as part of your feeding has many advantages, such as enabling your partner or family members and friends to become more involved, you do have to deal with the sterilisation aspect. This can be time-consuming if you don't have the best equipment.
This Tommee Tippee Closer To Nature Complete Feeding Set comes with an Advanced Steam Steriliser that can sterilise up to six bottles in just 5 minutes, which is really efficient. You can also ease your mind by knowing that you will be killing 99.9% of germs that may linger in bottles, teats, breast pumps and other baby feeding accessories.
I find that having a large number of bottles to hand is also really useful as you can store milk in the fridge and get ahead of feeds. There are no less than eight Closer to Nature baby bottles included, as well as milk storage pots.
For those on the go, it is vital to have the ability to store the milk properly. Breast milk can last up to four hours out of the fridge and the insulated bottle bags that come with the set are brilliant for feeding on-the-go. There is also a soother that comes with the set, as well as suitable cleaning accessories, including a bottle brush.
So, if you want to start your upcoming baby days with a really organised feeding system in place that allows lots of options, the Tommee Tippee Closer To Nature Complete Feeding Set is certainly a worthwhile purchase.
The set is currently available for £89.99 (was £159.99) Buy here: https://www.tommeetippee.com/en-gb/product/complete-feeding-set?sku=423227