Mum-to-be Diary: The Inovi Cocoon is the perfect newborn bed
By KATIE ANN WISEMAN
Travelling for the first time with a baby can be quite a daunting experience. There is endless equipment to remember to pack… not to mention needing to factor in the environment you're travelling to. I was very excited to discover the Inovi Cocoon, which is a compact and lightweight crib. It can be used at home or when travelling, providing a safe and secure sleeping environment for your baby.
Suitable from birth up to approximately six months old, this stand-alone crib/bassinet makes a stylish, contemporary alternative to a moses basket, whilst also functioning as a travel crib. It comes in either Grey or Beige so both very unisex neutral colours.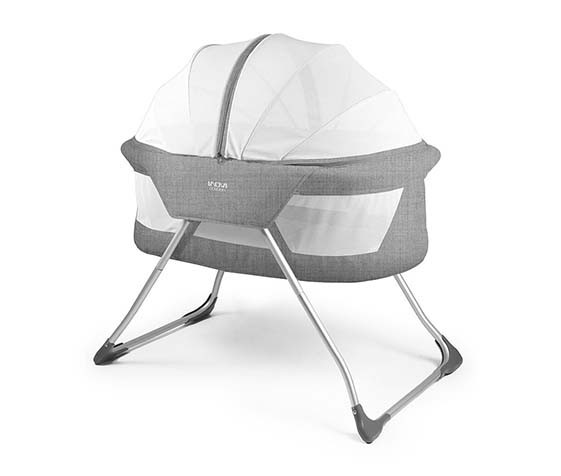 The removable mesh canopy that protects your little one from mosquitos, wasps and other flying insects plus lightweight falling objects, which is perfect if travelling to an unfamiliar country. It also acts as a deterrent to curious pets for those that have cats or dogs at home who maybe intrigued by the new arrival. Transparent and breathable, the mesh panels encourage air circulation to the crib whilst allowing you to keep an eye on your baby.
It is suitable for overnight sleeping and has a luxuriously soft and cosy mattress, providing your baby with maximum support and comfort. It's four locking joints, safety catch and stabilising mattress base ensure it stands firmly on the ground and can be easily moved around the house.
One of my favourite features of the stylish Inovi Cocoon is the weight at less then 4kg it folds compact and complies with international aviation standards (IATA) so that you can carry it onto a plane as hand luggage or stow in overhead locker compartments. Therefore you don't have to worry about it getting damaged in the hold!
Its is available from Amazon or http://www.jojomamanbebe.co.uk/d9948.html