Carry your newborn in comfort and style with the BabyBjorn Baby Carrier Mini
By Katie Ann Lamb
When it comes to finding a comfortable and practical baby carrier, BabyBjorn is one of the most popular choices for new mums. It has been the leading brand in this particular area of baby products for many, many years.
It is difficult to find the perfect baby carrier and it is an essential piece of equipment. Just like a newborn baby, the new Baby Carrier Mini from BabyBjorn is small, soft and snuggly.
Seeing as I have just had my second, I need a carrier that I can use straight away from birth because I am having to keep up with an active toddler. The BabyBjorn Baby Carrier Mini is recommended for use right from the word go and it can be used up until a year, so long as your little one fits into the weight allowance (from a minimum weight of 3,2 kg – to 11 kg (7 – 24 lbs) or from 53 cm).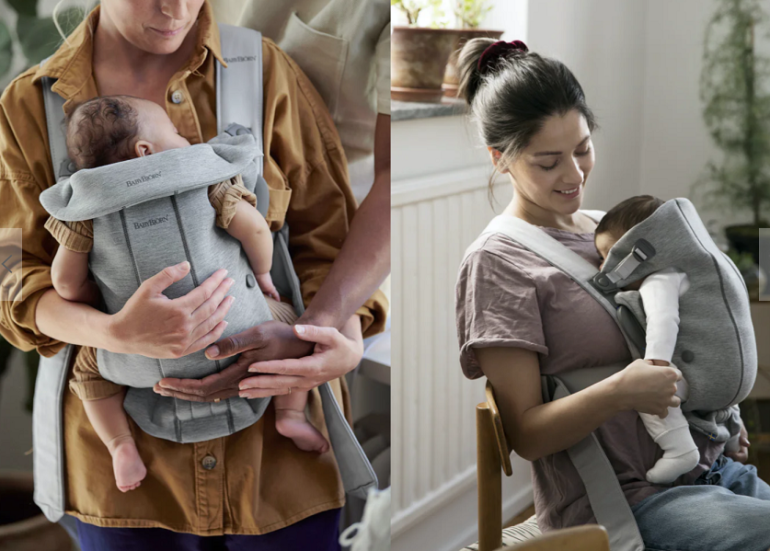 Often new babies are so small that they seem to be swamped in carriers. I find that a carrier can easily overwhelm a newborn and it is important to find one that isn't too big. The Baby Carrier Mini is small, easy-to-use for short sessions and perfect for the first months when your baby needs lots of closeness around the clock.
To be honest, I find that a baby carrier can often be even more useful for moving around in the early days than a pram. That said, it needs to be convenient to use. With the BabyBjorn Mini, you can easily unfasten the entire front section of the baby carrier to lift your little one out. Also, your baby will feel very secure when in the carrier. The soft fabrics gently hug baby's back, legs and hips to provide correct and good support. Through the fabric, you can check your newborn's position and the natural C curve of their back with your hands.
This carrier is particularly good for starting out and it really excels in terms of being comfortable for both mum and baby, but also easy to use. The adjustable buckles are great and help you to get the perfect fit. The size and head support are fully amendable and the material is comfy and smooth.
The BabyBjorn Mini is available in 3D Mesh, Cotton or 3D Jersey fabric with a range of colours and prints such as Dusty Pink, shades of Grey, Leopard and shades of Blue. Prices start at £80 and are available at https://www.babybjorn.co.uk/baby-carriers/baby-carrier-mini/?attribute_pa_color=light-grey&attribute_pa_material=3d-jersey