The Mum Diary: Sleeping soundly with the Red Castle Ergonomic Sleep Positioner
Every parent will know how precious sleep becomes when you have a baby. We are relatively lucky with our little one at the moment. In general, she is sleeping very well and already doing stints of between four and five hours at a time. Although she is still only young and some people like to feed every couple of hours at this age, our health visitor has advised that letting her sleep for this amount of time is absolutely fine and she is apparently 'thriving' at present with an encouraging weight gain, so the routine is working for her.
One of the main reasons she seems to sleep so well is that she has fallen in love with her Red Castle Ergonomic Sleep Positioner. Many of my friends who already had babies before my arrival suggested that a sleep positioner is an essential piece of kit. When the Red Castle Ergonomic Sleep Positioner arrived, I could see why as it looks so comfortable and is designed to provide the baby with an ideal sleeping environment.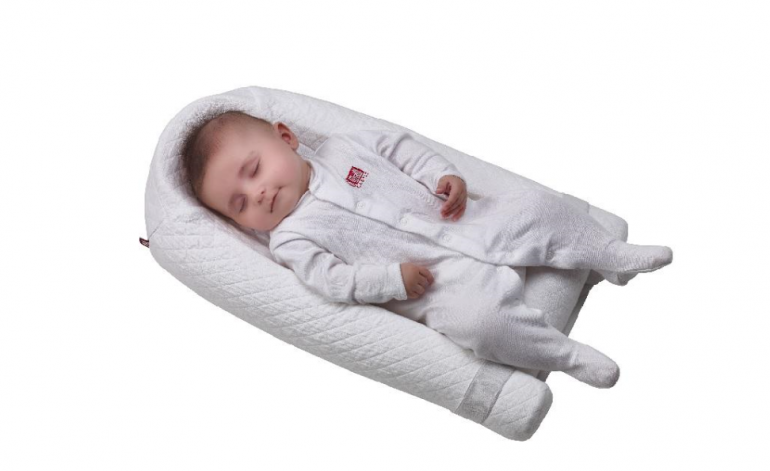 The Red Castle Ergonomic Sleep Positioner is designed to support your baby by positioning him or her in a slightly curved shape and also a very secure place. It helps to reassure and calm babies, which in turns aids with getting a better night of sleep. It has a removeable leg bolster to provide an adjustable end to the positioner; however, I often use it without and just make sure that it is firmly against the base of the cot.
One of the great things about the Red Castle Ergonomic Sleep Positioner is its portability. I use it in the cot during the evenings but also place it in our pram or Moses basket when we are on the move during the day. It means that Baby always has the same, safe and comfortable sleeping environment, wherever she goes. This helps Mum and Dad also get as much shut eye as possible!
Your resident Mum x