Embrace the great outdoors with the MiniMeis carrier
By Katie Ann Lamb
The world is a confused and scary place right now with the COVID-19 pandemic. However, for many of us parents, we are still having to raise little ones in a way that is as close to normal as possible.
Thankfully in the UK we are still allowed our daily exercise and that fresh air is so good for our kids! So many people have taken to the great outdoors and it is a pleasant way to pass the time. Time outside also benefits mental health during lockdown. However, with little children, mobility can be tricky at times! With this in mind, three brilliant dads have made a product that encourages us parents to be even more active with our kids. MiniMeis is billed as 'the world's best carrier'. It gives children a bird's eye view, while providing comfort and free hands to the parent.
It has been on the market for a while and the idea was born seven years ago. The concept was to make a product that enabled small children to sit on the shoulders unaided. Comfort and style was also considered to be a priority.  As parents Julius, Marcus and Tarjei knew that any creation had to have some key features. It needed to be easy to use, safe, durable and extremely practical. Also, as all parents will know, equipment for children often takes up a lot of space. A product that can be tidied away neatly is always a bonus. That is why they decided to make the MiniMeis foldable. It had to take up as little space as possible for a modern, active family on the go!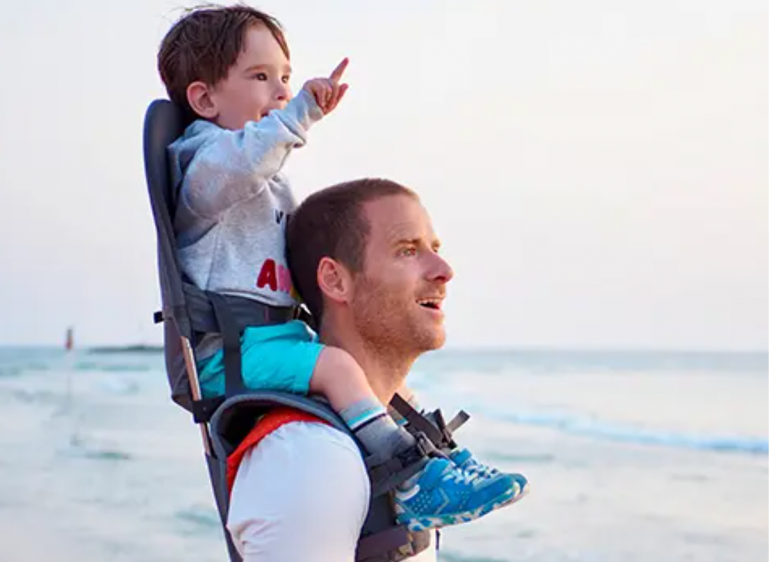 MiniMeis was founded, developed and tested in Norway. The invention is the first of its kind and is patented globally. The developers aren't just dads with an active family life, they have backgrounds from the industrial sector and textile design as well.
One of the many benefits of the MiniMeis shoulder carrier, is that it can be used for many years. Their guidelines suggest the earliest being from 6 months. Obviously each child is different and, as with a highchair, the child should be able to sit upright without support before sitting in a MiniMeis. The child must be able to hold their head up. For the youngest users (from approx. 6 – 10 months), the provided shoulder strap can be used for extra upper body support.
My daughter is now 18months old and she loves going for walks. However, after a while, she wants to be carried. With this in mind, Minimeis is fantastic for enabling us to be out for longer because it means that we can safely and comfortably carry her when she starts to tire.
Weighing only 1,5 kg (3,3 lb), the MiniMeis is the most lightweight framed child carrier on the market. But despite its super lightweight composition, the MiniMeis is robust and strong. I have found that, although I can use the MiniMeis carrier, your partner may it more comfortable with the strapping across the chest. Overall, this is a great product to help young families through the lockdown period and it will also be used many times after, I am sure.
MiniMeis is available in three gender neutral colours- Grey/Orange, Grey/Black or Navy/Black and retails at £129.99. They are available to buy at: www.minimeis.com and they are not affected by COVID-19 so you can guarantee a fast and efficient arrival or your new carrier!