Mum Diary: High chair time has arrived as grownup eating begins
Our first Christmas with Baby was so special and she really added some extra magic to the festivities. Although Baby is still only in her six month, there was plenty to excite her during December. The bright lights on the tree and rustling wrapping paper led to plenty of smiles during the celebrations and she was even able to enjoy some Christmas dinner!
We moved Baby on to solids pretty quickly and she has been gobbling up blended fruit since turning four months. When the big six month mark arrived, our health visitor said that we could let loose and experiment with lots of different types of food. This came just in time for her to enjoy some turkey and sprouts!
When I first started moving Baby on to solid food, I fed her on my lap and this was not very practical at all! As soon as I realised that she was loving her food and happy to move on to proper meals, I picked a high chair. Babybjorn has a fantastic selection of products and I find this brand very practical and reliable. It has become one of my go-to places for baby accessories.
The Babybjorn high chair is an excellent choice and it is recommended for use from the age of six months. I actually started putting Baby in it before she reached this age and the settings make it safe, comfortable and an excellent place for her to sit and enjoy mealtimes.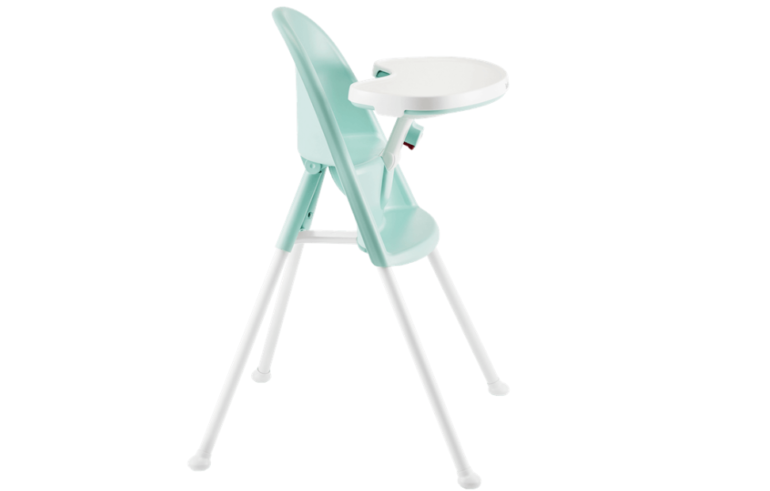 The height of the chair makes it social and she can join us at the dining table and be at the same level. She is fascinated with how we eat and tries to copy. It is also nice for her to be part of the family and feel involved. Equally, the chair is easy to move around the home and you can set it up in the middle of your kitchen and feed your little one near the counter if you prefer. The chair is lightweight and has legs that pull out so that it folds open quickly. It can also be stored relatively flat and the slide up tray locks your child in place. This has a childproof lock so they are not able to open it without your assistance.
The high chair is very secure and there is no need for any extra support. Breakfast has become a particularly exciting occasion for us and Baby wriggles her legs with glee at the sight of a full bowl of porridge! While stability is one of its strongest features, the BabyBjorn high chair has many other appealing aspects and is an essential purchase for new parents. It is simple to operate, straightforward to clean, can be transported easily and will last your child until the age of three.  
You can buy the Babybjorn High Chair (£200) online here: https://www.babybjorn.co.uk/kitchen/high-chair/
---
Read more in our Pregnancy and Parenting Section