Expert tips for protecting your skin pre and post workout
Whether you're a gym bunny or prefer a gentle jog through the park, packing in regular exercise has many health benefits. However, while frequent workouts will improve your fitness and benefit your mind, it is important to pay extra attention to your skin.
While sweating is natural and healthy, managing the your skin pre and post workout is important. Fitness expert Diana Booty from The Harley Medical Group explains to The Sloaney:
"Sweating is great for your skin, removing impurities, opening up your pores and bringing freshly oxygenated blood and nutrition to skin cells. As we age, our skin naturally loses the youthful layer of fat just beneath the skin that keeps it plump, leaving saggy skin in its place. But with a carefully structured exercise programme, you can build up lean muscle to create a similar volumising effect."
With sweat comes some skincare concerns and Diana has shared some helpful tips with us for managing your complexion and looking after your workout skin…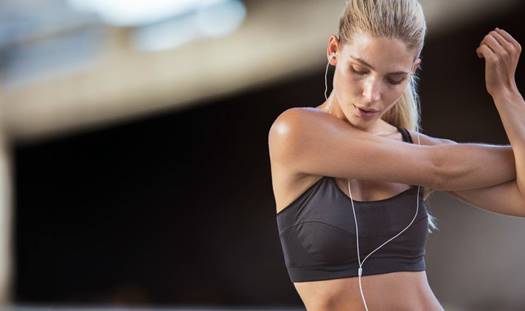 ---
BEST FOR: The sweaty spinner…
Unless you are one of those mere mortals who doesn't so much as release a bead of sweat during HIIT class; most of us more human beings sweat during our favourite workout.  Spin classes are guaranteed to make you sweat, and whilst this is not preventable we can offer advice on how to prevent your skin being affected from the excess sweat.
Diana says, "To minimise the risk of skin complaints, get out of sweaty gym kit as soon as you've finished. Bacteria and moisture build up close to the skin when you sweat, so get showered and into clean clothes as soon as possible, allowing your skin to dry and breathe. When moisture is trapped close to the skin, spots or heat rashes can develop, so as lovely as your athleisure wear might be, try to avoid sitting around in it for too long after your workout."
If you are affected by body acne a course of micro-needling can help treat it, The Harley Medical Group offers Derma FNS treatment an electronic pen like device which can be used on any part of the body including the back and chest. Derma FNS uses a unique method to insert fine needles into the epidermis to encourage collagen production. It also significantly improves the appearance of stretch marks and scars including chicken pox scars and three types of acne scars (ice pick, box and rolling).
Recommended workout skin product: Derma FNS, Prices start at £145, available nationwide  
---
BEST FOR: The outdoor runner…
If running alfresco is your bag then you could be reaping the benefits without even realising. Diana says "Exposing your skin to UVB radiation from sunlight for at least 10-15 minutes a day forms vitamin D in the body naturally. Vitamin D plays a major role in overall health and performance during exercise". Before you get too excited and sprint out the door to get your daily Vitamin D dosage, be sure to wear sun protection on your skin even in winter. Justine Hextall advises "The levels of UVA (UV Ageing) do not reduce as significantly in the colder months. It is important to protect against this wavelength particularly all year round to reduce the effects of skin ageing. A brilliant sunscreen for your workout skin, which suits all skin types is DermaQuest's Sheerzinc SPF30."
Recommended workout skin product: DermaQuest SheerZinc SPF30, £46.00, Harleymedical.co.uk
---
BEST FOR: The gym devotee…
Whilst our toned abs and derriere are thankful for all the dedicated time we spend at our gym; our skin on the other hand may not be so happy. Factors such as air conditioning in gyms can be really harsh on our skin leaving it looking and feeling dry/dehydrated. Applying a hydrating serum such as DermaQuest's Advanced B5 Hydrating Serum pre-work out can help to lock in moisture and act as a barrier to that pesky air con. The serum also protects against free radical so it can also be worn daily as a base under your moisturiser. Justine also recommends regular skin peels to give skin a boost, remove dead cells and rejuvenated feel. "Sometimes skin becomes dry and dull and a professional treatment such as the Dermaquest C infusion peel will make a significant improvement. The benefit here is the use of the superficial peel to remove dead skin cells and also to allow greater penetration of the vitamin C "
Recommended workout skin product: DermaQuest Advanced B5 Hydrating Serum, £53.00, Harleymedical.co.uk; DermaQuest C Infusion Peel, Prices start at £125, available nationwide
---
Diana Booty is a fitness expert at The Harley Medical Group Harleymedical.co.uk