Uplifting fragrances for the home
We love trying new home fragrances. Whether you want a scented candle in your bathroom to help you unwind in the evening or an invigorating diffuser for your main room, seasonal fragrances can help bring a house to life.  
The home range from Monsoon is on our radar this month and their elegantly presented scented candles are a real treat. The Bergamot & Fig Candle offers a spicy, oriental fragrance. It has uplifting notes of neroli, mandarin, bergamot, grapefruit and lemon, with figs, warm ginger and musk also featuring.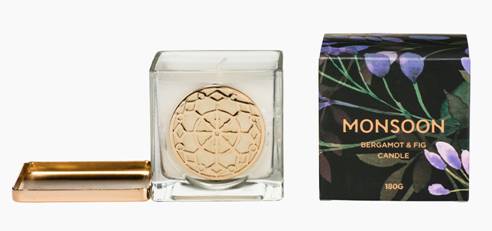 This candle is rich and zesty in scent, but also has benefits for your mood. Bergamot is said by many to reduce anxiety, with lemon working as a refreshing and vitalizing scent. The unique combination of these helps to create a calm but energised environment.
If you prefer a more woody fragrance, try the Amber & Frankincense candle. It has spicy base notes, which helps create a warm and comforting scent, which is ideal for the transition from winter to spring.