Organic gardening with Natural Urban Gardeners
By RACHEL COLLISON
The Chelsea Flower Show is on us. It's the time of year to grab your sun hat, a glass of champagne and meander through an inspirational world of wonder.
Gardening enthusiasts from around the world have been enticed to showcase their horticultural skills and finesse in the ultimate celebration of plants, design and talent. This explosion of colour and creativity is always followed closely by 161,000 visitors and a wealth of television programmes.
It's no surprise the Chelsea Flower Show is often the final push for gardeners to grab their secateurs and head out into their own little wilderness.
Today's enthusiasts can explore the varying worlds of conceptual, formal and cottage gardens to name a few, and there are plenty of suppliers ready to provide. But before we don our gloves, we've taken a quick look at the effects gardening has on our environment.
Sadly, in the modern world, choice usually results in waste but small changes in the unnoticed areas of gardening can really make a difference. Take plastic pots for instance. Even though these tend to be recyclable, hundreds of thousands end up on landfill sites each year.
We should also consider the amount of chemicals and toxins we're feeding our plants and painting our fences with which can also end up feeding wildlife but the biggest worry of all is the compost problem, or peat problem to be precise.
Due to sneaky compost packaging and misleading descriptions, we're still using the same amount of peat in our growing media as we did in the 1990s. Most compost types are still over 90 per cent peat, with 66 per cent of the total peat used in the UK is for our gardens.
Our peatlands store more carbon that the forests of the UK, France and Germany combined but a staggering 94 per cent of the UK's lowland peat bogs have already been lost. Of what remains, only 6,000 hectares are in good condition. Ludicrously, peat is still being used 200 times faster than it forms. It's estimated that due to our meddling, the remaining bogs in northern Britain could be leaking as much carbon as 400,000 family cars each year.
Gardening is all about working with nature and it stands to reason it should be one of the greenest hobbies out there. Right now it may be weirdly wasteful but it needn't have to be. Every day more sustainable, biodegradable and organic products hit the shelves which provide a completely natural solution to our gardening needs.
So we went on the hunt for organic, sustainable garden products that give back to the earth through nature's natural cycle. That's where Natural Urban Gardeners comes in.
Warmly abbreviated to NUGs, this website has just been launched to coincide with the Chelsea Flower Show. With a humble desire for totally-organic gardening, husband and wife team Rachel and Christian have compiled an array of gardening products from coconut coir pots and compost to organic fertilisers and wood treatment.
Not only do they provide an eco-friendly alternative to plastic and peat but everything NUGs offers has come from the earth and will go back into the soil. We've selected our favourites below to help kick-start your organic growing season.
BIOCHAR:
We all know there's too much carbion dioxide knocking around these days. It's everywhere, but don't despair. There is a way of capturing it for your garden's sake.
Biochar captures 80 per cent of its weight in carbon and uses it to nourish your flowers, shrubs and dramatically improve crop yield. It's sustainably sourced, reduces the harmful effects of chemical pesticides and suppresses methane and nitrous oxide. What more could you want?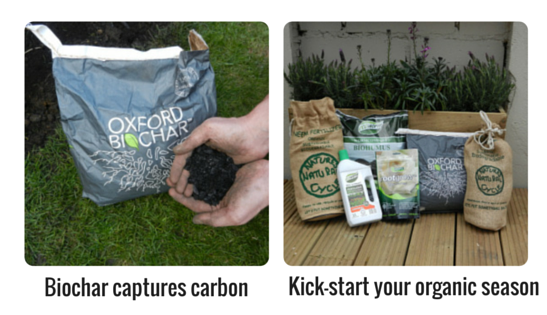 LIFETIME WOOD TREATMENT:
This does exactly what it says, treats wood for a lifetime of protection. This non-toxic, totally-natural fungal treatment soaks into the wood fibres, changing the structure so that it protects your chair, bench, fence or shed from rot, mould and fungal growth.
If any cracks or frayed edges appear, this fungi will simply grow to cover the newly exposed areas, which is why it lasts a lifetime. It also comes in granules, just dissolve them in water and splash on your wood.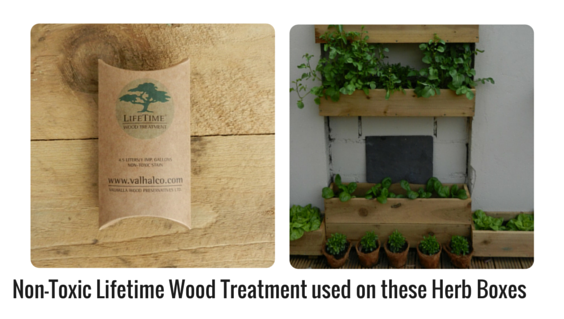 COIR POTS AND COMPOST DISCS:
Not only do these coir pots provide a solution to the plastic problem but you can plant them directly into the ground. There is no waste – you are just giving something back and letting nature take over.
Coir is a totally renewable resource which rots back into the soil and strengthens your plants roots as they grow. Natural Urban Gardener's coir compost discs expand with water to fill the coir pot. Coir compost does not have any nutritional value for your plants, so you will have to nourish them with one of the below fertilisers.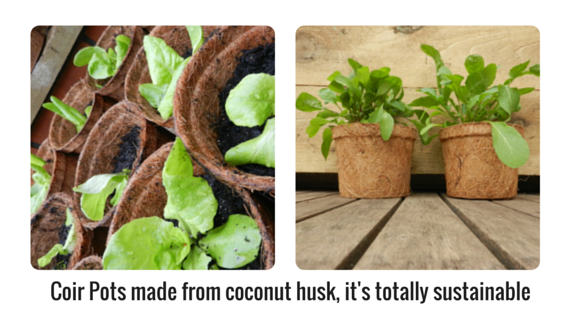 NEEM FERTILISER:
From medicine and soap to pesticides and toothpastes, the Indian Neem Tree can do everything but it works best as a truly organic fertiliser.
Organic Neem Powder Fertiliser is high in natural nitrogen, potassium, phosphates and sulphur compounds. It's also rich in limonoids Azadirachtin, Nimbin and Salinin – natural insect repellents which stops pests feeding and their larvae growing. It's perfect for sprinkling into coir compost to give your plants a perfect start or for feeding throughout the season.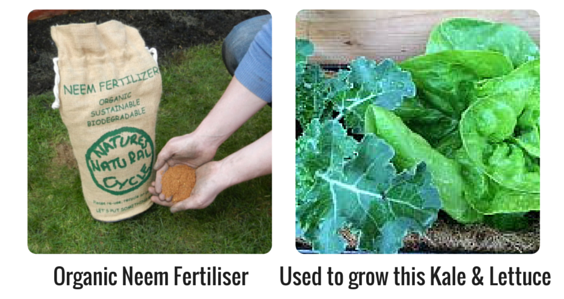 SEAWEED:
It turns out seaweed is more than just food. It's actually pretty amazing stuff that helps fertilise your soil too.
This seaweed is carefully harvested from the shores of the Shetlands, dried and packed into a reusable jute bag it. Organic Seaweed Granules go into your compost, directly around established plants or scattered over the lawn to produce a lush green.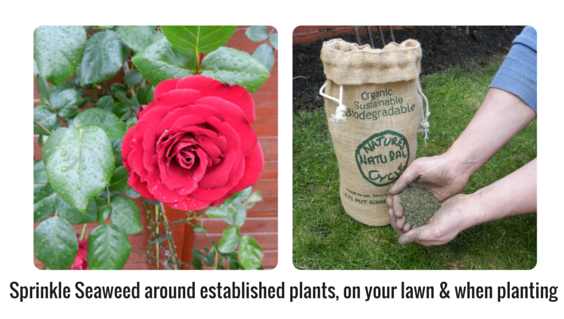 WORMCAST:
To put it bluntly, this organic compost could not be more… organic. Produced by worms in the most natural way, it's packed full of goodness.
It includes all the macro and micro-nutrients your soil needs, meaning your plants grow faster, healthier and your crops are packed with vitamins and proteins. But that's not all, using organic wormcast reduces and prevents nitrates and heavy metals building up in your soil, making it perfect for the urban environment.
You can turn some into your own, use it in your potting mix or lay on top of your beds. It also comes in a liquid form, just dilute 1 part to 10 parts water for the ultimate crop and flower food.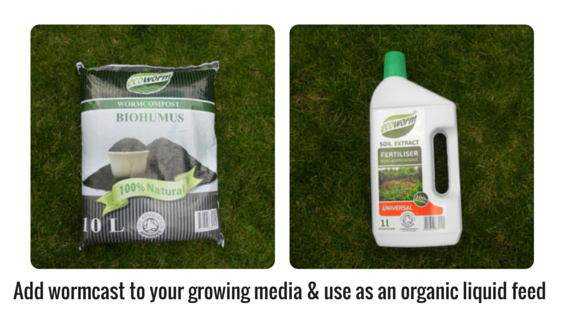 For more information and ideas on how you can make your garden, balcony or windowsill truly organic please visit:  www.naturalurbangardeners.com