Grow your own freshly harvested bare root English Roses this autumn
For almost 60 years David Austin Roses has been breeding exquisite English Roses. The rose experts share some gardening tips for the new season with readers of The Sloaney….
---
As the leaves fall from the trees leaving branches bare, we know autumn is upon us and with it the bare stems of bare root roses. Much like the trees, bare root roses will quickly sprout green again in the spring and, soon after, will flourish into full bloom.
Freshly harvested from our fields, still using many traditional methods, our UK grown English Roses are seasonal and can be planted from October to April. Planting at the beginning of the season as you would autumn planted vegetables or bulbs, like broad beans or daffodils, gives them the winter to establish into thriving plants full of fragrant blooms come summer.
We are familiar with planting our veg gardens or allotments in this way and we should be embracing the 'grow your own' mentality of the autumn season in a similar way with roses. There is something special about taking a number of similar looking bare stems of different rose varieties and allowing them to progress and establish through the seasons, as their bare stems begin to display their unique and colourful characters come summer.
Along with growing with the seasons and slow living, this autumn we are also embracing re-purposed rustic style. There is delight to be found in how roses can be used in everyday gardens, especially when planted in unused or unusual containers, making something special out of a forgotten corner or barrel.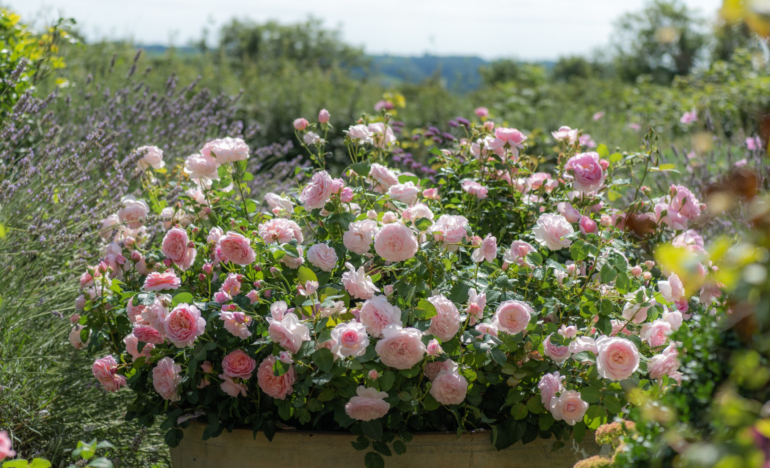 ---
RAISE IT UP AND DECK IT OUT 
---
Not everyone has access to a flowerbed, or yours may simply already be full. Re-purposed containers are an easy and sustainable way of bringing roses into any outdoor area. Why not place a re-used, aged wooden planter from a reclamation yard or the back of your shed over a deck to turn it into a tranquil garden space. Or perhaps if you have a large area of gravel or concrete, a large trough or metal container can be repurposed and planted with a selection of varieties to create a quick raised bed. A project like this planted now with bare roots roses is both economical and environmentally friendly, plus the bees will love it too come summer.
---
SUSTAINABLE STYLE WITH A BARRELFUL OF BLOOMS 
---
If you are looking to grow greener then you can't get much more sustainable than planting your UK grown seasonal bare root English Roses in a re-purposed container. Delivered in plastic-free packaging, a bare root rose planted in an upcycled container allows you to turn something unloved into a favourite spot in the garden, whilst creating a pollinator happy habitat at the same time. For a re-purposed planter with a bit of country cottage or rustic charm try using an old barrel. We recommend any container is at least 45cm x 45cm and be sure to pop some drainage holes in the bottom along with some gravel or recycled polystyrene to further aid drainage. Fragrant rose varieties such as Gabriel Oak (Auscrowd), Princess Anne (Auskitchen) or Desdemona (Auskindling) will make a wonderful barrelful of roses.
---
AUTUMN COLOUR & SEASONAL BEDS 
---
The leaves may be falling but the repeat flowering nature of roses will see them provide colourful blooms right through to November, when many other plants have already nestled into their hibernation for the winter. It is important to think about how your flowerbed will look each autumn when you plant a mixed bed or border. The fresh repeat blooms of roses can work wonderfully well into the darker days against the dried finished blooms of alliums, grasses, phlomis or hydrangeas. Don't be afraid of the skeletons of finished flowers and the autumnal brown hues which can offset the autumn roses with the style of a trendy dried floral bouquet. It may not be the fresh floral look at the height of summer but it can be equally enticing.
---
HARVEST YOUR BLOOMS 
---

Have your own harvest by cutting repeat flowering autumn blooms and bringing them inside to place in a vase. Although we may spend less time in our gardens as the days draw in, roses can still be enjoyed in the warmth of the indoors. Plus, there is simply nothing better than freshly cut flowers you have grown yourself!
For more information about the David Austin range of bare root roses, visit https://www.davidaustinroses.co.uk/delivery-type/bare-root