5 Ways To Enhance Your Summer Garden
Featured Article
Summer is a great season for outdoor activity in the UK, and for a lot of people who are passionate about their homes, that means spending a lot of time out in the garden. Whether this means a small plot of land reserved for flowers and vegetation or a whole yard's worth, there's always plenty to do to keep things looking fresh and beautiful. But in addition to general upkeep and adherence to a strategic planting cycle, you can usually find a few creative ways to take your garden to the next level as well.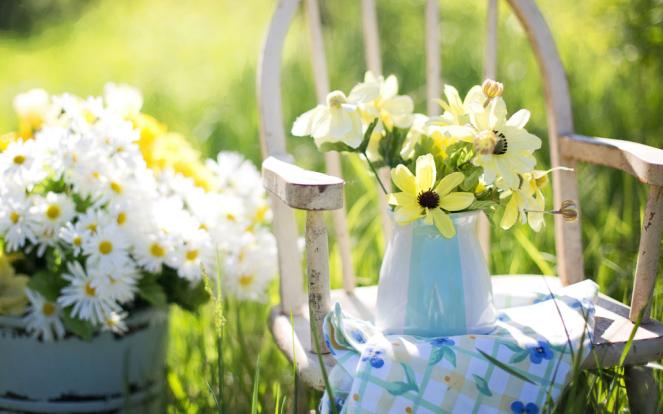 Below are a few suggestions in that regard…
1) Lay Your Own Stone Paths
Establishing walkways in a garden can actually be pretty easy. The simplest way to go about it is simply to leave gaps between rows of plants so as to provide a natural direction that you or visitors might take to move through your yard. But you can make this direction even more appealing (and more aesthetically pleasing) by laying down your own stone path. This may sound like a pretty big job, but with a little hard work and an eye for puzzles, you can weave a casual garden path just about anywhere in your yard. The step-by-step process involves designing the path, digging up some ground, laying sand, and setting the stones evenly along the way. It's not an effortless task, and the tools and stones involved aren't always cheap, but it's something most anyone with a little bit of yard-work experience can handle!
2) Catch Natural Light
You can't control how bright it is on any given day, but you can set up your garden to capture natural sunlight as thoroughly and as often as possible. You can basically do this by planting a few lighter flowers (think white and yellow petals), or even by installing some rustic outdoor furniture built with lighter coloured wood. Ash, pine and maple can all show brightly in the sunlight, and they help to give your garden a light, friendly appearance.
3) Sand Down Surfaces
If you happen to have any wooden surfaces out in the yard or garden – such as a bench, a walkway, a table, or even a deck extending from your house to the garden – it's never a bad time to sand it down. Wooden surfaces exposed to the elements can quickly become rough, and in some cases even have jagged edges or splintered pieces that develop. And yet, with the right tool in hand you can be able to complete any sanding task in a matter of hours, if not minutes. This isn't a major aesthetic change to your yard (though smooth wood does tend to look a little nicer), but it will keep you comfortable while walking on or otherwise making use of these kinds of surfaces.
4. Work To Attract Nature
There are all kinds of different ways to invite nature (or animals, specifically) into your garden, which makes for a very peaceful atmosphere. You might consider a birdbath or bird feeder, or even a butterfly feeder somewhere in your garden. You could even consider a small squirrel house hanging in a tree. Little pieces of garden furniture like these can be attractive on their own, but they can also invite pleasant, peaceful critters into your space to give your yard a more natural atmosphere.
5) Get Clever With Lighting
This is a broader concept, but it can also be among the most effective steps you take to improve your garden for the summer. There are all kinds of different ways to go about it, from installing candles and heat lamps to stringing hanging lights around the outdoors and situating lanterns along a deck. Ultimately, the idea is to choose lighting to suit the style of your garden, and if you do so with careful thought and creativity you can turn it into a brilliant space to enjoy on pleasant summer nights when the sun goes down.