Finding Michael: A triumphant and moving story of human compassion and brotherly love
By Natasha Eddery
If you didn't already know the tragic story of Michael Matthews, prepare yourself for an emotionally charged journey. On May 13th, 1999, Michael became the youngest Brit in history to reach the summit of Mount Everest. Hours later, as he descended with his guide, he disappeared. His cause of death, unknown, and his body, never recovered. He was just 22 years old. He went missing in what is known as the "Death Zone", its above 8,000 meters and possibly one of the most dangerous places on earth to conduct a recovery mission.
In the moving documentary, Finding Michael, Michael's younger brother, Spencer Matthews, the former reality TV star, feels compelled to find his older brother: "My heart says we should go find him and, if we can, bring him home." This desire to recover him was stimulated by a photograph sent to the Matthews family in 2017. The grainy image of climber's body lying in the snow evoked an overwhelming sense of hope. While the image is not exactly clear, it does show a climber wearing a similar suit to the one Michael wore and very close to the summit where he disappeared. Herein the story beings.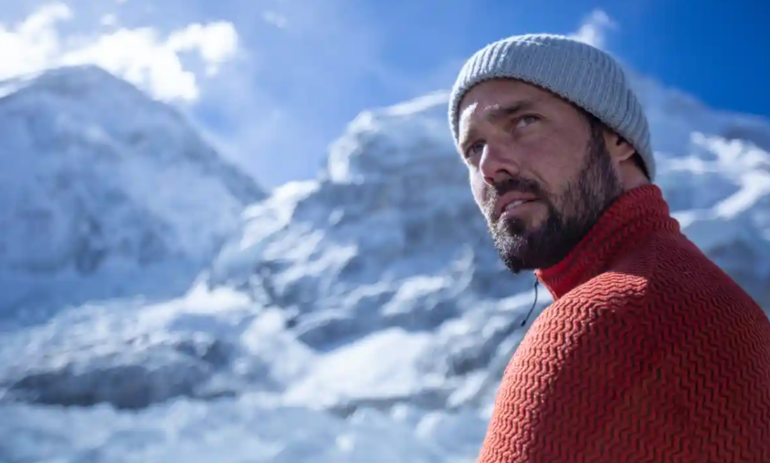 In the opening of Finding Michael, Spencer talks about the need for his family to be "on board" with the mission. His mother, sister and wife all feature, but oddly his father, David, and brother, James, do not. It is not addressed as to why, but their absence is noted. One can assume it was too painful for them to be part of. The journey unravels as Spencer travels to meet friends and fellow climbers who were on the mountain with Michael, in the hope that he can piece together a puzzle, or a map if you will, to take him to Everest and find his brother. The premiss is unnerving is it not?!
The urgency to find Michael and undertake this treacherous mission, comes at quite a difficult time. Spencer and his wife, Vogue Williams, just welcome their third child into the world. Leaving behind his new-born son is just the first hardship Spencer will endure, but there is a very short window to climb Everest, and that window was getting smaller. Before the off, Spencer seeks advice from fellow Old Etonian, Bear Grylls. When they meet, Grylls warms him how dangerous and brutal this mission will be. An average of seven climbers a year die on the mountain; not a statistic to take lightly. Spencer understandably, given the loss his family has suffered, considers limiting the risk to his own mortality by trekking to base camp and no further. Grylls final words of warning to his young friend echo loudly; "No mountain is worth dying for second time over, stay alive."
In never-before-seen video footage, recorded on a camcorder by Michael's friend and fellow climber, Jamie Everett, we watch as they begin the assent, right up to the night before his tragic death. This is where the film grabs your heart and you begin to feel the squeeze. Spencer mirrors Michael's movements all the way to base camp. You get a sense for who both brothers are, particularly Michael, and it is so beautifully moving. The eight-day trek from Nepal is absolutely stunning, shot to perfection, so that, for just an instance, you forget the heart-breaking reason behind the production of Finding Michael. As Michael's friend, Jamie, reflects on their time spent on the climb, his face portrays great sadness and you can see the grief still hangs heavily over him.
Reaching base camp, Spencer greets his team, including mission leader, Nirmal Purja. Nirms is a holder of multiple mountaineering world records. If there is anyone built for such a task, it is him. The trek to the "Death Zone," allows the viewer a glimpse into the extreme conditions that this mountain impose on its victims. The team of expert climbers show us the mental resilience one needs to attempt such a climb, but it also shows us the shocking truths of it, too. Everest is shown to be truly magnificent in one moment, and absolutely terrifying in another. Be prepared, the film unearths some shocking revelations that you do not see coming.
This search and recovery mission, is in fact, a brothers need for closure. Spencer was only ten years old when his brother died. He describes his childhood as difficult after the loss of Michael; "I don't think we laughed as a family for what seemed like years," Matthews recalls. He also openly speaks about not processing emotions easily. There is a chilling moment when Spencer looks awash with fear at the thought of not bringing Michael home to his mother; a possibility that his optimism hadn't allowed him to consider. As it transpires, Spencer was not just looking to find his brother up there, but also that piece of himself that was lost on that mountain. The film is ultimately a very moving and triumphant story of the power of human compassion and eternal brotherly love.
Finding Michael is available to watch on Disney+ now
---