Quartz Countertop Questions: 5 Things you need to know
As an engineered stone offering many of the same benefits of granite, quartz is comprised of 93% quartz particles and seven percent binding polymer resins. The engineered stone delivers numerous benefits, all of which help increase the value of your home. If you are thinking about installing a quartz countertop in the kitchen or the bathroom, there are five things you need to know before you embark on your home improvement journey.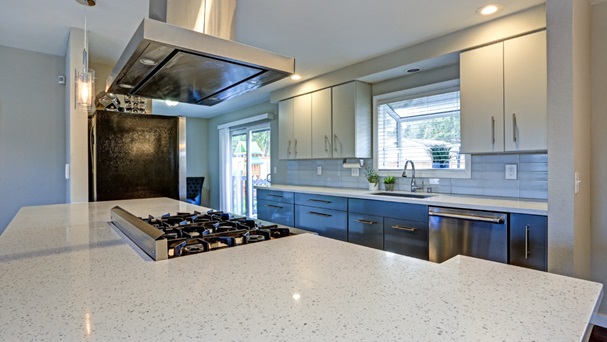 Benefits of Quartz Countertops
You might have heard about the benefits of going with natural stone for a kitchen or a bathroom countertop. However, engineered stone countertops such as quartz deliver numerous benefits as well.
Long Lasting Rugged durability
Naturally extracted quartz particles bond with polymer resins to produce a nearly unbreakable countertop material. The manufacturing process creates a countertop material that often comes with a warranty backed by the manufacturer.
Absorbs Moisture
Quartz is not porous, which means the engineered stone absorbs moisture to prevent cracks. Install a quartz countertop in the bathroom and never have to worry about damage caused by prolonged exposure to water.
Décor Flexibility
Secured in place by epoxy instead of screws, quartz can be used for much more than a countertop material. After installing a quartz countertop, consider using the engineered stone for backsplashes, as well as a shower enclosure. Quartz also comes in a large number of colors to give you a countertop that seamlessly blends in with the kitchen or bathroom décor.
Low Maintenance
Non porous also means a quartz countertop requires little, if any maintenance. You do not have to seal a quartz countertop, and cleaning the countertop requires only the use of a damp and dish soapy cloth.
5 Things You Need to Know about a Quartz Countertop
So far, we have given you a general description of a quartz countertop. You know quartz is engineered from quartz particles and polymer resins. A quartz countertop delivers several benefits that make the material one of the most coveted materials used to design and construct kitchen and bathroom countertops.
Now, we want to explain five things you need to know about a quartz countertop.
How are Quartz Countertops Manufactured?
The combination of 93% quartz particles and seven percent polymer resins can confuse some consumers. Seven percent polymer resins refers to the weight of the substance. Polymer resins are actually around 35% of the volume of a quartz countertop. The difference between weight and volume is an important distinction because the higher number for volume expands the number of color options, which is how you enjoy a greater amount of kitchen and bathroom design flexibility.
Thirty-five percent volume for polymer resins allows manufacturers to blend in different color pigments to customize the manufacturing of quartz countertops. You might prefer the natural hue of quartz for a countertop, but there are numerous other color options that you will never find in nature.
Know How to Price a Quartz Countertop
Figuring out how much a quartz countertop will cost is an important part of purchasing the countertop as part of your home improvement project. In fact, installing a kitchen or a bathroom countertop can represent one of the costliest projects for a home remodel
There is a tool called a countertop estimator that is available for use online, as well as at one of the big box home improvement retailers such as Lowe's and The Home Depot. You have to consider six factors to determine the cost of a new quartz countertop.
Color
Size
Edge profile
Complexity of the project
Removal of the old countertop
Adding a range
Countertop estimators also require that inputting of the type of material, which in this case is quartz. The edge profile represents the surface area of a kitchen countertop that you use for preparing food or for entertaining guests.
Where Should You Shop for a Quartz Countertop?
Yes, big box home improvement stores offer one-stop shopping for consumers that want to buy a quartz countertop. The big box retailers also have a team of home improvement contractors to add the countertop in the bathroom or in the kitchen. However, big box home improvement stores typically offer a smaller selection of quartz countertop design options. You should consider taking the time needed to shop for a quartz countertop at a local stone business.
Search for a local stone yard that handles every facet of adding a quartz countertop, including the sale, fabrication, installation, and custom design of a quartz countertop. Make sure to check the credentials of a local stone yard by reading online reviews on sites like Yelp and Google, as well as accessing the Better Business Bureau (BBB) web page dedicated to the local stone yards on your short list of quartz countertop manufacturers.
Maintaining a Quartz Countertop
Quartz countertops are easy to maintain. The key is not maintenance, but taking steps to avoid damaging quartz countertop surfaces. Avoid using harsh chemicals and abrasive cleaners when you need to clean the surface of a quartz countertop. Instead, soak a washcloth in warm, dish soapy water and you can get rid of any stains with one quick wipe of the washcloth. If you have to use a degreasing agent to get rid of oil stains, read the label to ensure the agent is safe to use on quartz. Place trivets under hot pots and pans to prevent heat from diminishing the appearance of typically colorful quartz countertop surfaces. Use a cutting board to slice vegetables and cut large portions of meat.
What are the Color Options?
With the ability to add pigments to blended quartz particles and polymer resins, the number of color options for a quartz countertop are seemingly endless. You can opt for a natural stone look similar to the appearance of granite or marble. Contemporary quartz countertop color options include lush color palettes that work well with brightly decorated kitchens and bathrooms. If you embed a range within a quartz kitchen countertop, you have the ultimate in design flexibility by matching the color of the range to the color of the quartz countertop.