Perfectly Personalised Engagement Gifts
---
There is nothing more romantic than a wedding – except maybe an engagement. When a couple becomes engaged, they are making the biggest commitment of their lives, making that promise to marry and stay together, come what may. If you are looking for a special way t congratulate a couple on their upcoming nuptials, look no further than our handpicked list of the best personalised gift ideas.
---
Personalised Socks
---
Socks may seem a little boring, but they are undeniably practical. These personalised sole mate socks are cute, quirky and offer myriad photo opportunities. Wear them, love them, Instagram them; what's not to love?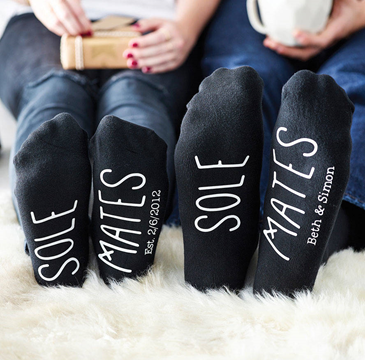 ---
Personalised Paper Weight
---
There are some ornaments that will stay with a couple for life, transcending time, fashion and escaping decluttering missions and ornament culls. This glass heart is one of them. Tasteful, elegant and minimal, this piece doesn't take up a huge amount of space, will always go with changing décor and trends, and is a great way to commemorate a life-changing event.
---
Engagement Map
---
Did the happy couple get married in an exotic location? Maybe it was on holiday? Or maybe, they popped the question at a location of significance, like the place where they first met. There are lots of engagement maps to choose from that offer varying degrees of detail. We love the simplicity of this map, which shows the location, date and names of the happy couple; a great way to remember that special moment.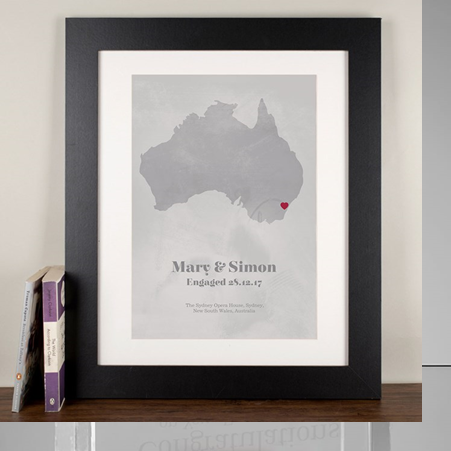 ---
Wedding Planning Book
---
They may not become a bridezilla or groom on a mission (if you're lucky), but even the most laid back couple will benefit from keeping track of ideas, dates, costs and locations to help them to have a wedding day that perfectly represents them as a couple. This wedding planner is a great start to the preparation and will help the couple to stay on top of plans while keeping stress to a minimum.
---
Personalised Champagne Flutes
---
Planning a wedding is an exciting time, so it is only fitting that plenty of bubbles are consumed in the process. Personalised champagne flutes are indulgent and will go on to be used for years to come, while providing a lasting memory of the day that he or she said "yes".