Choosing a Kitchen Countertop Material That Won't Be Dated in 5 Years
When designing a kitchen, a timeless look is the goal. No one wants to live in a never ending renovation and considering a look that will stand the test of time is important. Along with the floors, counters, appliances, and fixtures comes the countertops. There are some countertop materials that haven't held up very well over time and hopefully this will help you to make a selection that won't look dated in five years!
The first step is considering a color palette. Bright earth toned neutrals are usually the go to, they're easy to match and can be switched up with pops of color or kept muted with other earth toned shades. Countertop material usually come in a wide variety of colors anyway so matching with your desired color scheme shouldn't be a problem it's just a matter of choosing a color that won't be out of style in a flash. The same goes with furniture, when lime green is the biggest color in interior design you don't buy a lime green couch, you get a neutral colored couch and lime green pillows or blankets. The same idea fits with counters, because it's one of the biggest investments in a kitchen or bathroom, it needs to be able to stand the test of time. So pass on the trend or accent colors for a more neutral tone.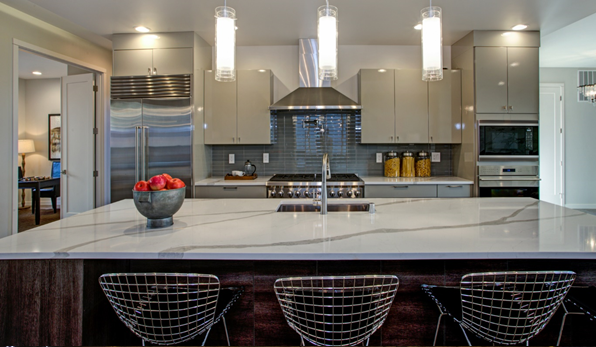 Picking the material can be daunting as well because there are so many choices. Marble, concrete, wood, and granite are all very common types of counter and all of them require maintenance to look their best throughout their lifetimes. Marble needs to be sanded down to remove knife cuts, marks, and stains as it is porous. Concrete is the same and will require polishing to keep a tip top look. Wood will need to be resealed and can stain. And granite will also need to be resealed to keep it waterproof and heat resistant. However, all of these materials can create a very timeless look when in their natural state. Natural stone and natural materials have always been used for butchers, bakers and other professional kitchen settings for decades and have already proven their timeless style. When selecting these materials consider the maintenance but also consider the longevity of the style!
Mixing styles could also be a great alternative for a more budget friendly approach. The main counter can be done in an economic engineered stone or ceramic tile and with a complimentary workspace in marble or wood. Or choosing a trendy material for the accent workspace would make an easier and cheaper way to keep up with trends as the time changes. This could also give the kitchen a modern and fresh look by breaking up a monotonous pattern, color, or texture.
Waterfall islands are a big trend now that are expected to stick around for a long time. This style brings the island counter material down to the floor and incorporates the entire room into the design. Modern and sophisticated this can be beautifully accomplished with a natural stone or a butchers block and could even be done with a complementary material different than the other counter in the space.
If you're going for a very modern look, metallic counters have been around for a long time and can lend a visually striking element to a kitchen. Copper, stainless steel or metal tiles can be a fun way to jazz up your space. The cost might be more than some are willing to pay but the result can be striking. Maintenance is relatively easy but daily cleaning to get rid of fingerprints and spill will be necessary to keep them looking sparkly!
If you're dead set on concrete and can't budget it into your remodel, we get it. Concrete is a timeless material that projects a very modern and sleek feel. Micro concrete is a fun way to repurpose any material by painting on a thin layer onto wood or any smooth surface can give the same look for less!
Peninsula kitchens are another trend that hasn't gone away. Skipping the island in favor of attached workspace as a peninsula is a clever way to maximize space in a kitchen. Making a breakfast bar or another full workspace without overhead cabinets can make any kitchen feel bigger and give you more under counter cabinet storage. Consider this during layout planning if you choose a natural stone with a busy pattern that can't accommodate a complimentary island material. For more information, please visit slabmarket.
The finish of a counter material can definitely give away an install date. Glossy finishes are a thing of the past. These days a leathered or semi textured material is favored. This prevents fingerprints and marks from appearing and is generally lower maintenance than a glossier option.
Consider the source of the material as well. Environmentally friendly options are the biggest trend that is surely not going away anytime soon. Recycled glass, and even recycled paper countertops are very trendy with savvy consumers who have an earth saving mindset. Also do research on where the material comes from i.e. the mining, working conditions, and cutting process when choosing a countertop material, many consumers are now opting for a more interesting and more conscious material for their kitchens.
Performance is a huge factor. You want something that won't feel so dated after five years. A counter should be stunning and eternal. Choosing a color that is timeless is true performance in its longevity. Changing your cabinet color, hardware or trim is a lot easier than ripping out a whole countertop. The new porcelain countertops are the highest performing countertops right now, and if you choose the right color and finish, it can be something that lasts indefinitely. These non-porous, scratch, heat, frost and etch resistant tops need no sealing and are also anti-bacterial!
In the end picking a countertop material is no different than anything else being installed in your home. Making is durable, utilitarian, and beautiful is the goal don't focus so much on what others are doing, pick something that you will love and will serve your needs as long as you plan to live in the home!
For more information, please visit Slab Market.