The Glorious 12th: Grouse and game at London's top restaurants
With the Glorious 12th only a couple of days away, we have a round up of some of the best restaurants in London where you can enjoy grouse and game…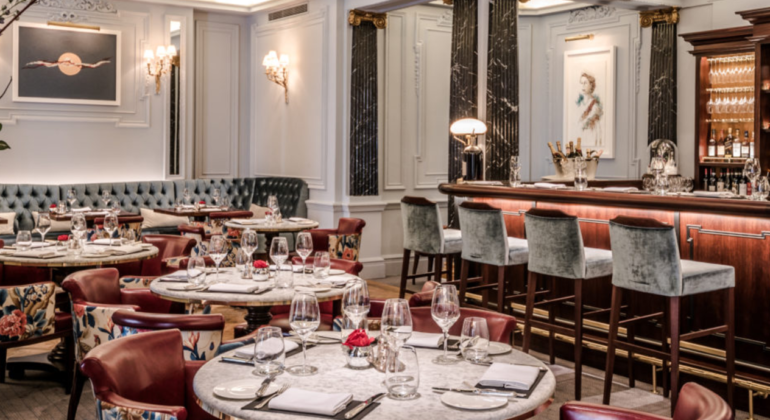 Game at The Game Bird
www.thestaffordlondon.com/the-game-bird
The Game Bird (pictured) launched at The Stafford London in March 2017, under the helm of Executive Chef James Durrant. The restaurant has fast become renowned for offering classic British dishes, executed with great style, and served in a sophisticated yet relaxed setting. From 14 August, the restaurant will be celebrating its eponymous game bird with the classic British dish of Roast grouse, game chips, bread sauce, braised legs and grouse Pâté en Croûte, while further game dishes will be added to the menu as the game season progresses.
New Street Grill
http://www.newstreetgrill.co.uk
Starting from Tuesday 15th August, New Street Grill will be partaking in the celebration of the upcoming bounty of game. Priced at £38, the restaurant will be serving bacon adorned roast grouse braised in red wine with grouse liver pate and bread sauce.
D&D Chop Houses
http://www.chophouserestaurants.co.uk/
From 14th August, Butlers Wharf, Paternoster and South Place Chop Houses, will be serving up grouse with bread sauce and game chips. The grouse is sealed to maintain moisture then gently roasted with juniper berries and thyme. It's served alongside sourdough bread sauce with a sprinkle of nutmeg and a generous glug of game stock gravy. A pile of watercress cuts through the rich sauces as do the game chips made from the new season's parsnips.
The Nest: Plateau launches series of game season supper clubs
In celebration of the British game season, Plateau in Canary Wharf is launching a series of seasonal supper clubs, offering a specially curated menu by Head Chef Jeremy Trehout, honouring a different game bird for a week of each month from August to October. From 14-18 August, the main course for the supper clubs will be a delicious dish of Roasted grouse served with wild mushrooms, celeriac, bread sauce, and game chips. Tickets for The Nest will also include welcome canapés, a bottle of real ale, starter of Venison carpaccio with smoked yogurt and pickled mushrooms, and for dessert a seasonal take on the traditional Eton Mess. For The Nest supper clubs 11, 12, 14 September, grouse will be replaced with a beautiful main course of partridge, and for 9, 11, 12, 14 October, pheasant will be taking pride of place alongside seasonal starters and desserts. Priced at £45pp, this unique supper club experience will start at 7.30pm, with 16 people seated around the stylish Zanotta tables in the Bar & Grill of Plateau.
Celebrate game season at Coq d'Argent
www.coqdargent.co.uk/whats-on-bank/events/game-season-glorious-12
Glorious Twelfth marks the start of game season, and to celebrate, classic French restaurant Coq d'Argent in The City is offering guests the delicious Perdrix des neiges 'à l'anglaise'. Comprising roast English grouse, crispy bacon, liver crouton, savoy cabbage, juniper gravy, bread sauce and game chips, the dish will be available as a special from 15-18 August for £50pp. Furthermore, throughout September and October there will be additional game dishes joining the menu at Coq d'Argent, including venison, partridge, pigeon and wild boar, and for the ultimate showcase of this fantastic seasonal produce there will be a game tasting menu bringing a flavour of the countryside to the heart of the city.
Game at Michelin-starred restaurant LUME, Milan
At Michelin-starred restaurant, LUME Milan, game frequently features on executive chef Luigi Taglienti's menu. As a game aficionado, the chef is excited to welcome in Autumn, when the season's menu is set to feature a number of game dishes. True to his motto – Heritage meets Evolution – incorporating game into his menus is a means by which the chef can adapt something that is so central to the history of haute cuisine into visionary and forward-looking dishes.
Currently featuring on the restaurant's a la carte summer menu is a dish called Ligurian style grey rabbit in modern sauce. Other varieties of game that guests have enjoyed in the past include red partridge, mallard, roe deer, royal hare (pictured) and quail.
Launceston Place
http://www.launcestonplace-restaurant.co.uk/menus/restaurant/dinner-menu/
Launceston Place head chef, Ben Murphy, is also enthralled by start of the shooting season showcasing one his signature dishes, i.e. Pigeon, Foie gras and Puff pastry.