Black Friday at M Restaurants will see a discount on Wagyu beef
This Black Friday, or rather Blackmore Wagyu Friday, M Restaurants are offering guests the chance to indulge the highest grade of beef available in the UK, at a 30% discount. M Restaurants, along with Heston Blumenthal, are the only certified venues in the UK to serve award winning Australian Blackmore 9++ grade Wagyu beef. However, owner of M Restaurant group, Martin Williams, says thousands of restaurant customers across London are being "cheated" into believing they are being served the highest quality Wagyu steak when in fact they are dining on inferior meat.
Martin Williams and chef Michael Reid, who were the first to reintroduce Kobe beef in 2014 after a 13-year import ban, serve 100 per cent 'full blooded' Wagyu beef including the award winning Blackmore Wagyu in both M Threadneedle Street and M Victoria Street. The pair are warning guests that many restaurateurs are dishonestly serving "quite ordinary beef" on the pretence it is 100 per cent Wagyu – famous for its intense marbling that gives unrivalled quality.
And although it commands a high price Williams says anyone who has tasted genuine 100 per cent Wagyu will immediately appreciate its legendary status and why it carries a higher price tag.
He said: "Of course there are farmers who produce perfectly acceptable cross-bred Wagyu but let's not say it's the real thing because it's not. It's like offering champagne to someone who may never have tasted it – why would you say it's Krug when in fact it's just bubbles?"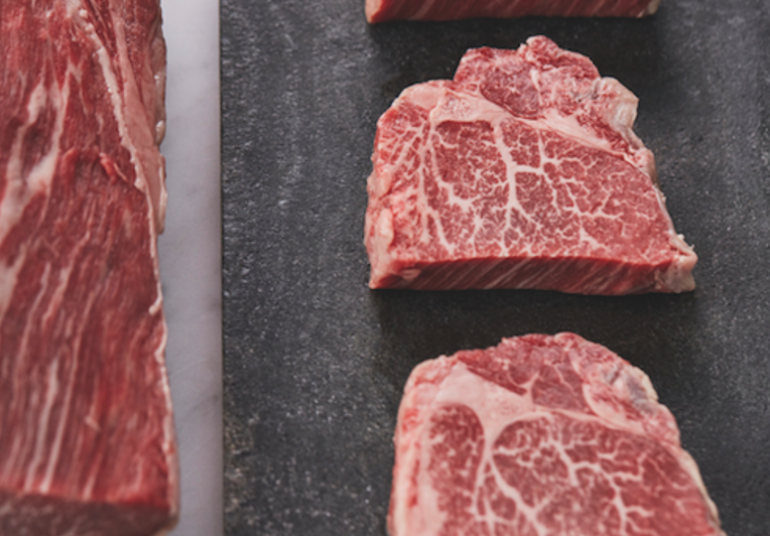 The fabled Wagyu was originally bred by the Japanese for labour. They fed the animals a diet that enabled them to work hard and recover quickly producing a fatty, marbled flesh that gave it an unrivalled taste. It was comparatively recently that they realised what a special meat they had created. But the two strains of Wagyu that have since emerged are markedly different according to Williams and Reid, whose restaurants have been described as some of the trendiest hangouts in the capital.
Although much cross-bred Wagyu, which is a mix of other bloodlines, has found its way into many restaurants, only full blood 100 per cent Wagyu offers the legendary taste created by the Japanese. Michael Reid, who starred in Channel 4's Tricks of the Restaurant Trade last night, is serving grade A5/10+ Tajima-Gyu and Blackmore 9++ in M – the highest quality found in London.
Wagyu prices range from £28 to £150 and M's butcher is on hand in the ageing rooms during every service to offer beef master classes and allowing the customers to have their steaks cut to a specific size and preference. Michael Reid commented: "Let's be clear. Lots of customers are being cheated. I can guarantee that much of the Wagyu beef being served in restaurants all over London is actually not 100 per cent Wagyu but beef from a mixed blood line. It's being labelled as something very special when in fact compared to 100 per cent Wagyu it is quite ordinary."
Williams and Reid are on a mission to BRING WAGYU TO THE PEOPLE and so are taking the opportunity to introduce a special Black Friday offer where guests can enjoy the famous Wagyu beef at 30% discount.
The Blackmore Wagyu Friday offer is available at both M Victoria Street and M Threadneedle Street for lunch only. To book email rsvp@mrestaurants.co.uk. Phone 020 3327 7776 for the Victoria restaurant.