Looking to impress your wedding guests? We love the spectacular live entertainment created by Rattle & Shake
By Victoria Lewis
When planning a Wedding or a special event, there are a number of elements that really do make or break the party… and for me the music is KEY! With so many options out there, different tastes to cater for, and a variety of price tags; it is often hard to find something that ensures your dance floor is packed from the first note to lights out!
I got married in October, and a friend recommended I check out Rattle & Shake, a bespoke live entertainment agency with an incredible variety of live performers and music to suit every event and every style, all curated entirely in-house.
---
Planning the occasion 
---
From the very second I reached out to Ed Cox and James Adam, the founders of Rattle & Shake, I knew I was in safe hands. Following our first meeting, I felt as though I had known them both for years. They were totally unfazed by my rather unusual request to try and fit in as many of my friends' first dances in our Wedding set list and took the time to listen in detail to all aspects of our day and really get to know my husband and me. Both Ed and James have been in the business for years, so know exactly how to get your guests on their feet and keep the dance floor packed! If you read any reviews, of any of their acts, this is a very common theme!
With a black-tie dress code, an epic glasshouse to celebrate in and a love for rock and roll, their band The Fabulous Hurricanes were the perfect choice for us. The 9-piece band promises to get the most "wilful of wallflowers" up on their feet and dancing the night away; and we can attest they did exactly that!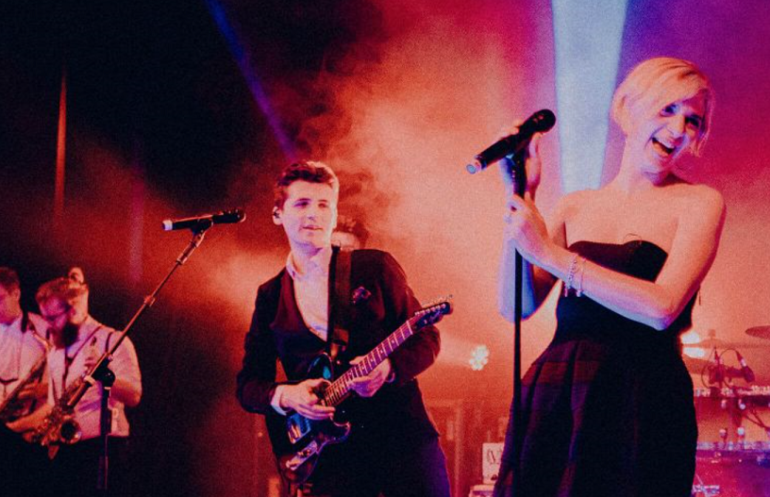 ---
The performance
---
They kicked off the night with some great tunes. The dance floor was rammed. Ed, the lead singer of The Fabulous Hurricanes, is a natural showman. His talent knows no bounds, his voice is incredible, his piano playing skills outstanding and he totally holds the room. The amazing variety of music meant everyone was up and dancing, every way, shape and form. I think they would have played all night! However, the owner of the venue took matters into his own hands and seemed to shut the power off… before we had done our exit to our secret disco! However, in true Fabulous Hurricanes fashion, the horn players took charge of the situation and played an acoustic version of "Hey Jude" to see us exit the Glasshouse on our friends' shoulders, surrounded by a mass of sparklers. They just nailed it.
Throughout all the planning the Rattle & Shake team were on hand to promptly answer all questions and alleviate any concerns. At one hairy moment a week or so before, they venue owners told us they had a sound limiter, that would cut out all electricity in the glasshouse, if volume went over the "level"; not something you want to hear… but fortunately Ed was there to sooth concerns and smooth any issues!
---
Guest Feedback
---
Our photographer's email the next day read; "we tried to say goodbye, but you were both having the time of your lives in the middle of all your friends and family on the dance floor!" Many of the thank you cards that arrived in the weeks following the wedding commented on how incredible the band was and many commented that they have never seen a dance floor so full and enjoyed such a variety of music.
The Rattle & Shake team really are super cool, genuinely lovely people with a clear passion for delivering musical perfection.
How to book: Rattle & Shake provides spectacular live entertainment for luxurious weddings and lavish parties. Find out more at www.rattleandshake.co.uk Email: hello@rattleandshake.co.uk Tel: +44 207 971 1441
Read more from The Sloaney Wedding pages