SKEYNDOR launches new pollution-tackling range at The Peak Health Club & Spa
By KATIE ANN LAMB
I was recently invited to the Peak Health Club & Spa at the Jumeirah Carlton Tower, Knightsbridge. It is a stunning health club, which is located just a short distance away from Harrods. I have to mention the outstanding views! Spas in London tend to be very enclosed and often underground; however, the vista from the Peak Health Club is amazing and you can look right across town. It instantly puts you in a light mood.
I was there to experience the new Skeyndor anti-pollution facial, which I was keen to try. The view of the London skyline was a good reminder of how much urban pollution our skin experiences on a daily basis. After all, living in a busy city means your skin is exposed and contaminated by the environment. Of course, road pollution is still prevalent in the countryside but it is less intense.
As we all know, Oxygen is the key to life, and this is the same for our skin. When our skin lacks oxygen it can appear dull, reactive, dehydrated and older. Skeyndor's power oxygen facial provides an anti pollution filter and increases the oxygen supply for cell renewal and skin luminosity.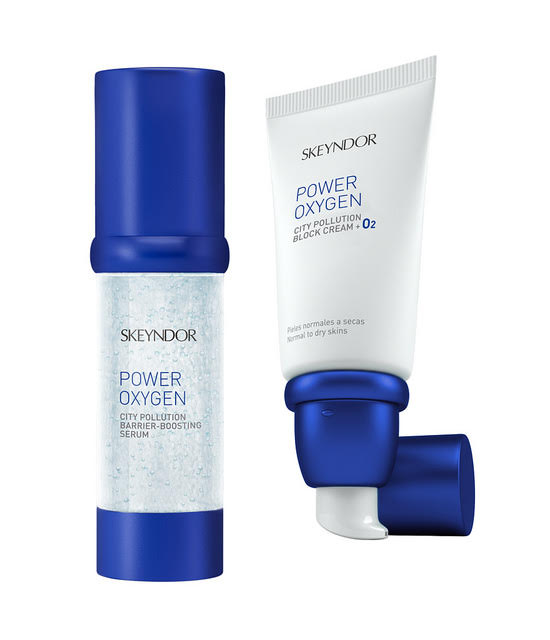 Currently the Peak Heath Club & Spa is the only spa in London offering this breakthrough facial by the luxurious Spanish brand Skeyndor. The facial includes all the elements of cleansing (enzyme or glycolic deep cleansing) to thoroughly prepare the skin for the oxygen serums and concentrate.
Penetration is accelerated by the Skeyndor electrotherapy whilst the mask is designed to include the face, neck and decolletage. The Power Oxygen contains two protectors against pollution. There is a PM 2.5 filter, which protects and cleanses the epidermis of contaminants immediately, forming a mesh capable of trapping the PM 2.5 particles and eliminating them. Meanwhile, the environmental shield works as a global protective barrier by means of a non-occlusive film that limits intra and extracellular damage.
My therapist was excellent at guiding me through the different stages of the treatment. She highlighted the benefits and I felt as though there was nothing superficial about this treatment. Rather, it is the real deal for those wanting to protect their skin in an urban environment. The proof is in the pudding and I was able to see a visible difference with just one facial. I am sure that a series of treatments would bring even better results and I highly recommend Londoners try it out.
The facial is available immediately and costs £120 for 60 minutes. Recommended Homecare: Power Oxygen City pollution Barrier Boosting Serum 30ml – £80; Power Oxygen City pollution Block creams 50ml – £70 Book by calling the Peak Health Club at 020 7858 7300 or online at www.peakhealthclub.com