Get a sparkling smile with Smile Science Harley Street's professional at-home teeth whitening range
At-home beauty treatments are all the rage during lockdown. With social distancing restrictions in place and salons closed, it is important to look after hair, skin and dental needs without leaving the house. If you have been thinking about enhancing your smile, we are loving the Smile Science Harley Street professional at-home teeth whitening range. The products in this range will help to clean up your teeth and make sure that you leave lockdown with a sparkling smile.
It can be difficult to emulate the salon finish in the comfort of your own home. However, the Smile Science Harley Street professional at-home teeth whitening range is able to deliver excellent results. It can help to make your teeth up to eight shades brighter and give your whole smile a makeover in the process. The products in the range are also proven to offer health benefits so that you will feel as though you are giving your smile both cosmetic and wellness support at the same time.
Coffee and red wine are among the drinks that can mark your teeth the most. Let's face it, these two drinks are consumed by many people on a daily basis, especially during lockdown. Even if you are mindful of not consuming products that can stain your teeth, it is unlikely that your teeth are in their brightest possible form. So, they will benefit from some extra care anyway.  
However, for those with stain-related issues, the Smile Science Harley Street Professional Teeth Whitening Kit is particularly interesting. We think this should be the starting point for any at-home improvements to your smile. It is a two-part dentist-approved formulation, which specifically concentrates on providing intensive stain removal. It is not so aggressive that it will increase sensitivity and this is important to keep in mind. In fact, the formulation has been created to ensure that you don't notice a difference in terms of feel or experience temperature challenges. It is purely for helping bring out the whiteness of your teeth. The steps involve applying a pre-stain remover, before a whitening gel gets to work afterwards. This is activated by a 5-point Blue LED Accelerating Light, which has the technology to accelerate results and it makes sure that the gel works as well as it possibly can.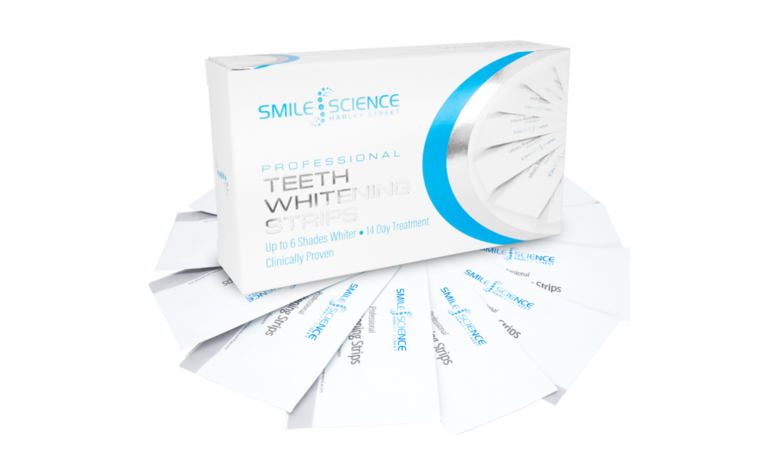 Smile Science Harley Street also has some other great products in the range. These include Whitening Strips that can provide a regular top-up when it comes to whitening. They are not overly harsh, which is crucial when you are using strips. After all, the last thing you want is painful teeth during lockdown. These strips contain gentle enamel friendly ingredients and they have actually been designed specifically for sensitive teeth.
If you want to give your smile a full MOT, we also recommend trying the Smile Science Harley Street Vita White Professional Whitening Toothpaste. This is excellent for ongoing maintenance. It has a different taste to typical toothpastes and it includes a number of key vitamins to help nourish your mouth. We also love the slick presentation of the product and this is an essential item for keeping on top of your dental care in the best and brightest possible way!
Discover more: https://www.smile-science.co.uk/