Enjoy the benefits of top class health and wellness treatments at Cosmetech Chelsea
By Katie Ann Wiseman
Nestled in the Chelsea Courtyard just off the renowned Kings Road, is Cosmetech Chelsea Private Clinic. This is an impressive state-of-the-art facility that provides some of the most advanced health, wellbeing and anti-ageing treatments on the market.
The brand, founded in 2006 in Northern Ireland, is committed to the highest level of excellence by offering a Consultant Surgeon led clinic. Cosmetech Chelsea opened in 2013 over a 3000 sq ft Clinic, which affords clients discretion and privacy. Procedures and treatments are uniquely tailor-made and non-surgical ensuring that each client has an individual experience.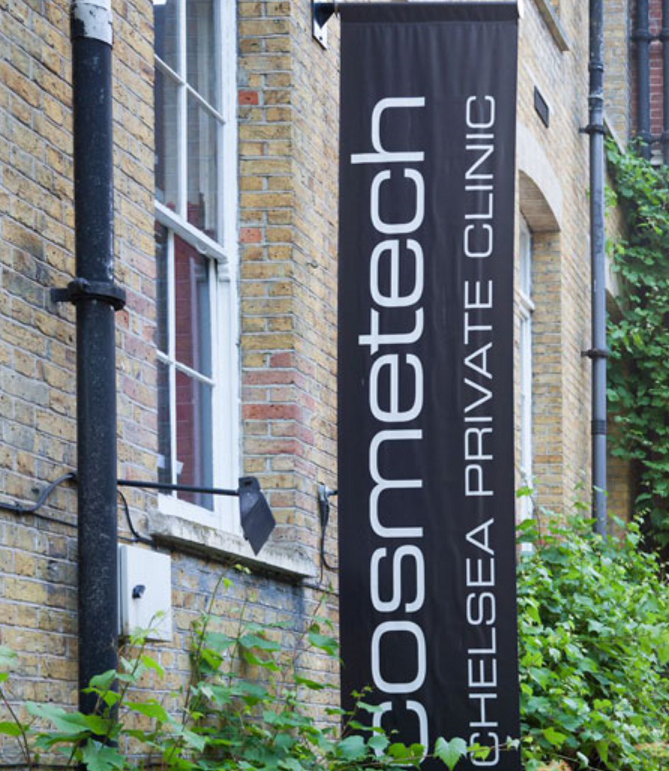 I recently went to Cosmetech Chelsea, following the birth of my first child with classic 'mum bod' demons. Almost 10 months down the line and no amount of exercise or dieting is shifting the stubborn areas, not to mention the cellulite that has appeared on my legs.
There are many 'cellulite and body contouring' treatments on the market and, I have to be honest, I was sceptical this was going to be just another fad. Endospheres Cellulite Treatment is a non-invasive mechanical treatment. Cosmetech is one of the only clinics in the UK to offer this ground breaking, results-driven treatment. The machine uses micro vibration to create a pumping action on the vessels and lymphatic system.
It has a regenerative effect on tissue and restores its natural function. I would describe the sensation as similar to a massage however it is more effective. The actual experience I found very relaxing and my therapist Anara was so passionate about this treatment and the results that her clients have experienced.
After a course of treatments, the skin is smoother and the contours improved. Cellulite looks less bumpy and fat deposits are reduced. After just one treatment you genuinely look and feel firmer. It also helped that Anara captured some before and after images so that I could really see the results.
Areas that can be treated are the buttocks, thighs, stomach, the back of your arms and your legs for fluid retention. You can understand that with such a large canvas to work on average people drop two dress sizes after a course of treatments. A course is typically 12 sessions and these are approximately an hour long each. Following an initial consultation you will be advised what is going to be most appropriate and effective for you.
With a 97.8% success rate of patients that are satisfied with the results of Endosphere Therapy it is no wonder this is so popular. I combined the Endosphere Cellulite treatment with Colonic Hydrotherapy which can help achieve optimal results.
Cosmetech is one of the UK's largest Colonic hydrotherapy practices and perform in excess of 600 a month. The team are highly qualified ARCH therapists, operating from specially designed treatment rooms within the highly discrete clinic.
For those that aren't familiar, colonic hydrotherapy is a cleansing process where warm water passes into the colon and carries out loose faecal debris and waste to essentially flush the colon. It usually takes around 30-45 minutes. There are many reasons for choosing this specific treatment. Whether it is part of a general cleansing and detox programme or to address specific digestive or elimination issues including constipation and infrequent bowel movements.
It can also help to combat the likes of low energy, headaches, allergies and skin congestion. Before commencing the specially trained therapist (Ruth in my case), will ask you about your medical history to check if you have any health problems that might make the treatment inadvisable. I had a C-section when I gave birth and Ruth advised me the Colonic treatment is also beneficial for internal scar tissue, which was another benefit.
I am thrilled with the results of my treatments at Cosmetech and I can't wait to return. So, whether you've got an important event, a fancy holiday or just want to get in shape and start feeling good about yourself, I recommend a visit to Cosmetech where all your needs are met.
Find out more at www.cosmetech.co.uk or by calling the London clinic at 020 7565 0333. Those in Northern Ireland can telephone 028 9042 3200.