Beauty Buzz: Summer proof your highlights
With summer in full swing and holiday season upon us, we are loving discovering new products that can help look after our skin and hair during the hot days.
Owner of The Hair Boss, Lisa Shepherd, is one of the most awarded and profiled colourists in the UK. No one is more aware of the issues that we can encounter during the summer months that may result in hair damage than Lisa.
Lisa explained to The Sloaney's Beauty Buzz team that detoxing hair is essential, "Build up may appear as a change in texture, often hair will begin looking dull and can feel heavy. This build up can result from a number of things, that we might not even be aware of, like the pollution in the air, chemicals such as chlorine and even as a result of certain products, like Dry Shampoo!"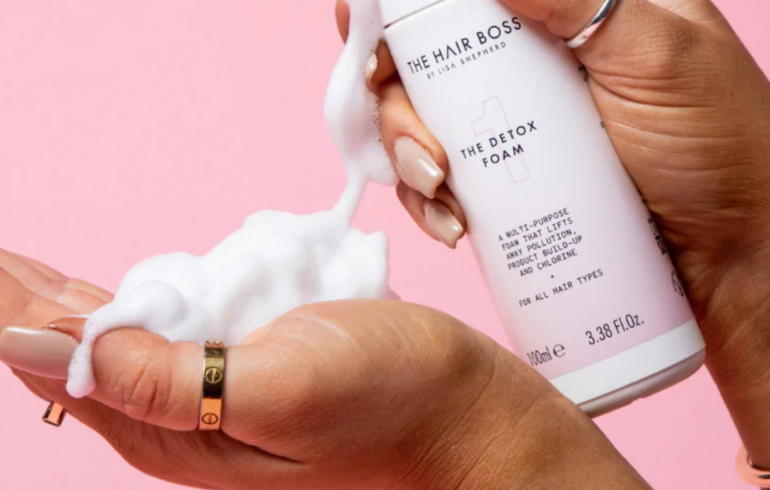 Hair has a punishing environment to cope with during the holiday season. From sea water, to chlorine, to Dry Shampoo when you're on-the-go travelling. This is when a product like The Hair Boss Detox Foam comes in handy. It is designed to remove build-up and make sure that you have fresh, voluminous and clean hair. It also has a protective quality as well, as Lisa explained to us, "If you apply The Detox Foam to your hair before getting in the pool and give it a quick blitz with a hairdryer, this will help protect your hair from chlorine."
For those wanting to keep their highlights looking as bright as possible, Lisa has created another great product. The Blonde Brightener is the first high street mineral remover. The unique detoxifying formula helps remove deposits that dull down lighter tones. After using the product, highlights will regain their brightness.
The best results are achieved when it is used weekly and sprayed throughout dry or wet hair. All you have to do is to leave it for 20 minutes, rinse, then shampoo and condition as normal. This is another handy holiday essential, which is great for using after swimming in the pool, or after a long day at the beach.
Discover more at The Hair Boss By Lisa Shepherd