Beauty Buzz: Get a brighter smile with the Glo32 Teeth Whitening System
The Duchess of Cambridge's smile is admired across the world and certainly adds some extra sparkle to her various fashion and beauty looks. A bright white smile is highly desired by many and the latest product in our Beauty Buzz series will help you achieve positively dazzling teeth.
The Glo32 Teeth Whitening System with coconut oil has been clinically tested and helps you achieve brighter and whiter teeth. This is a great teeth whitening kit because it contains two handy products. There are whitening strips that help to lift your smile and also the Advanced Whitening Stilo, which is designed to be used for on-the-go whitening.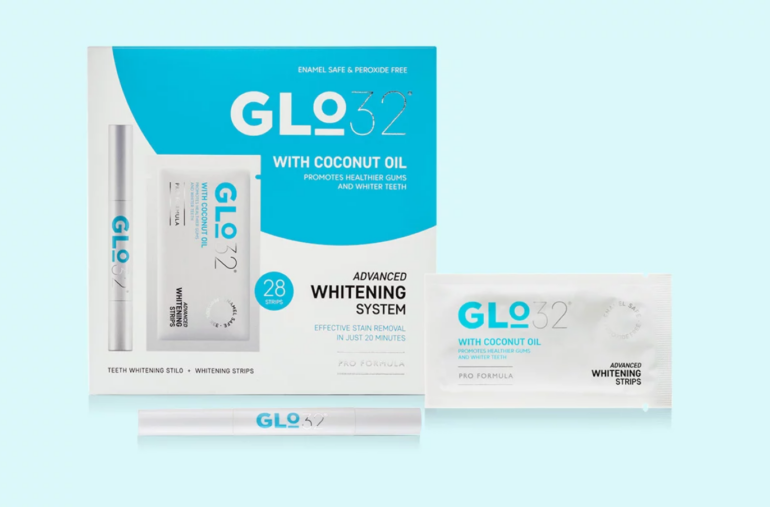 The strips are really easy to use and you simply apply them to your teeth, fixing any overlap to the back, and leave them on for up to half an hour. Afterwards, you just need to wash your mouth out and brush your teeth. There are two strip sizes: one has been designed to be applied to your top teeth, with the other slightly smaller version specifically to be used for the bottom set.
The Glo32 Teeth Whitening System includes a set of strips that will last you for a 14 day treatment course. The extra bonus with this kit though is the addition of the Stilo, which can be used while you are out and about.
This part of the treatment is presented in a pen-like dispenser and the stilo is really easy to use. You can just twist the base to enable the gel to seep onto the brush. Then you just apply a layer and leave it on for just 10-20 minutes. This means you can give your teeth a quick brighten up after you have eaten lunch or gone for coffee (you must not eat or drink while the gel is on the teeth).
For those wanting to achieve a brighter and whiter smile, with a quick and easy at-home treatment, the Glo32 Teeth Whitening System is a great addition to your beauty cabinet. The results are brilliant and we also love how handy the system is to use.
Discover more: GLO32 Home Teeth Whitening Kit