Bad hair day? A new study has revealed that your postcode could be to blame!
New research has found that where you live can have a big impact on your hair. It seems that if you struggle with hard-to-manage hair, then you could have your postcode to blame.
It comes as no surprise that some environmental factors can wreak havoc on your hair, probably more than you might think. This is partly why your postcode has such an impact on your hair. Thanks to The Solid Bar Company, we now know where you are most at risk from these factors, which means you can give your hair some extra TLC to counter the problems that can be caused by the likes of pollution and water hardness.
The luxury hair care brand studied 120 UK towns and cities, looking at how they perform across seven categories: water hardness, bad salon reviews, humidity, online searches for common hair concerns, air pollution, wind speed and UV levels.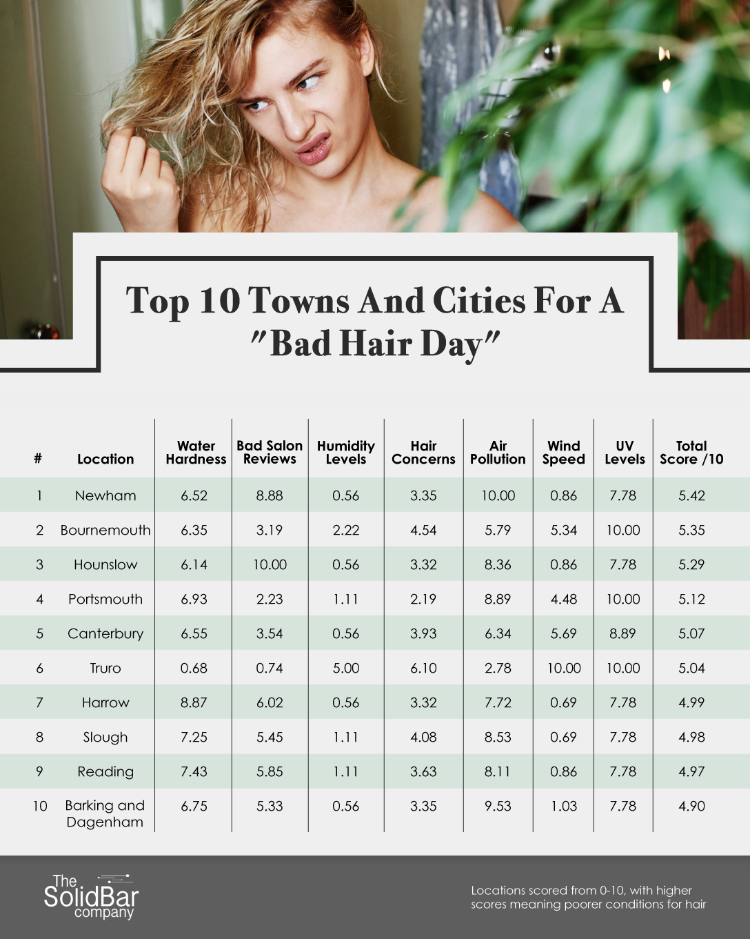 Living in London or the South East of England is likely to take the biggest toll on your tresses, thanks to very hard water, high UV levels and above average air pollution. Of the 20 worst places to live in the UK for your hair, 14 are in London or the Greater London area. Bournemouth, Hounslow, Portsmouth and Canterbury make up the rest of the worst five towns and cities in the UK for hair health.
Perth, Dundee and Stirling come in 2nd, 3rd and 4th place respectively, also scoring well for their hair-loving climate, water softness and five-star salon reviews.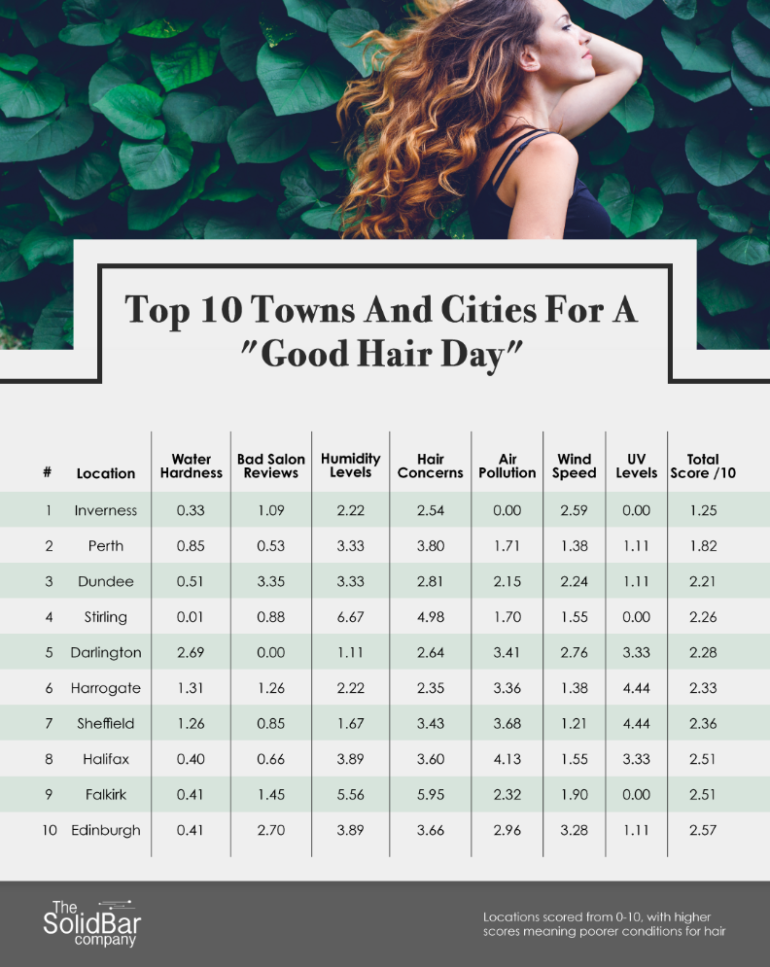 Darlington is the best place to live in England for insta-ready hair, coming in 5th place overall. Three other towns and cities in Yorkshire also score well across the board: Harrogate, Sheffield and Halifax, but have slightly higher levels of UV and air pollution than Darlington.
To combat the effects of hard water and other environmental pressures, avoid sulphate formulated shampoos that have high pH levels and look out for hydrating products rich in hydrolysed proteins (from rice, oat, wheat, quinoa and silk), oils high in essential fatty acids (coconut oil, argan oil, baobab oil) and Pro Vitamin B5. A shower head filter is also another option to help with hard water.
Frizz-inducing, humid weather is also a major hair gripe. In times of high humidity, using haircare products rich in plant-based silicone alternatives and keratin, coconut oil, and cocoa butter, and sleeping on a silk pillow can all help to smooth and tame your hair.