Mum Diary: Weaning with the help of the Philips Avent 4-in-1
By Katie Ann Lamb
Weaning sounds exciting a new milestone in your baby's development. But, honestly, not only is it daunting and expensive but it is also time consuming! From defrosting to steaming, to chopping, mashing or making a purée – it is endless!
I have discovered a great product that helps with the process. The Philips Avent 4-in-1 healthy baby food maker is a life saver piece of kit. Obviously, nutritious food is essential to your baby's development. The Philips Avent healthy baby food maker helps you prepare tasty homemade meals, tailored to your baby's needs, in a simple and time efficient way which is super important for parents who are juggling a baby and busy lifestyle.

It's a well-known fact that steaming is a healthy way of cooking. The Philips Avent unique technology lets the steam circulate upwards from the bottom, making sure all the ingredients are evenly cooked without boiling. This is great for baby-led weaning or when your little one is ready to move on.

Once your ingredients are steamed, all you have to do is lift the jar, flip it over and lock it in place, so you can blend to your desired consistency. From pureed to chunky food, this gadget has you covered for every step of the way.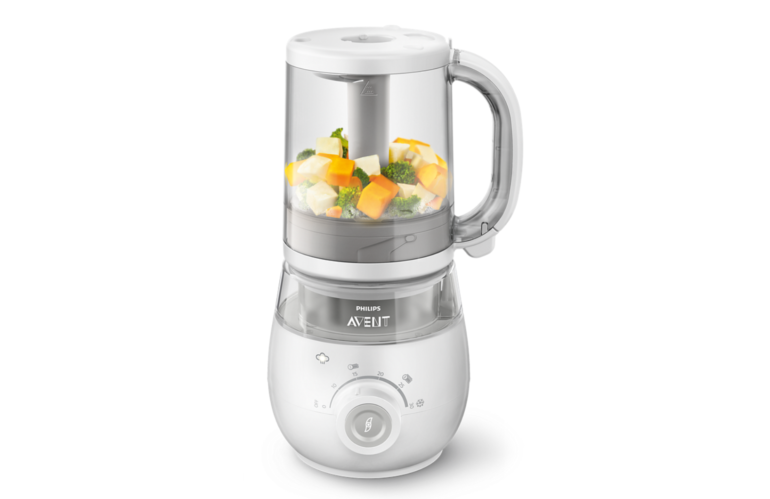 I think different flavours are so important to avoid fussy eating habits, the blender is great to prepare the finest exotic fruit and vegetable purées. It is also good for later on when you need to combine meat, fish and pulse ingredients to offer chunkier textures.

You can either serve the food immediately or store it in the container included, and reheat it later on with the easy-to-use reheating function. There is also a defrost function – this is great if you've stored your preparations in the freezer or if you need to defrost items ahead of cooking.
Once your food is cooked there is a beep alert notification, so you don't need to sit around waiting or worrying about over-cooking food. The distinctive beep will tell you when the food is cooked to perfection.

I also love the excellent cookbook by Child nutritionist Dr Emma Williams, which was included and provides tasty weaning recipes and advice. This is helpful for when you are getting to grips with the new product as you don't have to research recipes or how to prepare them. There is also a great app alongside the 4-1 machine which enables you to uncover recipes, videos and tips, tricks and advice on weaning your little one.
Find out more by visiting the Philips website here