Mum Diary: The Tommee Tippee Ultra UV 3-in-1 Steriliser, Dryer and Storage

By Katie Wiseman
Considering that we are still in a pandemic, everyone will sympathise when it comes to the importance of hygiene. I mean, when you are dealing with babies, hygiene is of the utmost importance anyway. Although in the current circumstances, it seems even more crucial than ever.
All parents want to protect their little ones and that is why you need to invest in the Tommee Tippee Ultra UV 3-in-1 Steriliser, Dryer and Storage product. This is an excellent steriliser that will ensure everything is as clean as possible. It uses a UV light and follows a safe and dry method of sterilising that kills 99.9% of harmful germs without using heat, steam or harsh chemicals.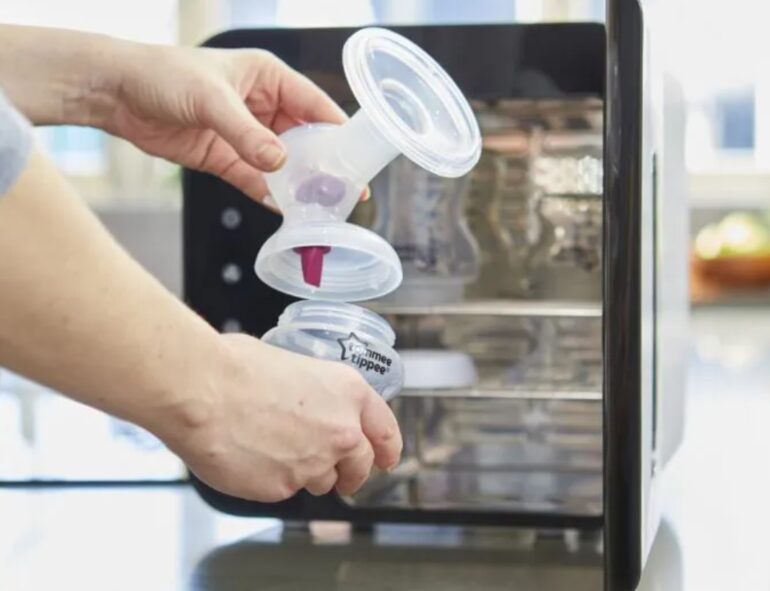 When you have a newborn, I always worry about the little hard-to-reach areas of bottles. With this product, you can put your mind at ease and be assured that it sterilises those areas that seem annoyingly impossible to clean properly. It is brilliant at getting rid of germs that may linger in bottles, teats, breast pumps and other accessories, even after thorough washing.
Bacteria in leftover milk can be particularly nasty for little ones. It can cause tummy bugs and make your baby really poorly. The Ultraviolet (UV) light in this steriliser kills 99.9% of micro-organisms including bacteria and mould. What I like most is that there is no steam or chemicals that are used during the process. Instead, it is a simple and safe method of sterilising and drying the equipment.
The steriliser has four different functions:
Sterilise-only: Pop in your bottles, teats, soothers and breast pump accessories and set to either 35 or 45 minutes.
Dry-only: Choose from 30, 40 or 50 minutes drying cycle, depending on how many items you wish to dry.
Auto mode : This 60-minute setting dries your cleaned bottles, then automatically switches to sterilising cycle.
Storage: This mode emits 5 minutes of UV light and 5 minutes of drying power every 2 hours to keep contents sterile.
It is a very efficient device and you can sterilise and dry six bottles in 60 minutes. I absolute love this product. It is a brilliant no fuss, no noise, no water or chemicals, quick and quiet addition to your essential items list.
The Tommee Tippee Ultra UV 3-in-1 Steriliser, Dryer and Storage is priced at £149.99 from Tommee Tippee: Ultra UV 3-in-1 Steriliser, Dryer and Storage | Tommee Tippee