Baby proofing your home with Fred safety gates
By Katie Ann Lamb
Baby proofing your home aesthetically changes it entirely. From bulky metal stair gates to corner protectors and kitchen draw latches. Yet, it is imperative for your baby's safety.

Fred is a company that specialises in child home safety. A father and son led team of Danish designers with almost 60 years of experience with home safety products and product specialists from the UK, USA, Germany and China.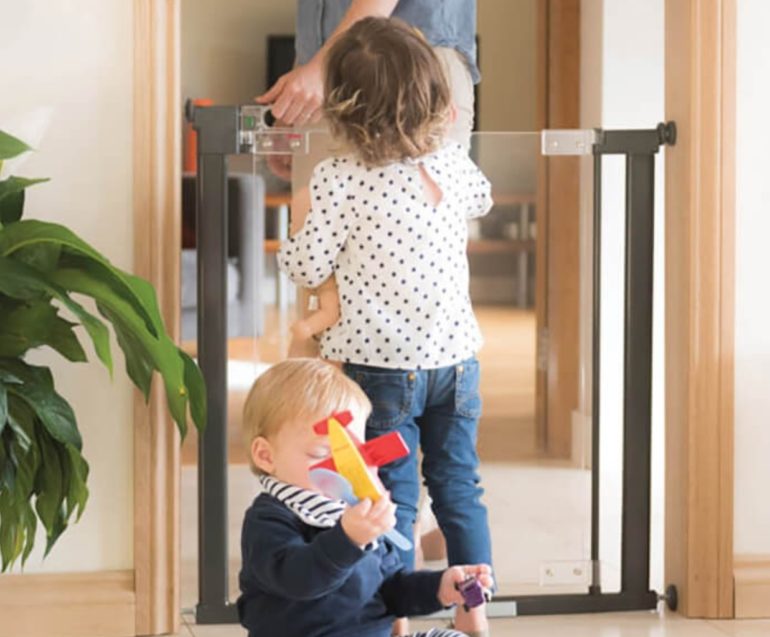 Every member of the team is deeply committed to improving child safety. They cleverly combine contemporary modern style with uncompromising levels of safety. Their range of gates are unparalleled in elegance and effectiveness.
The Fred Pressure Fit Clear-View Stairgate is made from the highest possible quality materials, the crystal-clear professional grade acrylic is a barrier of brilliance and style. It has cleverly thought out features such as the glow strip illuminating the bottom rail, the extra sure magnetic slam-shut locking system and the Accu-Fit™ indicators (that make installation easy and ensure that you always know that the gate remains set up correctly).

The stairgate is 77cm hight so you can be rest assured that your little one won't climb over. It has a manual 2-way child-proof magnetic locking system and clever visual colour alert for when the gate is left unlocked.
In case your little one decides this will be a great new teething object, they have even used bite-proof materials and lick-safe finishes throughout. Other features I found really useful are the one handed opening and closing capability, the slam-shut auto-lock function and the fact the gate can swing in either direction. It's really simple to fit, with the Accu-Fit™ indicators showing when the gate has been installed correctly. Included are screws, fittings and a magnetic spirit level to ensure the perfect fit.
It's not suitable for narrow spaces and fits a 76-96cm wide gap using the two Gate Extensions included, or 124cm wide by adding up to four more! This make it perfect for doorways as well as stairs.

I really love the design and simplicity of this product and would recommend it not only for safety but also aesthetics.

Priced from £135 available at https://fredsafety.co.uk/category/safety-gates/