Decorate your house in style with the Little Greene Paint Company
By Katie Ann Lamb
They say the three most stressful things in life are getting divorced, having a baby and moving house. Thankfully I am not getting divorced but I have moved house and am due any day now! I have long since dreamed of making my mark on a house I can call a home. Obviously moving so late into my pregnancy hasn't been ideal and this was something we had to factor in choosing the dream home.
We found somewhere perfect which thankfully hasn't required structural changes and more aesthetic. I am a huge fan of Pintrest and before even completing I had visually re-decorated this house thanks to the Little Greene Paint Company!
Paint is an interesting subject. I have to be honest, before discovering Little Greene it was not something that I appreciated or understood. I was guilty of the 'cheap is best' mindset. Thanks to modern day social media (in my case Pinterest) you can see how a paint may look in a finished environment – living room, bedroom or bathroom. I personally find this much more inspirational and honest than looking at a splodge in a brochure or block in a shop!
I am sure you have heard of Little Greene and probably could identify their unique branding Dark Green and Cream pots – simple yet chic. They are an independent, British paint manufacturer, committed to the socially and environmentally responsible production of high quality paints and wallpapers. With records dating back to the year 1773, the Little Greene Dye Works of Collyhurst Wood, on the outskirts of Manchester, is one of England's most ancient industrial sites for the making of paints and dye solutions.
After much deliberation I settled for the Little Greene, French Grey- Mid, in Absolute Matt Emulsion. This was being used to repaint a blue wall and replace a wall paper wall in the living room. Little Greene have a variety of finishes available on their products and, if like me, you're unsure then I recommend asking your decorator. They offer three sizes 1Litre, 2.5 Litres and 5 Litres priced between £22 and £77, which for a luxury paint product is incredibly competitive.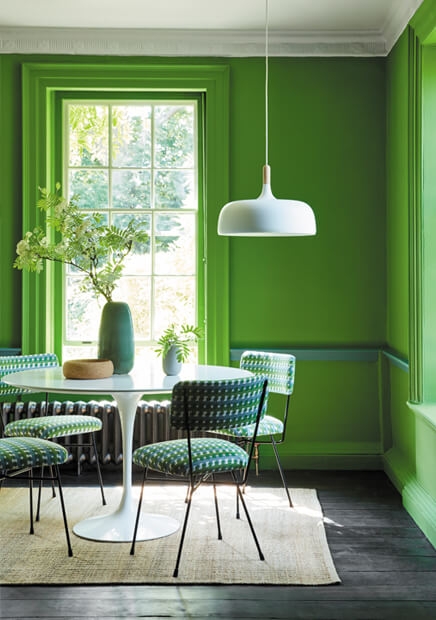 The quality of the paint is noticeable from the first coat. Little Green are particularly proud of their depth of colour. Reassuringly high pigment levels (over 40% more pigment than many ordinary paints), give Little Greene paints an unequalled depth of colour and a true point of difference. I can genuinely say this is true and we only required two coats.

I am delighted with the transformation and finished product and I am definitely a Little Green convert. As soon as we know the sex of our new arrival I will be searching for the perfect Little Greene for their room!

Since the beginning of 2018 Little Greene have been working with the National Trust undertaking an extensive paint research project to explore their most cherished houses and gardens throughout England, Wales and Northern Ireland to find original colours, and to tell the stories of the people who first enjoyed them.
The final shades have been inspired by a range of sources as diverse as Beatrix Potter's Farmhouse to George Bernard Shaw's revolving writing hut and even mythical birds featured on the wallpaper hung by Chippendale.

Little Greene has identified a selection of 31 grey, neutral, yellow, blue and turquoise greens, each with a noteworthy origin. Within the selection are 20 National Trust-derived shades, as well as several important greens from Little Greene's archives and the current colour card. Little Greene will be supporting the National Trust's conservation efforts by donating paint to help bring colour and life back to the UK's cherished stately homes, as well as a monetary contribution from the sale of every can.
Find out more at www.littlegreene.com