A luxury British staycation at Bovey Castle Hotel
I set off to Bovey Castle with two main goals. Firstly, I wanted to enjoy a traditional British staycation with beautiful scenery, outdoor activities, relaxing spa sessions, cosy drinks by the fire and long delicious dinners (I wasn't asking for much!).  Secondly, I wanted to achieve all of this with a baby in tow. A four-month-old baby. That's right, it was my first big trip away since giving birth and our first family adventure.
While I am certainly not averse to flying with a young baby, there was something appealing about planning a trip on British soil for an initial visit away from home. With the weather starting to cool in Europe, I felt it was worthwhile to make the most of the UK's spectacular autumn landscapes and venture deep in to the West Country for a few days of solace.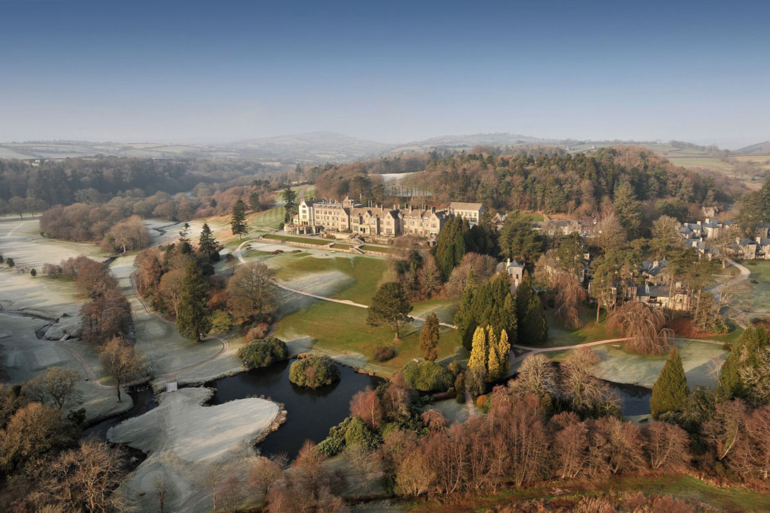 Bovey Castle is an impressive property that is located in the heart of Dartmoor National Park. While it is very remote and positioned in unspoilt countryside, the hotel is also pretty easy to access. The route is relatively straightforward for those travelling by car and Bovey is not a million miles away from the M5.
The luxury property is set within nearly 300 acres of rolling grounds that feature striking views and towering trees. The grounds play host to an award-winning golf course and you can walk for miles from just outside the front door.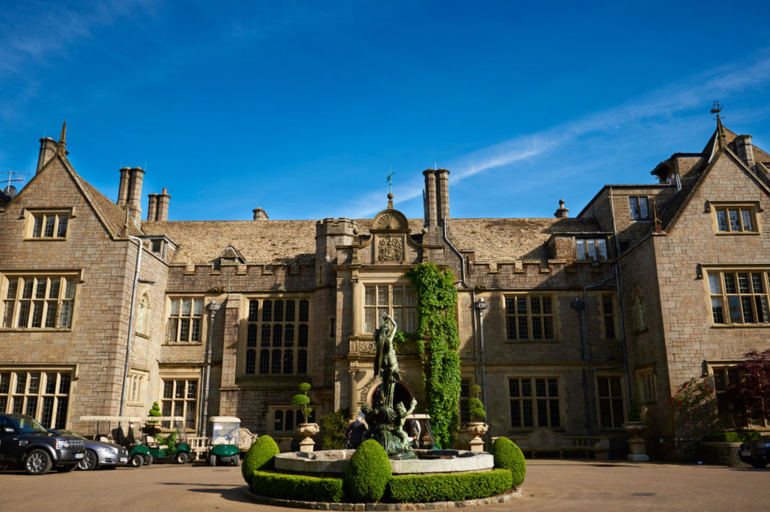 When I arrived at Bovey Castle, I instantly felt as though this hotel thoroughly embraces everything that is great about the British countryside. Country pursuits are a key focus; the entrance is lined with muddy Range Rovers that have just returned from a shoot and most of the staff are dressed in tweed. The imposing building is like a stately home with a warm and welcoming atmosphere. Enormous fireplaces crackle in several of the reception rooms, homemade sloe gin graces the side tables and a resident African Grey parrot chirps in the background as children dart between his cage and the wooden rocking horse.
This traditional, five-star property is a perfect winter hideaway. That said, the expansive terrace area is lined with roses and outdoor furniture that encourages guests to gaze across the Dartmoor hills, which suggests that Bovey Castle is just as delightful during the spring and summer months.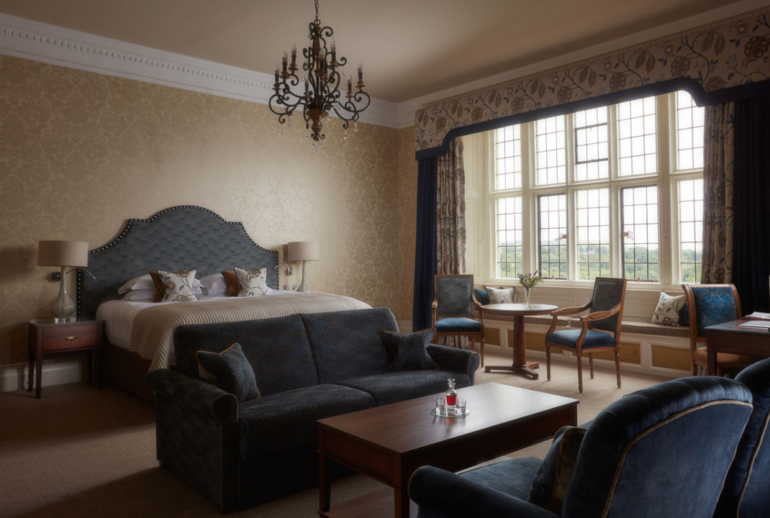 The suites at Bovey are particularly impressive and incredibly spacious. This is one of my favourite things about a staycation: British country house hotels rarely disappoint when it comes to the accommodation. Our suite at Bovey was particularly pleasing and especially well-suited to a young family.
It had a large living room, which played host to the beautiful wooden cot, a separate bedroom and an enormous bathroom that featured a stunning standalone bath that was surrounded by wallpaper that featured ducks in flight. With views of the sunrise and the stunning grounds from our enormous windows at the front of Bovey Castle Hotel, we couldn't have asked for more.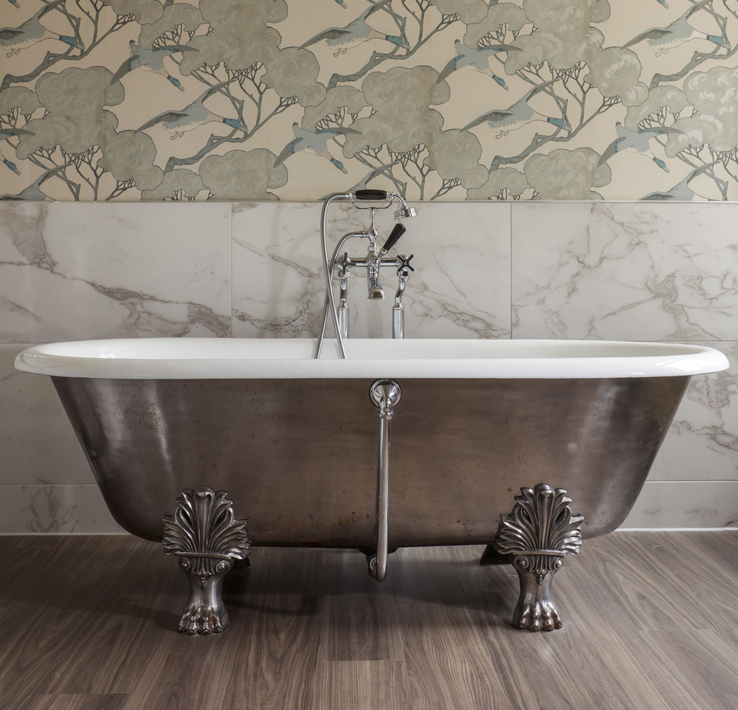 The facilities at Bovey Castle Hotel guarantee that you can enjoy your stay without having to leave the venue. This makes it very appealing for families but it is not overcrowded with youngsters. The spa area has a very big pool with floor-to-ceiling windows that overlook the gardens. It welcomes children and we swam with our baby every day. After a dip in the pool, you can recline on a lounger and admire the beautiful surroundings, book a treatment or hop in the sauna for some extra relaxation time.
If you are seeking an active break, the golf course stretches across the front lawn and there are also a range of other activities to enjoy. We ventured off site for some shooting one morning and made the most of a personal lesson at the nearby clay pigeon area to brush up on skills. It is also possible to hike and we took our baby for an hour long walk through fantastic woods, which were full of rich autumnal colours.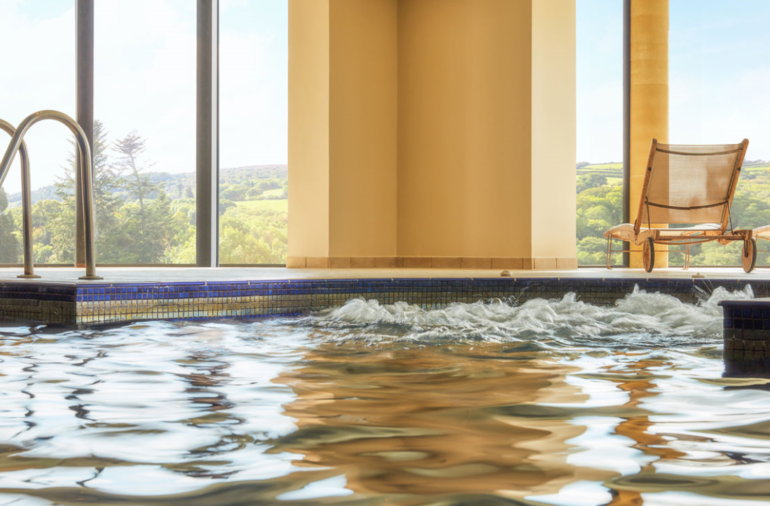 Bovey Castle Hotel is very family friendly and easy to navigate with a pram. Even the fine-dining restaurant welcomes children, although most guests make the most of the babysitting service that is provided. The Great Western restaurant offers an excellent menu and the candlelit tables create a beautiful environment.
The Seared Hand Dived Scallops were utterly exceptional and other highlights include the game dishes and the Roast Fillets of Seabass. A wide-ranging wine list caters for all tastes and presents options that are well-suited to all of the chef's dishes. Veuve Clicquot is served by the glass and the bar staff are very knowledgeable about various cocktails.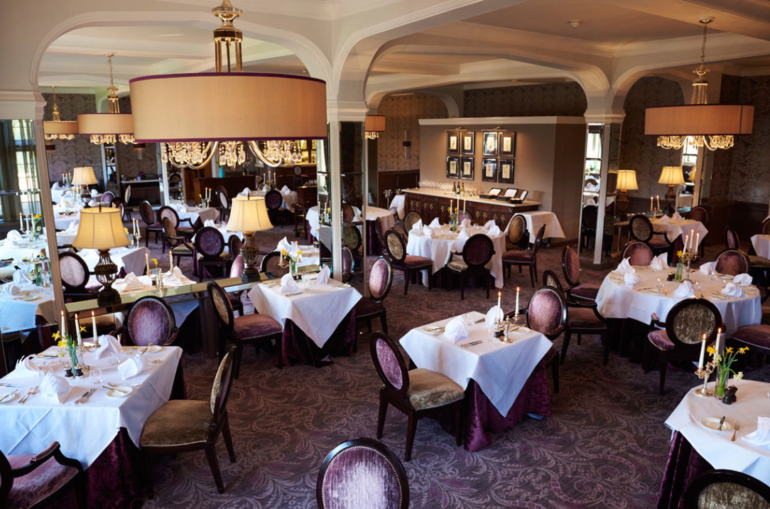 After a busy day shooting, walking and swimming, we were more than happy to retire to the fire with full bellies after a delicious meal. It was well worth spending time simply admiring the inspiring interior design of this hotel and appreciating the luxurious and traditional setting before heading to bed.
Whether you are planning your first adventure away with a new baby, wanting to brush up on your shooting skills for the season, or seeking some quiet reflection time in the glorious British countryside, Bovey Castle caters for all of your luxury staycation needs.
LAURA TOOGOOD
---
Bovey Castle Hotel is located at North Bovey, Dartmoor National Park, Devon TQ13 8RE. Book your stay at Bovey Castle Hotel online by visiting http://www.boveycastle.com or by calling 01647 445000. 
Visit our Twitter and follow our editor on Instagram for more pictures. Read our Travel section here. 
Searching for winter sun? Medina magic: Palais Amani presents a touch of luxury in cultural Fes